If you're looking for vegan meal planning inspiration then do take a look at these 14 vegan recipes for batch cooking. Why not make life easier by cooking a big batch so you can eat the leftovers the next day?
Welcome to February's #CookOnceEatTwice linky! Thank you to everyone who joined in last month. It will probably come as no surprise that the theme of this month's round up is vegan batch cooking recipes. There were so many vegan recipes linked up that I had no choice! So, if you were doing Veganuary and want to continue, then I hope you'll find lots of meal planning inspiration. Or, if you just want healthy meal choices that are totally delicious then these super vegan recipes should suit you too!
Most of the recipes are savoury and perfect for easy weeknight meals but there are also 3 sweet vegan recipes. After all, you shouldn't have to give up cakes, tarts and bars just because you're eating vegan meals!
The latest cook once eat twice linky is at the bottom of the page and you can share any recipes that are suitable for more than one meal. They don't have to be vegan! I've also made one of the recipes from the December linky. It's a great easy midweek meal, perfect for cold weather so do check it out at the bottom of the post too.
Savoury Vegan Batch Cooking Recipes
Easy Squash Curry
This Thai inspired easy squash curry by Michelle at Flipped Out Food is perfect vegan winter comfort food! It sounds delicious and a large batch would certainly be very welcome in my house!
Curried Swede Soup
Another deliciously creamy spicy option is this curried swede soup by Jo at Jo's Kitchen Larder. It can be made with coconut milk to keep it vegan.
Vegan Mushroom Pate with Walnuts
This vegan mushroom pate with walnuts by Choclette at Tin and Thyme is packed full of umami flavours and would be so good on toast! It's also really simple to make.
Aubergine Mushroom and Lentil Chilli
If you need a cosy meal then you can't go wrong with this vegan aubergine, mushroom and lentil chilli by Nikki at Something Sweet Something Savoury. It looks absolutely gorgeous!
Roasted Aubergine and Red Lentil Dhal
Next is a delicious roasted aubergine and red lentil dhal by Eb at Easy Peasy Foodie. It's easy healthy and delicious as well as being a great recipe for batch cooking!
Vegan Lentil Chilli
The second vegan chilli was this delicious vegan lentil chilli by Cat at Curly's Cooking. It is such a tasty delicious slow cooker meal that even avid meat eaters won't miss the meat!
Vegan Pantry Marinara Sauce
Another quick and easy vegan midweek meal is this pantry marinara sauce by Michelle at Flipped Out Food. I love that it's a bit chunky too!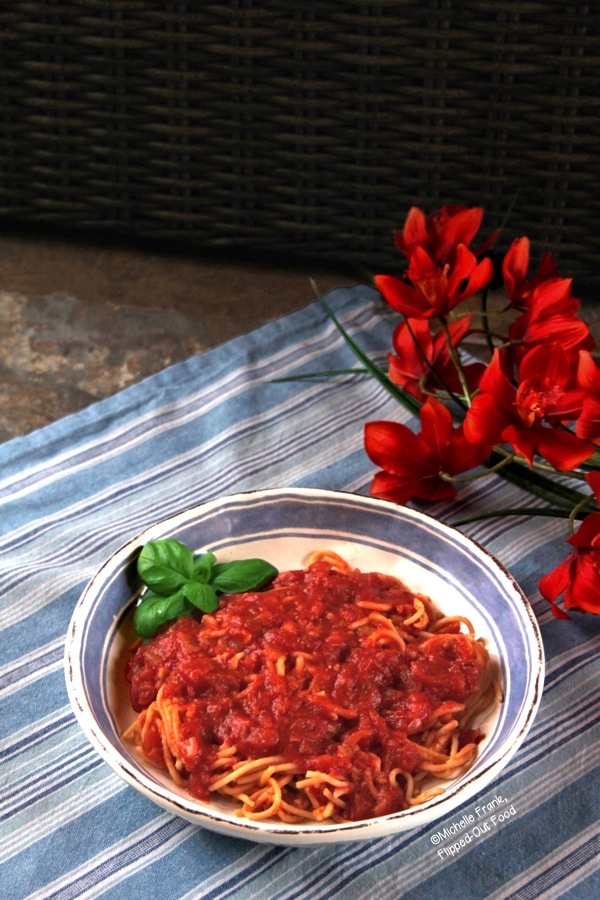 Vegan Lentil Soup with Ginger and Turmeric
Another delicious lentil recipe is this vegan lentil soup with ginger and turmeric by Kate at The Veg Space. It would be so good for batch cooking at the start of the week and eating for lunch every day!
Easy Vegetable Biryani
I think this easy vegetable biryani by Eb at Easy Peasy Foodie would make a great meal in itself or a brilliant side dish with a good curry!
One Pot Vegan Mushroom Stroganoff
Another great midweek meal would be this tasty vegan mushroom stroganoff by Michelle at Flipped Out Food. It's so deliciously creamy but made with no dairy products at all!
Sweet Vegan Recipes for Batch Cooking
Vegan Peanut Butter and Banana Muffins
There were some sweet recipes too! I love the sound of these peanut butter and banana muffins by Choclette at Tin and Thyme. They would be a great after school snack!
Blueberry Frangipane Tarts
These tasty blueberry frangipane tarts by Rebecca at Glutarama are not only vegan but also gluten free. They sound absolutely delicious and perfect for a dessert or snack!
What did I make from last month's linky?
Well, I have certainly been in the mood for soup recently and I could not resist trying this
weeknight chicken corn chowder
by Balvinder at Simple Gluten Free Kitchen. I loved the fact that it had some spices in as well as the more traditional corn chowder ingredients. It was so tasty and I loved it. If you are looking for vegan recipes I'm afraid it is not vegan, although it could easily be adapted.
MORE #COOKONCEEATTWICE RECIPE ROUND UPS
If you'd like more recipe inspiration then do visit my previous
Cook Once Eat Twice
posts and please let me know if you make anything!
Pin these vegan batch cooking recipes!