This buttery garlic lemon samphire recipe is the perfect side dish with fish. If you're looking for how to cook samphire then this recipe is easy to make and full of flavour.
A few years ago I hadn't even heard of samphire. Then it started popping up on various food programmes. Slowly but surely I started to want to try it. Every time I saw it on tv I told myself I needed to look out for some. Then promptly forgot.
A few weeks ago I was doing my online shop not intending to buy samphire at all when suddenly it appeared next to something else I was searching for. Click. Into the basket it went.
But what is samphire?
Samphire is a coastal plant that grows in some places in the UK. Because of where it grows it is quite a salty vegetable, high in minerals. You can sometimes eat it raw but it can be quite stringy. It is best to boil it for a minute so it becomes tender.
Other names for samphire
Samphire is also as sea beans, sea asparagus, sea pickle and salicornia. You may also hear of rock samphire but that is not the same, it's a different vegetable.
Lemon and garlic go so well with samphire!
I hadn't planned to buy it and certainly hadn't planned how to cook samphire. But, lemons, garlic and butter are pretty standard kitchen staples. It wasn't long before I had managed to put together a very tasty lemon and garlic samphire side dish. In even less time we had eaten it all up.
I surprised myself. It had just been a rather tasty kitchen experiment. The strong flavours of the salty samphire came together with the garlic and lemon to create a vegetable side dish that I definitely wanted to make again.
I really hadn't expected buttered samphire to be quite so tasty and so there were no pictures. The only evidence of my delicious garlic and lemon samphire was a small dirty pile of washing up. And possibly some slightly pungent breath.
A couple of weeks later the experiment was repeated, although slightly less experimentally. I could vary it. But I just don't want to. Not for now anyway.
What to serve with this samphire recipe?
I have to admit that I almost always serve this lemon and garlic samphire with fish. It's a great side dish with sea bass, cod or any white fish. I usually just grill or lightly fry the fish but sometimes bake it in the oven in a parcel.
You can also serve this buttery samphire with roasted chicken and new potatoes. The sauce from the samphire makes it into a delicious easy meal.
Ingredients for garlic and lemon samphire
To make this buttery lemon and garlic samphire recipe you'll need:
Samphire - Fresh samphire, ideally younger shoots that are not too woody. If any of the shoots are particularly woody, remove them.
Butter - Salted or unsalted depending on what you have. Samphire can be salty though so I prefer unsalted. You can always add extra salt at the table if necessary.
Olive oil
Garlic - It has to be fresh garlic!
Lemon - Fresh lemon is definitely best for this
How else can you eat samphire?
Samphire is also great in salads. As I mentioned above, it can be a bit tough when it is uncooked so before you make the salad, prepare a bowl of iced water. Boil the samphire for one minute. Drain it and then put it in the iced water. Leave it for 5 minutes and then drain it again.
It's delicious mixed with tomatoes and balsamic vinegar in this samphire salad recipe.
Can you freeze samphire?
If you have too much samphire then you can freeze it. It's best to follow the steps above so boil it for a minute. Drain it. Freeze it in an airtight container. It should keep for up to a month.
Ways to adapt this recipe
This samphire recipe is super simple and any changes will make it quite different. However, you could add a few capers or some thinly sliced onion to the sauce along with the garlic.
If you sometimes find lemony sauces overpowering, be careful when adding the lemon juice. Just add half the lemon juice and then stir in a little more. Or add half the lemon and then squeeze more onto the samphire when it's on the plate.
Recipe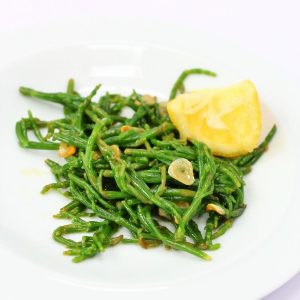 Buttery lemon garlic samphire recipe
This buttery garlic lemon samphire recipe is the perfect side dish with fish. If you're looking for how to cook samphire then this recipe is easy to make.
Ingredients
100

g

samphire

50

g

butter

1

tbsp

olive oil

3

cloves

garlic

1

lemon

juiced
Instructions
Put the samphire into a pan of boiling water for 1 minute then drain.

Heat the oil and butter in a frying pan or wok then add the garlic. Cook it gently for a couple of minute till it browns slightly.

Add the samphire and heat through. Stir in the lemon juice at the end. If you don't want it to be too sharp stir in half, taste and then add a bit more.
Notes
Nutritional information is approximate and a guideline only.
Nutrition
Calories:
272
kcal
Carbohydrates:
7
g
Protein:
1
g
Fat:
27
g
Saturated Fat:
13
g
Cholesterol:
53
mg
Sodium:
296
mg
Potassium:
62
mg
Vitamin A:
685
IU
Vitamin C:
8.7
mg
Calcium:
98
mg
Iron:
1.4
mg
More Vegetable Side Dish Recipes
If you like this samphire recipe then do have a look at one of my other vegetable side dish recipes!
And the BBC has some more recipe ideas for samphire too.
KEEP IN TOUCH
Do let me know if you make this lemon and garlic samphire or any of my other recipes. I love to get feedback from readers.
You can also stay up to date by following on Instagram, Facebook and Twitter