For an impressive Sunday lunch nothing beats a traditional beef Wellington. This delicious classic recipe of beef fillet wrapped in puff pastry is ideal for entertaining.
If you're a vegetarian, today is not the day to be reading my blog. Beef Wellington is one dish I really wanted to make this year and I finally made it last Sunday for Mother's Day.
It's not a dish that I grew up with or that has any special significance to me at all except that last year I had it for the first time and absolutely fell in love with it. The beef was so tender. The knife just slid through it, and it was a uniform pink, not just in the centre but from side to side, top to bottom. I had never had beef of that quality before and a little spark of love was born for this dish.
Buying the Best Beef
So, on Saturday morning I skipped out of the flat to our neighbourhood butcher's shop. I was prepared to spend a bit of money on some beef fillet. I just didn't know how much!
The price truly shocked me. I wandered home in a daze, shocked at quite how much I'd had to spend and with the butcher's words, 'Don't ruin it,' ringing in my ears. Did I give the impression of someone who had never cooked beef fillet before? Well, certainly someone who had never bought it before anyway.
Homemade mushroom duxelle or bought paté?
I hid it in the fridge and tried not to think about it till the next day. Not about the beef. I thought about the mushroom duxelle instead. I could have used paté. But Gordon Ramsay makes his own duxelles and I couldn't possibly now pair expensive beef fillet with shop bought paté. Only the best from now on for this dish!
The rest of the beef Wellington was prepared in the morning before our guests arrived. It looked good. Rather like it should have done, but then I'm sure any Wellington looks good before it's cooked. It's after it's cooked that it counts. And that was what I was worried about.
It was now me against the butcher. He thinks I'm going to ruin it. He may not be the one coming to Sunday lunch and he has in all probability completely forgotten about me. I may not even see him again, but I am not going to let him win.
How do you know when a beef Wellington is cooked?
It would be so easy for him to win. The difficulty is that with a Wellington, it is not so easy to check that it is ready. You just have to know your oven and make a judgement on when to take it out and and let it rest. After it's rested for about 15 minutes, you cut into it, hoping and praying that it will not be either brown or red all the way through. What you want instead is that tender pink.
When that happens, you congratulate yourself on what an excellent cook you are. As you had known all along that you could do it.
So, I have now eaten 2 fantastic beef wellingtons and have found a new thing to worry about. Will I ever be able to experience it again without taking out a second mortgate? Of course. It may be expensive but you can't put a price on love.
I more or less followed the recipe from Gordon Ramsay's Sunday Lunch.
Traditional Beef Wellington Recipe
Recipe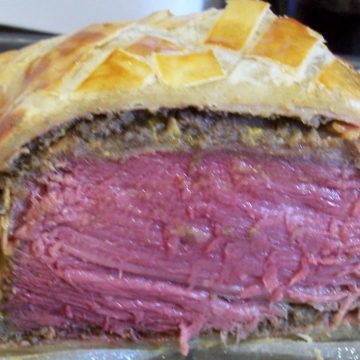 Traditional Beef Wellington
For an impressive Sunday lunch nothing beats a traditional beef Wellington. This delicious classic recipe of beef fillet wrapped in puff pastry is ideal for entertaining.
Ingredients
400

g

mushrooms

800

g

beef fillet

320

g

puff pastry

6

slices

parma ham

1

tablespoon

English mustard

1

egg yolk

Pinch

salt

Pinch

black pepper
Instructions
Prepare the mushroom duxelle. Put the mushrooms in a food processor and blitz. Then put into a frying pan, season and cook over a high heat, stirring, till all the moisture evaporates. It should take about 10-15 minutes. Spread them out on a plate and leave to cool.

Heat a little oil in a frying pan and sear the beef for about 30 seconds on all sides. Leave to cool.

Lay a large piece of cling film on the work surface. Lay the slices of parma ham in the middle, overlapping slightly. Spread the mushroom duxelle over the parma ham.

Spread the mustard over all sides of the beef fillet. Lay the beef in the middle of the parma ham and wrap the ham around the beef, by pulling the cling film up at each side. Put in the fridge, wrapped in the clingfilm for about 20 minutes.

Roll out the puff pastry. Take the cling film off and put the beef in the centre of the pastry. Brush egg onto the sides of pastry and then wrap the pastry around the beef. The egg will help it stick. Put back in the fridge for another 20 minutes.

Score the top of the pastry and brush the remaining egg onto the top of the Wellington. Put in the oven at 200°c for 20 minutes. Then lower the temperature to 180°c for another 20 minutes (I left it in for another 25 minutes as my oven usually takes longer than a recipe says).

Take out of the oven and leave to rest for 15 minutes before serving.
Notes
Nutritional information is approximate and a guideline only.
Nutrition
Calories:
715
kcal
Carbohydrates:
26
g
Protein:
35
g
Fat:
52
g
Saturated Fat:
18
g
Cholesterol:
133
mg
Sodium:
506
mg
Potassium:
650
mg
Fiber:
2
g
Sugar:
2
g
Vitamin A:
43
IU
Vitamin C:
1
mg
Calcium:
21
mg
Iron:
5
mg
More recipes you might like
How about trying these individual filo wellingtons? They're great if you're not cooking for many people.
Keep in touch
Do let me know if you make this beef Wellington or any of my other recipes. I love to get feedback from readers.
Why not sign up to my weekly newsletter too? I'll even send you a FREE printable.
You can also stay up to date by following on Instagram, Facebook and Twitter.