This mustard beef and beer stew is slow cooked in the oven to produce a meal good enough for a dinner party. What's more, all the ingredients are locally sourced making it an ethical choice too!
We all know how important it is to reduce food miles and to support local businesses and food producers. Well, this month I've been working with The Foodie Guide to develop a dinner party recipe made only with locally sourced ingredients.
Have an Easy Dinner Party with this Beef and Beer Stew
Now, I'm not one for giving fancy dinner parties or spending hours in the kitchen preparing food. No, not even for a dinner party. I always try to serve food that I can prepare in advance so that once the guests are here, I can relax with a drink too! I decided on a beery mustard beef stew as although it can be simple, it's a really tasty choice, especially in January. It's also a crowd-pleasing recipe that I'd happily eat in someone else's house.
Sourcing local dinner party ingredients
I have to admit that I am often a lazy shopper. I do online shopping for most of our food. However, this challenge forced me to be more adventurous. There is a brilliant butcher's shop, Giardina's Family Butcher's in Walton on Thames, less than a mile from my house.
All the meat is free-range from a local farm and the staff are really knowledgeable. I got the chuck steak for this beer and beer stew there as it is perfect for slow cooking.
Locally produced mustard
I bought the other products at my local farm shop, at Garson's Garden Centre in Esher. They have a wonderful selection of products with many from local producers. I got some fantastic Le Mesurier Gourmet British Condiments Horseradish Mustard which is produced in Surrey. Mustard and horseradish go brilliantly with beef and I absolutely love this stuff now! I put some in the stew but also had a big dollop on the side of my plate.
Local Beer
For the beer I used some Twickenham Honey Dark as it's brewed in a local brewery. I'm not an expert on beer but I hoped that the honey in it would complement the mustard.
Pick your own vegetables
Now, in summer I would have had no problem getting local vegetables as Garsons farm is one of the largest pick-your-own farms in the UK. I often take the children to pick all sorts of fruit and vegetables.
Last year alone I remember picking cabbages, carrots, onions, broccoli, cauliflower, green beans, mange tout, pumpkins, squash, corn on the cob, apples, strawberries, raspberries, blackcurrants and gooseberries.
If you live locally it is well worth a visit. You can also buy the produce in the farm shop during the pick your own season.
Roasted vegetables are great with this beef and beer stew
I wasn't able to find out where the carrots and onions came from but they are English. The carrots still had their beautiful green leaves on top.
Do you just throw them away? If so, don't as you can make this gorgeous carrot top pesto with them. The roasted carrots go beautifully with the stew but other sweet root vegetables would also work well. Because of the slight bitterness of the beer, I'd definitely recommend roasted vegetables with this.
I managed to get some freshly baked bread from Garsons too - this was great for mopping up the lovely liquid in the stew!
How to get the perfect beef and beer stew
I began cooking this stew on the hob and then transferred it to the oven to slow cook. Do make sure you cook it for long enough so the beef is tender and falls apart. Also, beery beef stews can have a bitter edge if not cooked for long enough or if the beer is too hoppy.
If you think this is the case then a spoonful of brown sugar can make it just right. The sweetness of the roasted vegetables also balances out any bitterness.
Recipe
Locally Sourced Beef and Ale Stew
This mustard beery beef stew is slow cooked in the oven to produce a meal good enough for a dinner party. What's more, all the ingredients are locally sourced making it an ethical choice too!
Ingredients
2

onions

diced

500

g

chuck steak

diced

1

tablespoon

plain flour

500

ml

dark beer

2

teaspoon

mustard

1

tablespoon

brown sugar

(optional)

Pinch

black pepper

Pinch

salt

parsley

or green carrot tops for garnish (optional)
Instructions
Fry the onion gently in a little oil for about 5 minutes until soft.

Coat the beef in the flour and add to the pan. Brown on all sides. Depending on the size of your pan you may need to do this in two stages.

Add the beer. Scrape the wooden spoon on the bottom of the pan to loosen any sticky bits. Bring to the boil.

Put the lid on the pan and transfer to the oven. Cook for 3 hours.

Stir in the mustard, season with salt and pepper. Add a little sugar if you think it needs it.

Serve with bread and roasted vegetables.
Notes
Nutritional information should be used as a guideline only.
Nutrition
Calories:
365
kcal
Carbohydrates:
14
g
Protein:
25
g
Fat:
19
g
Saturated Fat:
8
g
Cholesterol:
85
mg
Sodium:
121
mg
Potassium:
541
mg
Fiber:
1
g
Sugar:
5
g
Vitamin A:
20
IU
Vitamin C:
4
mg
Calcium:
35
mg
Iron:
2.9
mg
Pin this Mustard Beery Beef Stew for later!
If you like this, why not try one of these beef recipes?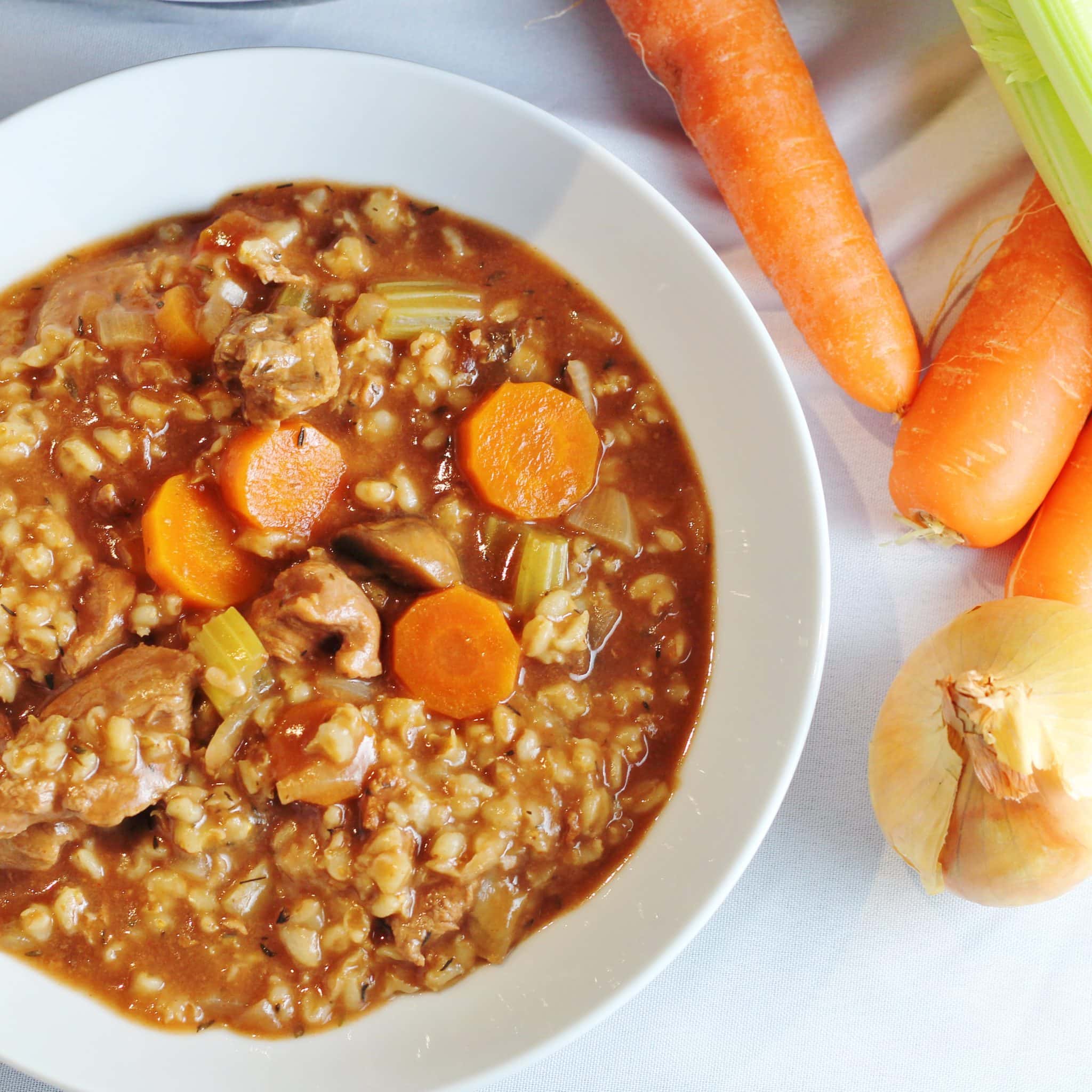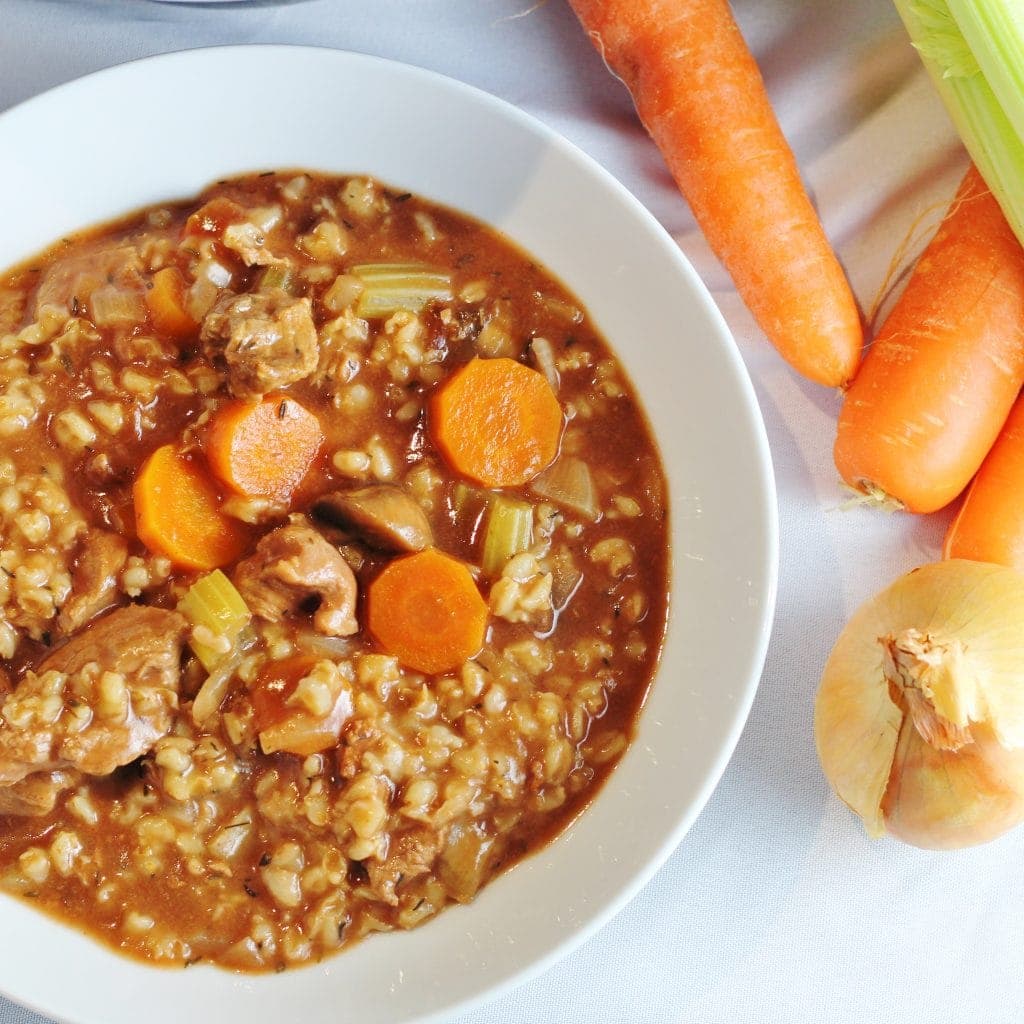 You might also like my easy coq au vin recipe!
Disclosure: This is a sponsored post.