Healthy and vibrant, this raw cauliflower tabouli recipe makes a delicious low carb alternative to the traditional Middle Eastern tabouli. It's a light plant-based side dish bursting with lemon and herbs.
Some vegetables are most definitely underused in my kitchen. One of them is cauliflower. I admit I don't really like it. To me, it's the lamb of vegetables i.e. it needs to be flavoured with something more palatable before I'll happily eat it.
Cooked cauliflower can represent all that is bad about stereotypical British food. Wet, soggy, tasteless and bland with a nasty aftertaste. If that's what you think too, just give it a chance raw. You might be pleasantly surprised.
Make this Cauliflower Tabouli with Raw Cauliflower
This cauliflower tabouli is made with raw cauliflower and raw cauliflower is a completely different vegetable. Yes, it is. Raw cauliflower is crisp, tasty, perfect in salads or just on its own for a healthy vegetable snack. That's right, I like raw cauliflower, I just don't use it enough.
I saw this recipe in Delicious Magazine and it jumped out at me straightaway. I'd been wanting to make a cauliflower tabouli for quite a while and I loved the sound of the sundried tomatoes in this.
However, as I rarely buy cauliflowers, it's not something I often have the ingredients for at home. This time though, I'd picked a small cauliflower at the pick your own and was actually looking for ways of using it without cooking it.
Blitzed up the cauliflower is a good substitute for bulgur wheat. It's not the same, but as long as you're not expecting it to be, that's fine. I loved the little grains of white cauliflower amongst the fresh herbs, garlic and the punchiness of the sundried tomatoes. It's definitely a reason to buy a cauliflower, even if you've avoided it since becoming an adult.
How to adapt this raw cauliflower tabouli recipe
Of course, you could make this raw cauliflower tabouli recipe with bulghur wheat or couscous but the cauliflower makes a nice change. It is also a good way of getting some extra vegetables in your diet. Or your family's.
I often avoid recipes that include lots of different herbs. I love using herbs but if I buy too many then I find I don't use them before they go limp and I hate waste. So, bearing that in mind, don't feel you need to use all three of the herbs I have used. This recipe is just as tasty using just two herbs or even just one herb. Feel free to use what you can get easily.
If you want the tabouli to be extra lemony then grate some of the zest before squeezing the lemon. If you are not so keen on raw garlic then leave it out. You could also add a little finely diced raw onion.
The quantities in this salad can be adjusted. Make sure to taste it and adjust the lemon juice, oil and black pepper to taste.
Raw Cauliflower Tabouli Recipe
The recipe is from My Petite Kitchen Cookbook by Eleanor Ozich.
Recipe
Cauliflower Tabouli
Healthy and vibrant, this raw cauliflower tabouli recipe makes a delicious low carb alternative to the traditional Middle Eastern tabouli. This light plant-based tabouli is a great side dish bursting with lemon and herbs
Ingredients
300

g

cauliflower

Approximately half a cauliflower

10

g

mint

10

g

basil

10

g

parsley

1

clove

garlic

crushed

70

g

sundried tomatoes

roughly chopped

1

lemon

juiced

Pinch

black pepper

2

tablespoon

extra virgin olive oil
Instructions
Put the cauliflower and garlic in a food processor and blitz until the grains are about the size of grains of rice.

Add the herbs and blitz again until all the herbs have been chopped.

Put the mixture from the food processor into a bowl and add the lemon juice, sundried tomatoes, black pepper and olive oil. Stir together.
Notes
Nutritional information is approximate and a guideline only.
Nutrition
Calories:
131
kcal
Carbohydrates:
14
g
Protein:
4
g
Fat:
7
g
Saturated Fat:
1
g
Sodium:
68
mg
Potassium:
852
mg
Fiber:
3
g
Sugar:
8
g
Vitamin A:
600
IU
Vitamin C:
50.7
mg
Calcium:
50
mg
Iron:
2.3
mg
Pin this tasty cauliflower tabouli recipe!
More vegan salad recipes
If you're looking for more healthy side salad recipes then why not try my lemon, barley and basil salad?
It's delicious as a barbecue side dish as is my tomato, olive and couscous salad.
If you prefer a low carb salad then how about my harissa carrot salad? It's ideal for spice lovers!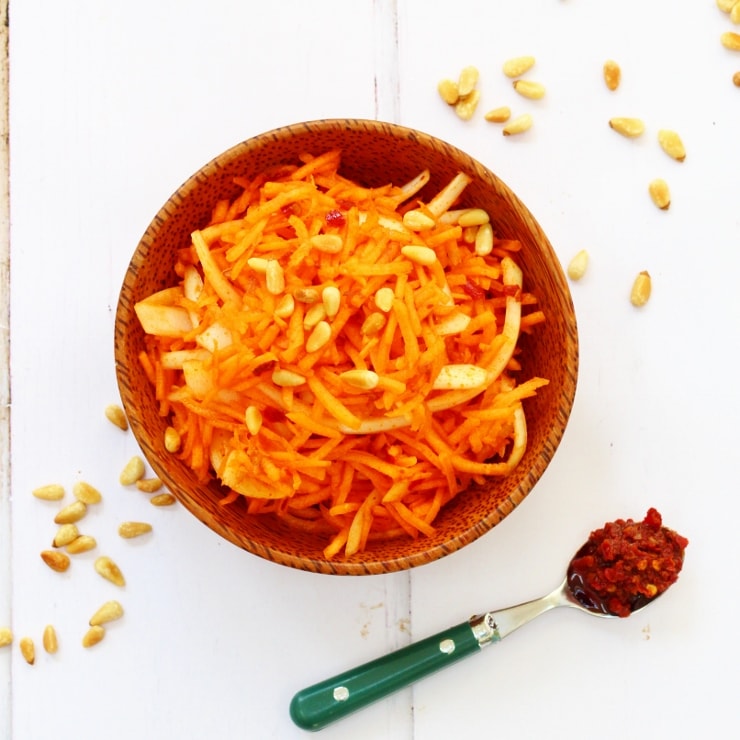 Salads Recipe Collection
I love salads and even have a whole recipe collection for main course salad recipes. Do check it out if you're looking for inspiration!