This zesty carrot top pesto is a tasty twist on traditional pesto. Made with leafy carrot top, sunflower seeds and lemon juice it's a delicious vegan dip. It's also a brilliant way of avoiding food waste!
I've been making pesto for years. I rarely make it the same way more than once. Sometimes I use basil, sometimes coriander. Sometimes I use pine nuts, other times I use pumpkin seeds or cashew nuts. Usually I add cheese such as parmesan or grana padana. But not always. It just depends on what I feel like and that's the great thing about pesto. Pesto doesn't have to have any cheese in it! There are so many ways to be creative with it.
Can you eat Carrot Tops?
For a long time I did not know that you can actually eat carrot tops. I would just throw them away without a second thought. Even when we went to the pick your own and picked our own carrots to take home I would often pull the leaves off and leave them behind. If only I'd realised sooner!
But what to do with leftover carrot tops?
This week, I made carrot top pesto. I'd bought some beautiful carrots from a farm shop with gorgeous long green leaves. They were so vibrant and fresh, it seemed a shame to just throw them away. But what do you do with carrot tops? Add them to a salad maybe or use them to garnish a stew. Yes, if you've read my beery beef stew recipe you'll see I did that!
However, I had an awful lot of carrot tops and needed to make something that would really showcase them. Carrot top pesto was exactly the right thing to make. Blitzed with creamy sunflower seeds, lemon juice and garlic they made a gorgeous vegan dip that for me, was the perfect side to a plate of roasted vegetable wedges.
What to serve with carrot top pesto?
I roasted sweet potato and aubergine wedges to go with the carrot top pesto and trust me, the combination was a real winner. The sweetness of the roasted vegetables went beautifully with the creamy but sharp and slightly earthy flavor of the carrot tops. I did consider adding some cheese but after tasting the dip, it really was perfect without it.
In future, I know I'll be making the most of any carrot tops I get. I quite fancy adding them to a stir fry next time. Or how about in some savoury crackers?
How else can you serve this Carrot Top Pesto?
This homemade pesto recipe is great in all kinds of ways. You can of course stir it through some pasta for a delicious Italian inspired meal. It's also great on pizza with mozzarella and tomatoes.
Why not spread it in a sandwich or drizzle it over a salad or a soup? I love it in this chicken pesto salad.
How long does Homemade Pesto Last?
This carrot top pesto should keep well in an airtight container in the fridge for 4-5 days. If you want to keep it for longer you can freeze it for up to 6 months in an airtight container. You can use an ice cube tray to freeze the pesto in and then take the cubes out and put them in a freezer bag to store for longer and so it is easier to take out the amount you need. To defrost, take it out of the freezer and let it defrost naturally before using.
Recipe
Carrot Top Pesto
This zesty carrot top pesto is a tasty twist on traditional pesto. Made with leafy carrot top, sunflower seeds and lemon juice it's a brilliant vegan dip.
Ingredients
95

g

carrot tops (one large bunch)

1

lemon, juiced

50

g

sunflower seeds

1

tsp

garlic

crushed

3

tbsp

extra virgin olive oil

Pinch

sea Salt
Instructions
Put all the ingredients in a food processor and blend well.

Taste and add extra garlic, lemon, salt or olive oil if necessary.
Notes
Nutritional information is approximate and a guideline only.
Nutrition
Calories:
124
kcal
Carbohydrates:
4
g
Protein:
2
g
Fat:
11
g
Saturated Fat:
1
g
Sodium:
1
mg
Potassium:
53
mg
Vitamin C:
14.6
mg
Calcium:
60
mg
Iron:
1.9
mg
Pin this Carrot Top Pesto for Later
More Simple delicious Vegan dip recipes
If you like this recipe then do try one of my other vegan dips. They're perfect for a light meal or a party!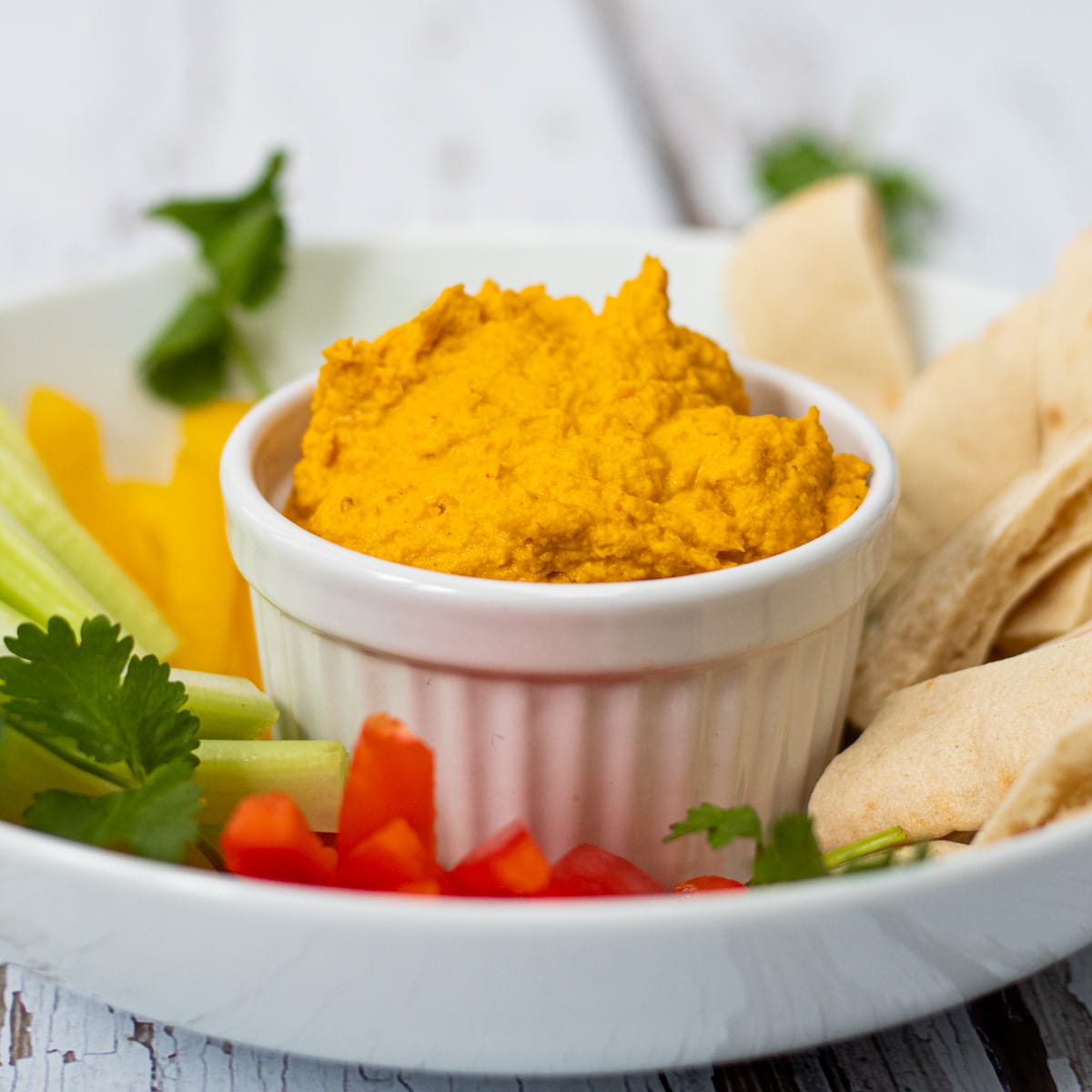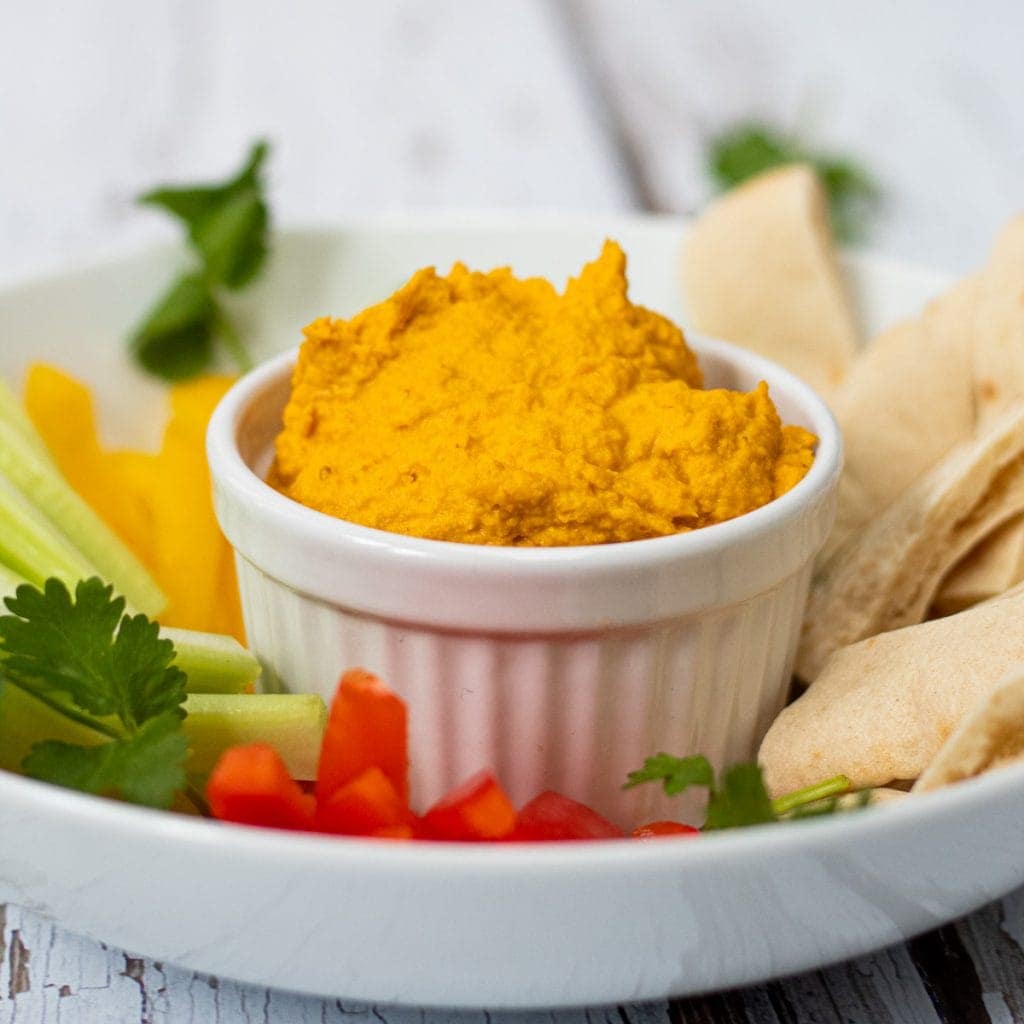 Places I'm sharing this Carrot Top Pesto
Cook Blog Share hosted by Eb at Easy Peasy Foodie