If you've ever wanted a mung bean sprouts recipe or to make your own sprouts then you're in the right place. These easy bean sprouts grow in 3 days and they're perfect in this delicious mung bean sprout stir fry.
When most people think of bean sprouts they think of the ones you get in the supermarket with hardly any of the actual bean left on. They're great in salads and stir fries and most people probably make them into a chow mein. However, there is so much more to bean sprouts than those supermarket ones. You can sprout all kinds of dried beans or lentils to get your own home grown bean sprouts. That is exactly what I've done here by sprouting my own mung beans to get mung bean sprouts.
What are mung beans?
You can often buy dried mung beans in health food shops and some supermarkets. They are small, hard and green on the outside. They are an ideal bean if you want to try making your own sprouts.
How do you make your own Bean Sprouts?
It is very easy to grow your own bean sprouts at home. You can get a Sprouting Kit which is great if you want to do lots of sprouting or you can improvise and make your own kit. You need a large jar. Make sure it is very clean. Soak the beans in warm water overnight first. Rinse them the next morning and drain them well in a colender. Put them in the jar and cover with a piece of muslin. Put the jar in a dark place and try to lean it so it is upside down and at an angle so any excess water drains out and the sprouts can get air to them. Rinse the bean sprouts three times every day. They will begin to sprout quite quickly and are perfect to eat in 3-5 days.
The growth of the bean sprouts on days 1, 3 and 5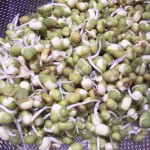 How are these bean sprouts different to the ones you can buy?
The bean sprouts you buy in shops are often mung bean sprouts as well but home sprouted ones are never quite the same. These bean sprouts taste very similar but I find they are a little less watery than bought ones. The bean still has a bit more crunch and the sprouts vary more in thickness. Some are fat and juicy and others are bit more spindly.
Can you sprout other beans using this method?
Yes, this method works for other beans too. Try chickpeas, black beans, lentils, soy beans or alfalfa seeds.
What other recipes can you use homegrown bean sprouts in?
As well as this mung bean stir fry recipe, I've also used these bean sprouts in a Pad Thai recipe and in a coleslaw. They're great added to all kinds of salads.
What's this mung bean stir fry like?
This easy mung bean stir fry only takes a few minutes to cook so is perfect for a really quick midweek meal. Although it only has a few ingredients it is really very tasty with a good chilli kick. The mustard seeds add loads of flavour. It's also a really versatile recipe. You can serve it as a side dish, a salad or as a filling for a wrap.
Can you adapt this mung bean sprouts recipe?
It's a very simple recipe to adapt. Once you've grown the bean sprouts then you just need a few more vegetables to go with them and some spices. I used onion and tomatoes but you could use cabbage, carrot, bell peppers or mushrooms. In fact, any vegetables that are good for stir frying would go in this.
You can keep the flavours simple with chilli peppers and mustard seeds or you could add garlic, ginger and herbs such as coriander (cilantro). If you want, why not go for more of an Indian flavoured stir fry recipe and add some curry spices to it?
You may think that 2 chillies is a lot for one person in this recipe. Just remove the seeds to make it less fiery!
Mung Bean Sprouts Stir Fry Recipe
Recipe
Mung Bean Sprouts Stir Fry Recipe
This easy mung bean stir fry only takes a few minutes to cook so is perfect for a really quick midweek meal. Although it only has a few ingredients it is really very tasty with a good chilli kick. The mustard seeds add loads of flavour too.
Ingredients
2

tsp

oil

1

teaspoon

mustard seeds

1

green chilli pepper

finely sliced

1

red chilli

finely sliced

1

onion

sliced

1

tomato

chopped

100

g

mung bean sprouts
Instructions
Heat the oil in a pan. Add the mustard seeds.




After they splutter add the green and red chillies.

Then add the onion and stir fry for a minute. Then add the tomatoes and continue to cook.

Add the sprouts and required salt and cook them for another minute till they are heated through and are just beginning to wilt but still have some crunch.
Notes
Nutritional information is approximate and a guideline only.
Nutrition
Calories:
216
kcal
Carbohydrates:
28
g
Protein:
6
g
Fat:
10
g
Sodium:
170
mg
Potassium:
746
mg
Fiber:
7
g
Sugar:
16
g
Vitamin A:
1455
IU
Vitamin C:
108.2
mg
Calcium:
51
mg
Iron:
2.1
mg
KEEP IN TOUCH
Do let me know if you make this mung bean sprouts recipe or if you grown some sprouts. I love to get feedback from readers.
Why not sign up to my weekly newsletter too. I'll even send you a FREE printable.
You can also stay up to date by following on Instagram, Facebook and Twitter.