These buttery chocolate chip biscuits are just perfect with a glass of milk or a cup of tea. They also make a great easy baking activity to do with your kids.
When I was pregnant I thought that all the baking would come to an end once Master Spice was out in the world. What I wasn't counting on, was Little Miss Spice spying the baking ingredients in the cupboard.
Of course she demanded to play with them. I needed a quick recipe that she could help me make as well as give her the chance to use her favourite star-shaped cookie cutter. Everything has to be star-shaped right now. Just like these soft gingerbread biscuits!
I didn't add too many chocolate chips as they would have made it harder to cut shapes out of the dough. The cookies have just 40g of chocolate chips and Little Miss Spice did her best to reduce the amount further by eating them when she was supposed to be cutting out biscuit shapes! I often add a few more chocolate chips just because of that!
Ingredients for these chocolate chip biscuits
To make these easy chocolate chip biscuits you only need 5 ingredients:
Butter - I usually use unsalted but salted is also fine. You can also replace it with margarine or a spread.
Caster sugar
Plain flour
Vanilla extract
Chocolate chips - I usually use milk chocolate chips as my family prefer them. However, dark or white also work. You can also replace the chocolate chips with nuts or dried fruit.
How to make these chocolate chip biscuits
Do check out the full recipe card further down the page too. Basically you start by creaming the butter and sugar together. Then add the vanilla followed by the flour. Add a third at a time so it is easier to blend in.
You'll get a stiff dough that you will need to bring together with your hands while folding in the chocolate chips.
Line 2 baking trays with baking paper and then use a cookie cutter to cut out whatever shapes you want.
Bake the biscuits for about 15 minutes at 180°c (160°c fan)

What are these chocolate chip biscuits like?
The finished biscuits were a bit like shortbread, very buttery but not too sweet. If you wanted them to be a bit sweeter you could add a little extra sugar.
How can you stop the biscuit dough from spreading?
The dough is quite soft which means the biscuits spread a bit while in the oven. To stop this you can put the cookies in the freezer for 15 minutes to firm up before baking. This will help them keep their shape but they will still spread a little bit. It wasn't a problem for us but it might be if you wanted them all to look nice and uniform.
How long can you keep these biscuits for?
As long as you store these biscuits in an airtight container they should keep well for at least two weeks.
Can you make the dough in advance?
If you want to make the biscuit dough in advance then it will keep for three days in the fridge before being baked. You can also store the dough in the freezer for up to a month. Defrost overnight in the fridge before using.
How can you adapt these biscuits?
Feel free to replace the chocolate chips with other ingredients. You could use caramel or butterscotch pieces. Or use sweets such as M&Ms or smarties. Why not add some sprinkles to the dough to make them super colourful?
If you're not such a chocolate fan then use nuts or dried fruit.
I love vanilla in biscuits like these but you can use other flavourings. See what you have in your cupboard. Why not add almond or a fruit extract?
Can I add more chocolate to these biscuits?
As I said above these biscuits do not have lots and lots of chocolate chips in. If you want to make them more chocolaty but still use a biscuit cutter, then just press a few more chocolate chips into the top of the cookies after you have cut out the shapes.
Can you make them vegan?
Yes, it's easy to make these vegan. Just use vegan chocolate chips and use a vegan spread instead of the butter.
Recipe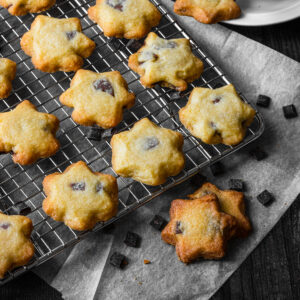 Buttery Chocolate Chip Biscuits
These buttery chocolate chip biscuits are a brilliant cookie to make at home. They're very easy and just melt in the mouth!
Ingredients
225

g

butter, at room temperature

110

g

caster sugar

275

g

plain flour

½

tsp

vanilla extract

40

g

chocolate chips
Instructions
Pre-heat the oven to 180°C (160°C fan)

Using a wooden spoon, cream the butter until soft. Add the sugar and beat together with the spoon until the mixture is light and fluffy.

Add the flour and vanilla extract and stir in until you have a fairly stiff dough. Then stir in the chocolate chips.

If you want to use biscuit cutters, sprinkle a little flour on the worksurface and rolling pin and roll out the dough to about 1cm thick. Cut out the biscuits and put them on baking trays lined with baking parchment. Leave about 3cm gaps between each cookie.




Put the baking trays in the freezer for about 15 minutes. This will help the cookies to keep their shape as they are baking.

Bake for about 15 minutes.



Notes
Feel free to use more chocolate chips for a more chocolate chip rich cookie.
Nutritional information is approximate and a guideline only.
Nutrition
Calories:
92
kcal
Carbohydrates:
9
g
Fat:
5
g
Saturated Fat:
3
g
Cholesterol:
13
mg
Sodium:
46
mg
Potassium:
9
mg
Sugar:
3
g
Vitamin A:
165
IU
Calcium:
4
mg
Iron:
0.4
mg
More biscuit and cookie recipes
And here are some more ideas for recipes you can bake with kids!
Keep in touch
Do let me know if you make these buttery chocolate chip biscuits or any of my other recipes. I love to get feedback from readers.
You can also stay up to date by following on Instagram, Facebook and Twitter