Soft chewy gingerbread biscuits are perfect at Christmas time. These bite-sized little ginger biscuits are ideal to make with your kids too as well as being great for snack time!
So of course when I was given a gingerbread man cutter I was excited to use it with her. I had never made gingerbread men before so I thought we would have a great time together making gingerbread men.
Well, I wanted to make gingerbread men. Little Miss Spice had other ideas. She didn't seem to like the idea of making little men and only wanted to use the star, tree and butterfly cutters. Bells were acceptable too. But no little men. Not even one.
I even kept some of the gingerbread cookie dough in the fridge and tried again in a few days time but little Miss Spice still did not want little gingerbread men!
Christmas gingerbread biscuit shapes
It's now 7 years since I first made these and I'm pleased to report that we have managed to use that gingerbread man cutter! However, as these biscuits are perfect for Christmas I like to use stars and Christmas trees instead. Maybe Little Miss Spice was right all those years ago!
What is the texture of these gingerbread biscuits?
Some gingerbread biscuits are very hard but I like my ginger biscuit to be a little soft. These ones are just right. They're soft and a bit chewy so you definitely won't break any teeth on them! The recipe makes a huge amount of little biscuits but of course that will depend on the size of your cookie cutters.
What ingredients do you need for gingerbread biscuits?
Plain flour
Bicarbonate of soda (baking soda)
Spices - I like to use a mixture of ginger and cinnamon
Butter - I usually use unsalted but salted is also fine. It needs to be at room temperature so it is easier to mix in to the flour.
Soft light brown sugar - Adds a much more caramel flavour than white sugar and helps the cookies to keep their soft texture.
Golden syrup
Egg
Icing sugar - For decoration only.
How do you make gingerbread biscuits?
These biscuits are very easy to make. Just put all the flour, bicarbonate of soda and spices in a large bowl. Rub the butter in with your finger tips till you get a breadcrumb consistency. Then mix in the sugar.
Beat the egg and golden syrup together and then stir into the flour mixture. You will get a stiff dough that you can then roll out and cut out whatever biscuit shapes you want.
Put them on baking trays lined with baking paper and bake in the oven for just 7 minutes to get soft chewy gingerbread biscuits. If you want a harder gingerbread then you can bake them for 9-10 minutes.
How long do ginger bread biscuits keep?
I have found that these biscuits keep really well in an airtight container for at least a week and probably longer. They are so moreish! You'll be glad you made a big batch.
However, if you really think you'll have a problem eating all these gingerbread cookies up then you can freeze the dough and use it later. You can also keep the uncooked dough in the fridge for a couple of days wrapped in cling film.
Can you use this dough to make a gingerbread house?
I'm afraid not. This dough makes soft gingerbread biscuits so it wouldn't hold up the weight of a gingerbread house.
Can you adapt the gingerbread recipe?
You can see from my recipe that I've use ginger and cinnamon in these ginger biscuits. That's just because I love ginger and cinnamon together and think it makes a great flavour for these biscuits. They still taste more of ginger than of cinnamon.
However, if you want to make them more traditional then omit the cinnamon and use more ginger instead. You can also vary the recipe by using mixed spice or by adding some nutmeg or ground cloves.
If you like spiced biscuits then why not check out my recipe for lebkuchen?
Can you give this ginger bread as a gift?
Who doesn't love being giving cookies as a Christmas present, especially homemade ones! These chewy gingerbread biscuits make a great homemade present. Just put them in an airtight box and wrap them up prettily!
You could also gift these delicious caramelised pecans.
More Festive Christmas Baking
I love making biscuits and other sweet bakes with my kids at Christmas time. Well, not just at Christmas! I love it at any time of year!
If you are looking for Christmas bakes do take a look at these recipes:
You might also like my ginger cake recipe.
Recipe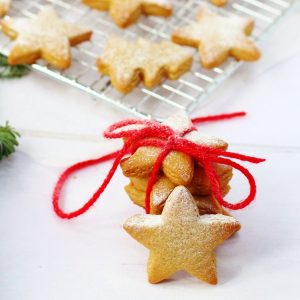 Gingerbread Biscuits
Soft chewy gingerbread biscuits are perfect at Christmas time. These bitesized little ginger biscuits are ideal to make with your kids too as well as being great for snacktime!
Ingredients
350

g

plain flour

1

teaspoon

bicarbonate of soda

1

teaspoon

ground ginger

1

teaspoon

cinnamon

115

g

unsalted butter

at room temperature

175

g

soft light brown sugar

4

tablespoon

golden syrup

1

egg

1

tablespoon

icing sugar

optional
Instructions
Put the flour, bicarbonate of soda and spices in a bowl. Soften the butter slightly in the microwave if it is straight out of the fridge or use room temperature butter. Chop the butter into cubes and add to the flour mixture. Rub in in with your fingers. Then stir in the sugar.

Put the golden syrup and egg in another bowl and beat together. Then stir into the flour mixture. Knead it with your hands until you get a stiff but smooth dough.

Line baking trays with baking paper.

Roll the dough out so it is 5mm thick and then use whatever cutters you want to make biscuits. Put them on the baking trays.

Bake in the oven for 7 minutes for biscuits that are still a bit soft and chewy on the inside or for 9-10 minutes if you prefer harder biscuits.

If you want sift the icing sugar over the biscuits to decorate.
Notes
Nutritional information is approximate and a guideline only.
The dough for these biscuits can also be made in the food processor. Blitz the flour, spices and butter till like breadcrumbs. Blitz in the sugar. Then add the egg and golden syrup and mix till a dough forms.
Nutrition
Calories:
60
kcal
Carbohydrates:
10
g
Fat:
1
g
Saturated Fat:
1
g
Cholesterol:
7
mg
Sodium:
26
mg
Potassium:
12
mg
Sugar:
4
g
Vitamin A:
60
IU
Calcium:
5
mg
Iron:
0.4
mg
Pin for Later
Places I'm sharing these easy gingerbread biscuits
Cook Once Eat Twice hosted by me, Corina, here at Searching for Spice