Have you tried making a dessert with cauliflower yet? If not then you really need to try my cauliflower chocolate mousse! Yes, it is a dessert. This smooth and creamy chocolate cauliflower pudding will blow you away!
I have to admit that I haven't always been the biggest fan of cauliflower. When I was a child I would only eat it raw and it's only in the last ten years that I've really started to love it. Even so, until recently I had only ever eaten savoury cauliflower recipes.
Why put cauliflower in a dessert?
Well, I am always trying to find ways to eat healthily and to try to sneak a few veggies into the children. Despite my best efforts they are still reluctant to eat any vegetables except their favourites.
Even though Little Miss Spice claims to eat all kinds of vegetables at school, at home she will only have a tiny nibble of anything except tomatoes!
I'd seen recipes for cauliflower puddings and smoothies online and I was curious to test it out for myself. After all, if I can't get the children to eat vegetables when they can see them, why not hide them?
Also, cauliflower is so nutritious with loads of health benefits.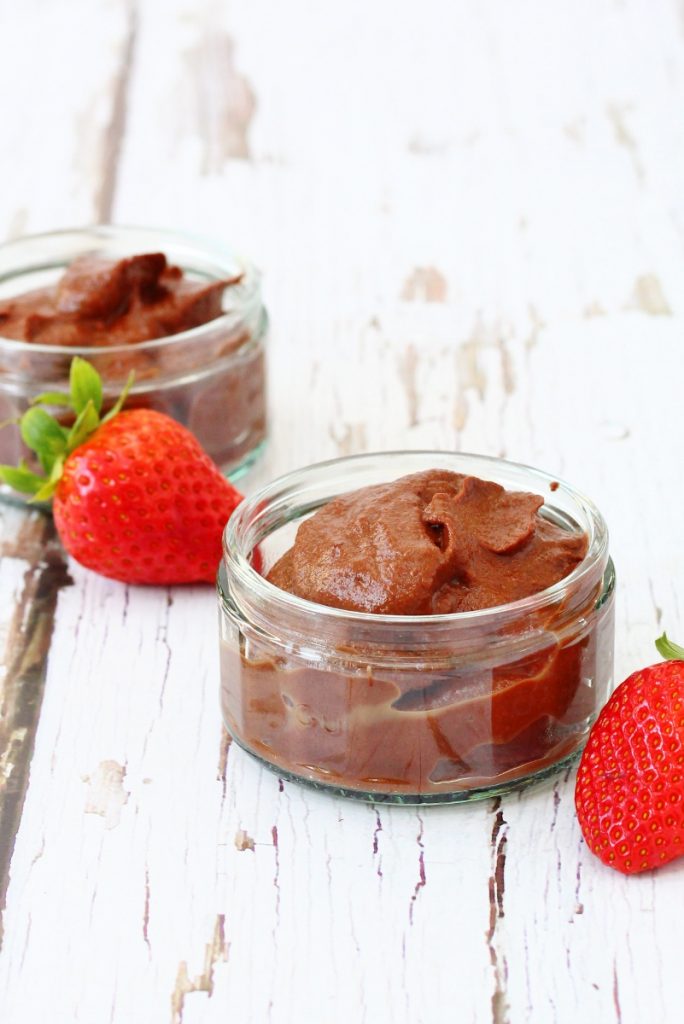 What ingredients are in cauliflower chocolate mousse?
As you can imagine, the main ingredient in this cauliflower dessert is cauliflower. It's seamed first to soften it before being blended with the other ingredients. It has dates and honey to sweeten it. The chocolate taste comes from cacao powder and there is also a little milk to get it to the right consistency.
Can you taste the cauliflower in cauliflower chocolate pudding?
No, you can't. The cacao, dates and honey are all stronger flavours than the cauliflower. So don't worry, no one would guess that there is any cauliflower in this dessert!
What does cauliflower mousse taste like?
It's got a smooth silky texture. It tastes chocolatey but there is also a slight fruitiness from the dates and honey.
Can you adapt this cauliflower mousse?
Of course you can adapt it. You can adjust the sweetness by adding more honey. If you don't have cacao powder then use cocoa powder instead. I haven't tried it but you could experiment by using a drinking chocolate mix too. As the mousse is made in the blender it is easy to adjust the flavours by adding more of the ingredients.
I'm also curious about adapting the mousse to make it with a different vegetable. I'd love to try it with sweet potato next and will let you know how it turns out!
Can you make this cauliflower chocolate mousse vegan?
This is a super easy recipe to make vegan. I used cows milk to make it but it would work equally well with a milk substitute. I think almond milk or coconut milk would both work really well.
You would also need to replace the honey to make it vegan. I would suggest using agave nectar instead.
What equipment do you need to make this vegetable chocolate mousse?
This mousse is best made with a powerful blender or food processor. I like to use my Froothie Evolve power blender to get a really silky texture. Do check out my Froothie Evolve review if you need a new blender.
More healthy dessert recipes
Cauliflower Chocolate Mousse
Have you tried making a dessert with cauliflower yet?  If not then you really need to try my cauliflower chocolate mousse!  Yes, it is a dessert.   This smooth and creamy chocolate cauliflower pudding will blow you away!


Ingredients
245

g

cauliflower

cut into florets

50

g

dates

without stones

35

g

cacao powder

125

ml

milk

I used semi skimmed

60

g

honey
Instructions
Put the chopped cauliflower in a colander over a pan of boiling water and steam for 5 minutes until soft. Leave to cool completely.

Put all the ingredients into a blender. Blitz till smooth.

Taste the mousse and add extra honey if necessary.

Serve in individual ramekins.
Notes
Nutritional information is approximate and a guideline only.
Nutrition
Calories:
135
kcal
Carbohydrates:
31
g
Protein:
4
g
Fat:
2
g
Saturated Fat:
1
g
Cholesterol:
3
mg
Sodium:
34
mg
Potassium:
439
mg
Fiber:
5
g
Sugar:
23
g
Vitamin A:
50
IU
Vitamin C:
29.5
mg
Calcium:
65
mg
Iron:
1.7
mg
Pin for later
Keep in Touch
Do let me know if you make this. Or any of the other recipes here on Searching for Spice. You can leave a comment below!
You can also stay up to date by following on Instagram, Facebook and Twitter.
Places I've shared this cauliflower chocolate pudding
Cook Blog Share hosted by Louise at A Strong Coffee