Pasties make a great snack or alternative to a lunchtime sandwich. Make these homemade cheese and mushroom pasties just like I did at the Little Portland Street Cookery School! The homemade pastry is delicious and they are so much tastier than bought pasties.
I was very lucky last weekend. I got to spend almost five hours cooking and eating. Heaven. Absolute heaven. I realise that may not be everyone's idea of the perfect Saturday, the cooking part at least, but for me it most definitely is. Especially as I got to make some delicious vegetarian cheesy pasties!
For the last few years I have done at least one cookery class a year. I get my lovely husband to buy me a class for my birthday or Christmas. It always makes me very happy and I come home full of new ideas and things to make. Although my husband's workmates joke that he should get me an ironing course next, I remain a domestic goddess only as far as cooking goes! And I'm sure Nigella would agree that that's the way it should be.
The Cookery Class at Little Portland Street
Anyway, this year's class was at the Cookery School at Little Portland Street. There were just 7 of us in the class and we were divided into three groups. That meant it was nice and small and everyone had lots of opportunity to be fully involved in the cooking.
Altogether we made about 14 dishes, with each group making about 5 each. We kept stopping to see what the other groups were doing so that we would be able to make all the dishes ourselves later.
The recipes we made in the cookery class
The title of the class was outdoor eating and included dishes such as:
Spinach, rice and herb flan
Homemade mayonnaise and coleslaw
Asparagus and pea salad
Pasta pesto salad
Grilled prawns
Terrine
Spatchcocked grilled poussin
Potato, cheese and herb pasties
Granary Bread
Shortbread
Lemon cake
Chocolate Brownies
I took lots of photos and they can be seen at the bottom of this post. I especially liked the pasties and the spatchcocked poussin but everything was good. I was also impressed by how easy it was to make the terrine, something I'd never considered making before.
By the time I left at about 2:45 I was so full I could hardly move. In fact, I had eaten so much that I couldn't eat anything when I was out with friends in the evening and the only food I ate for the rest of the day was a slice of toast before going to bed at about midnight.
So would I do another course at Little Portland Street?
Definitely, but probably a more advanced one. Although I love doing cookery classes and courses, I feel I've reached the stage where I need a more advanced class.
As I said above, the class was fantastic and I'd thoroughly recommend it, especially for relatively inexperienced cooks. Also, because of the amount of dishes made in relation to the time spent in the class, I feel that this course compares well to other similar courses.
These cheese and mushroom pasties are inspired by the class
There was one thing I didn't do quite as well as I wanted on the course. It's a long time since I've made proper pastry and mine was a little too crumbly and dry when making the pasties.
As a result, ever since last Saturday I've been wanting to make pastry again, and to make pasties, which I just love. However, I didn't want to make exactly the same ones. So, I've fiddled with the recipe and adapted it almost completely to end up with the cheese and mushroom pasties you see here.
Can you adapt these cheesy mushroom pasties?
Of course, feel free to vary the filling in these pasties. I often like to add more onion or some leeks to the filling. You can experiment with the kind of cheese you use too. I usually stick with mature cheddar but you could try blue cheese or even a smoked cheese.
Some of the dishes we cooked in the class
More pastry recipes you might like
I don't often cook pastry but I do have a few delicious recipes that use it. Why not check out one of these recipes?
Creamy Feta Quiche with Pumpkin and Spinach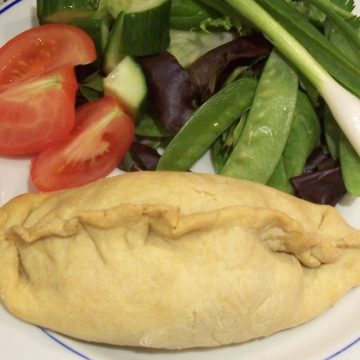 Cheese and Mushroom Pasties
Pasties make a great snack or alternative to a lunchtime sandwich.  Make these homemade cheese and mushroom pasties just like I did at the Little Portland Street Cookery School!  The homemade pastry is delicious and they are so much tastier than bought pasties
Ingredients
220

g

flour

100

g

butter

Iced water

Pinch

salt

150

g

mushrooms

1

onion

100

g

potato

cubed

60

g

cheese (I use cheddar)

grated

1

egg yolk

optional
Instructions
Add a small dash of iced water.   Bring the mixture together with your fingers so that it forms a ball.

Put it in the fridge for at least half an hour.

Fry the onions in a saucepan until soft.    Add the mushrooms.    Cook until the mushrooms have reduced in size and any liquid released by the mushrooms has evaporated.    Leave to cool.

Mix together the potato, mushrooms and onions and cheese.   Season.

Roll the pastry until about ½ cm thick.    Put a small plate or saucer onto the pastry and cut around it with a knife.

Put a spoonful of the filling  into the middle of the pastry circle and bring the opposite sides together.   Pinch both sides of the pastry together so it forms a small parcel with no gaps.

I forgot this stage, but ideally brush a little egg yolk onto the pasty so it turns golden as it cooks.

Bake in the oven at about 190°c for 40 minutes.
Notes
Nutritional information is approximate and a guideline only.
Nutrition
Calories:
488
kcal
Carbohydrates:
49
g
Protein:
12
g
Fat:
27
g
Saturated Fat:
17
g
Cholesterol:
118
mg
Sodium:
280
mg
Potassium:
336
mg
Fiber:
3
g
Sugar:
2
g
Vitamin A:
840
IU
Vitamin C:
6
mg
Calcium:
142
mg
Iron:
4
mg
Keep in Touch
Do let me know if you make this. Or any of the other recipes here on Searching for Spice. You can leave a comment below!
You can also stay up to date by following on Instagram, Facebook and Twitter.