This easy chorizo cheese straws recipe made with ready rolled puff pastry, cheddar cheese and chorizo is so simple to make! They're also incredibly moreish and perfect for parties, light meals or snacks.
I have made puff pastry in the past. It was lovely and I got a real sense of achievement from making it. I possibly even enjoyed it more, knowing that I'd made it myself. If only there were still time to get lost in pastry making. These days if something is not quick and easy it just doesn't get made.
That's why I've used ready rolled puff pastry to make this easy cheese straws recipe. Ready rolled puff pastry really is just as good as any you can make yourself! Or at least the time and effort saved makes it worthwhile.
There are just 3 ingredients in these cheese straws!
These easy cheese and chorizo cheese straws contain just three ingredients and are perfect to make for yourself. They're great for picnics, parties and packed lunches. If you have children like I do then they will love helping you to make them too. In fact, your children can probably make them for you. They are that easy!
I have to say, you don't really even need a recipe, but I'll give you one just in case! If you are making these then don't feel you have to measure out the ingredients. I used 6 slices of chorizo and a couple of handfuls of grated cheese but it is just a guide.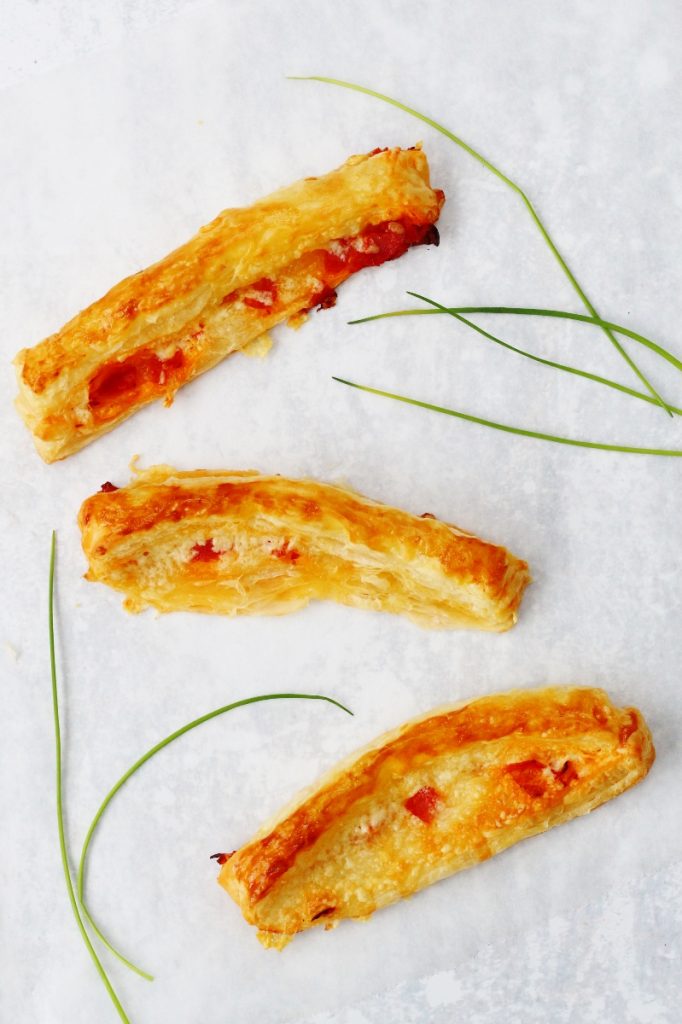 Can you adapt this easy cheese straws recipe with chorizo?
I used ready rolled puff pastry because it's easier not to have to roll it out. However, a block of puff pastry is fine too. Just roll it out into a rectangle before you start.
I used cheddar cheese but you can use any cheese you want, as long as it melts a little. You need the cheese to hold the straws together! Why not try them with parmesan, red Leicester or double Gloucester?
I used chorizo as it is one of my favourite cured meats but you could use salami, ham or bacon.
If you want to add something then try adding slices of onion too.
Do you need to bother with the egg wash?
If I have a spare egg I like to brush the tops with a little beaten egg as it helps the pastry to brown. However, you can use milk which also works but doesn't give quite such a glossy finish.
If you're in a real hurry then you can skip it completely. The cheese straws will still be totally delicious.
How long do these cheese straws stay fresh?
It is best to eat these cheese straws within three days. They lose a little of their crispness after the first day but they are still good.
Store the leftover cheese straws in an air tight container in the fridge. You can eat them cold or reheat them. If you reheat them then just put them in a preheated oven for about 4 minutes at 180C. They should crisp up again too.
Easy Chorizo Cheese Straws Recipe
Recipe
Chorizo Cheese Straws
This easy chorizo cheese straws recipe made with ready rolled puff pastry, cheddar cheese and chorizo is delicious! They're also incredibly moreish and perfect for parties, light meals or snacks.

Ingredients
320

g

puff pastry

ready rolled

30

g

chorizo

sliced, diced

50

g

cheddar cheese

grated

1

egg

(optional)
Instructions
Take the puff pastry roll out of the fridge 10-15 minutes before starting the recipe. This is because if it is too cold it can crack as you unroll it.

Unroll the puff pastry or roll it out if using a block of pastry.

Sprinkle the cheese and chorizo pieces evenly over half of the pastry. Brush a little water over the side of the pastry that doesn't have the filling on.

Fold the pastry over to cover the filling. Roll out to flatten. Cut the pastry into straw shapes.

Brush the top of the straws with a little of the beaten egg. This isn't necessary but will give them a more appetising colour.

Bake on a baking tray at about 180C for about 10 minutes. Cool on a wire rack.
Notes
Nutritional information is approximate and a guideline only.
Nutrition
Calories:
216
kcal
Carbohydrates:
15
g
Protein:
5
g
Fat:
15
g
Saturated Fat:
5
g
Cholesterol:
24
mg
Sodium:
154
mg
Potassium:
42
mg
Fiber:
1
g
Sugar:
1
g
Vitamin A:
75
IU
Calcium:
42
mg
Iron:
1
mg
Pin for later
More chorizo recipes
If you love chorizo as much as I do then why not try one of these chorizo recipes?
KEEP IN TOUCH
Do let me know if you make these simple chorizo cheese straws. I love to get feedback from readers.
Why not sign up to my weekly newsletter too? I'll even send you a FREE printable!
You can also stay up to date by following on Instagram, Facebook and Twitter.