These honey mustard sprouts and butternut squash make the perfect seasonal side dish. The honey and mustard in the marinade perfectly complements both the brussels sprouts and the butternut squash.
If you think you don't like sprouts, then think again! Brussels sprouts have really been having an image change over the last few years. They're not boring, soggy and bitter any more. Oh no, if you cook them well, brussels sprouts are delicate, crunchy and slightly nutty.
Yay for Sprouts
For years I would force myself to eat three sprouts if they were on the table and that was that. Not so today. Now I love sprouts and I just wish everyone in my family felt the same. Just recently I've made a gorgeous brussel sprout coleslaw as well as lots of simple roasted vegetable tray bakes filled with sprouts as well as other seasonal vegetables. Sprouts really are a fantastic and versatile winter vegetable. You can even air fry them and put them in a salad!
Are you convinced? If you still can't get it out of your head that brussels sprouts are mushy and bitter then these honey mustard sprouts will bring you round. The honey gives some sweetness to the dish and the mustard makes it just a touch fiery. The combination of sweetness along with a bit of heat is a flavour combination that is hard to resist.
These honey mustard sprouts and squash really are the perfect side dish.
What ingredients do you need?
To make this tasty vegetable side dish you'll need:
Brussel sprouts - I prefer to use fresh ones for this but you can use frozen ones.
Butternut squash
White wine vinegar - You can use cider vinegar instead
Runny honey
English mustard - Replace with a milder mustard if you are not such a fan of English mustard
Salt
How do you make these honey and mustard sprouts and squash?
Mix together the honey, vinegar, mustard and seasoning and put in a large bowl with the sprouts and squash. Leave while the oven is heating up or for a bit longer.
Spread the vegetables out on an oiled baking tray and roast in the oven for about 30 minutes. Or until the vegetables are cooked through.
What can you serve with these honey mustard sprouts?
I think the butternut squash and sprouts are a great side dish if you're having a roast dinner. Why not make them for Christmas or Thanksgiving? They go so well with roast turkey and all the trimmings. I think they are brilliant served with this garlic chicken too.
You can also adapt this dish to make a great one pot chicken dinner. I often do this in winter as it makes such an easy midweek meal.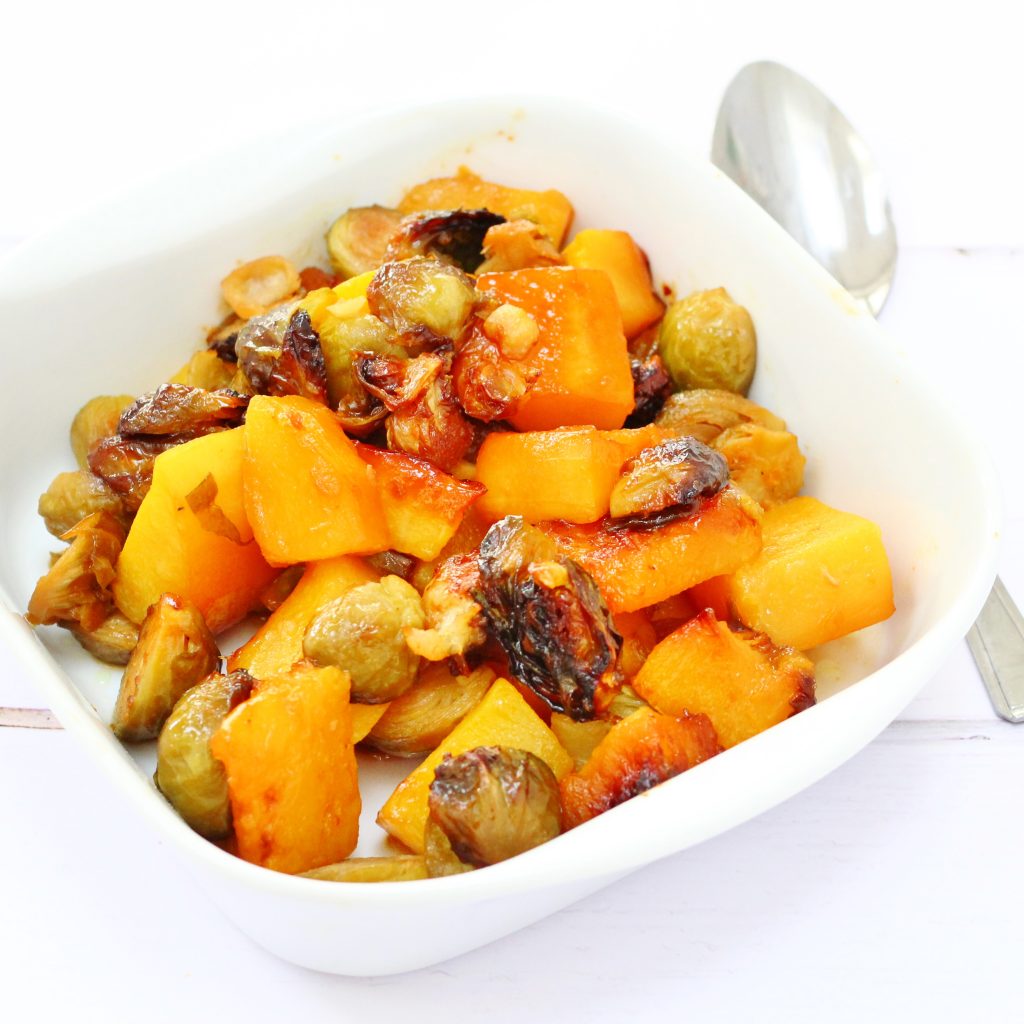 How to turn this side dish into a one pot dinner
I simply double the quantities of the marinade. I take the vegetables out of the marinade and place them in an oven proof dish. Then I put some chicken thighs in the remaining marinade. I put the vegetables in the oven for 15 minutes. Then I take the vegetables out of the oven and place the chicken on top of the vegetables, pouring on any remaining marinade. I return the dish to the oven for 30-40 minutes until the chicken is cooked through.
If you want to adapt it to make a one pot vegetarian meal then I'm sure tofu would work, although I haven't personally tried it. Let me know if you do.
How to adapt the honey mustard sprouts as a side dish
This is a super easy vegetable side dish so there is not much you can do to change it without altering the whole dish! However, feel free to use a different kind of mustard. I use English mustard as that is the mustard my husband and daughter like but it can be quite strong. You can replace it with a milder French or American mustard.
If you want a simpler side dish with just one vegetable then just use either sprouts or butternut squash. Or you could even replace them completely and make honey mustard carrots or parsnips!
What can you do with the leftovers?
The leftovers can be stored in the fridge for up to 48 hours. Reheat them in the oven or the microwave.
You can even eat them cold.
More tasty side dishes
If you like these honey mustard sprouts and squash, why not try one of these tasty vegetable recipes:
Recipe
Honey Mustard Sprouts and Butternut Squash
These honey mustard sprouts and butternut squash make the perfect seasonal side dish. The honey and mustard in the marinade perfectly complements both the sprouts and the squash.
Ingredients
300

g

brussel sprouts

washed, trimmed and halved

½

butternut squash

peeled and cubed
For the Marinade
2

tbsp

white wine vinegar

1

tablespoon

runny honey

1

teaspoon

English mustard (or use more of a milder mustard)

Salt
Instructions
Preheat the oven to 200°C.

Mix together all the ingredients for the marinade.

Put the butternut squash and sprouts into the marinade and leave them there until the oven has heated up. Then place them in an oiled roasting tin. Spray a little cooking oil on top of the vegetables.

Put the butternut squash and sprouts in the oven for 30 minutes.
Notes
Nutritional information is approximate and a guideline only.
Nutrition
Calories:
61
kcal
Carbohydrates:
14
g
Protein:
2
g
Sodium:
24
mg
Potassium:
414
mg
Fiber:
3
g
Sugar:
5
g
Vitamin A:
7020
IU
Vitamin C:
55.6
mg
Calcium:
51
mg
Iron:
1.1
mg
Pin for later!
Places I'm sharing these honey mustard sprouts