This simple raspberry pavlova recipe is perfect as a dinner party dessert. It's easy to make and perfect for making in advance. Why not make it for your next dinner party?
My mum makes a fantastic pavlova with crisp crunchy meringue on the outside and soft sticky meringue on the inside. From now on, I can say that I make a fantastic pavlova too!
Well, I like to think I am fairly modest so I will have to rely on the people who ate this raspberry pavlova with me to spread the word. And if it slips their mind? Well, I'll just have to rely on this blog too.
For years my mum has made a pavlova for family gatherings. The fruit is sometimes different. Sometimes berries, sometimes grapes, sometimes kiwi fruit. But the pavlova itself is always the same and it always has that delicious chewy middle underneath the crunchy meringue.
She recently told me proudly that Mary Berry's recipe was exactly the same as her one. You would almost have thought she'd given the recipe to Mary Berry!
When I first made this pavlova I wasn't sure how well it would turn out despite the pedigree of the recipe. I feared that somehow I would mess it up and it would turn hard and crispy on the inside too.
I needn't have worried. After making this I would say that a pavlova is just about the easiest dessert to make and still manage to impress. As long as you have an electric whisk you just cannot go wrong.
By the way, I have made this pavlova lots of times since that first attempt and it has always worked out prefectly!
What Ingredients are in a Pavlova?
There are so few ingredients. You just need eggs, sugar, cream and fruit. Oh and just a tiny bit of vinegar and cornflour. Why not make it straightaway?
Of course, if you don't like sugar then you'd best avoid this. If you don't like cream then I'd also stay away and if you have an egg allergy then it might not be suitable. However, if you have a sweet tooth and a love of sweet sugary desserts but with a bit of fruit thrown in, just to make you feel it might be healthy, then go for it.
What to put on top of a pavolva
I chose to decorate my pavlova with raspberries as we all really like them but any fruit would do. Strawberries would be perfect, as would blueberries. I like the idea of peaches or mango too. Yum.
In fact, I think I'm going to have to make this again soon, especially as I rather cheekily ate the last piece while my lovely husband was out of the house. I thought he might just forget that we had some left. He didn't.
Can you make it in advance?
The meringue base can be made the day before you want to serve the pavlova. Store it in an air tight container after it has completely cooled.
You can put the cream and berries on top the day before too and then store it in the fridge. However, it's best to decorate the pavlova on the day you serve it as juice from the berries can run out into the cream and it won't look quite so fresh.
Storing a pavlova
If you store the pavlova in the fridge it should keep for about three days. Even if some of the juice from the berries stains the cream it'll still taste good.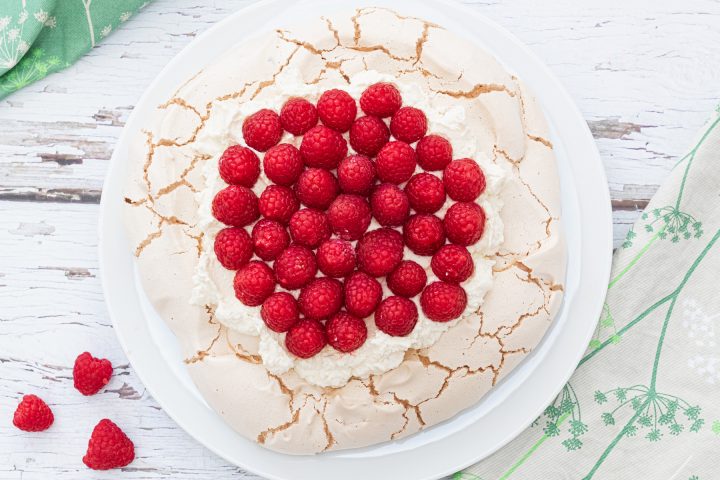 Raspberry Pavlova Recipe
Recipe
Raspberry Pavlova
This simple raspberry pavlova recipe is perfect as a dinner party dessert. It's easy to make and perfect for making in advance. Why not make it for your next dinner party?
Ingredients
3

egg whites

175

g

caster sugar

1

teaspoon

cornflour

1

teaspoon

white wine vinegar

400

g

raspberries

300

ml

double cream

1

tablespoon

icing sugar

¼

teaspoon

vanilla extract

optional
Instructions
Put the egg whites in the bottom of a mixer bowl and whisk until they begin to form soft peaks.

Add the sugar gradually, whisking as you add it.

Mix the cornflour and vinegar together and whisk in too.

Draw a 20cm diameter circle on a piece of baking paper and spoon the meringue onto it.

Put in the oven, preheated to 150C and turn it down to 140C straightaway. Bake for one hour and then turn the oven off. Leave the pavlova in the the oven as it cools. I took it out an hour later.

Whisk the double cream until it forms soft peaks and then whisk in the icing sugar. I also like to add a little vanilla but this is optional.

When the pavlova is completely cooled, put the cream in the middle and top with the raspberries.
Notes
Nutritional information is approximate and a guideline only.
Nutrition
Calories:
251
kcal
Carbohydrates:
30
g
Protein:
3
g
Fat:
14
g
Saturated Fat:
9
g
Cholesterol:
51
mg
Sodium:
34
mg
Potassium:
122
mg
Fiber:
3
g
Sugar:
25
g
Vitamin A:
568
IU
Vitamin C:
13
mg
Calcium:
37
mg
Iron:
1
mg
More Delicious Dessert Recipes
If you don't want to make this raspberry pavlova this time then why not make one of these make ahead recipes for your next dinner party
Mary Berry's Baked Chocolate Cheesecake
Vanilla Panna Cotta with Mixed Berry Sauce
Pin for later
Places I've shared this Raspberry Pavlova
I am linking this to Tasty Tuesdays at Honest Mum.