So full of goodness, this sausage lentil and vegetable soup is just the thing to ward off the cold. Delicious, easy and economical too!
I've been struggling with cold after cold this winter. I feel I'm just about to get better when another one strikes! I'm supposed to be training for a half-marathon in March but at the moment I'm seriously wondering whether I'll have to pull out!
There is just one thing for it: Soup! Yes, tasty, easy, veggie and nutrient rich soup is the only way to go. Or at least, it's my current tactic.
Soup is a great way to use up vegetables
I can't claim that this soup will definitely get rid of your cold, but I can promise that it'll make you feel better. There's nothing fancy to it. It's just full of all those super healthy seasonal vegetables that are available right now, plus some lentils, stock and of course sausages. Oh, and a little fresh parsley. Feel free to vary the vegetables depending on what you have at home. This is a great soup to make to use up some of the slightly less than perfect specimens that lurk at the bottom of the fridge.
As well as being part of my cold fighting strategy, this sausage lentil and vegetable soup is also my Recipe Redux contribution this month. The theme was Budget Eats and I believe this soup is as good for your wallet as it is for the rest of you. Eating seasonal vegetables is always more economical and store cupboard items like lentils can be picked up really cheaply.
Use quality sausages!
The only thing I don't advocate is using cheap sausages. Just. Don't. The sausages flavour the rest of the soup and so choose good ones with a high meat content and seasoned the way you like them.
How to cook the sausages for this sausage soup!
I like to chop the sausages up and cook them in pieces. This makes it so much easier when eating the soup. I just use a pair of scissors and cut them as I put them in the saucepan. It also means there is more surface area and so more deliciously caramelised bits of sausage.
Even good sausages contain fat and after the sausages have been cooked the saucepan will have a lot of liquid fat in the bottom. I drain this off, give the saucepan a quick wipe and then add the vegetables before the next step. After all, it is January and I don't want lots of solidified globules of fat floating on the top of my soup when I take the leftovers out of the fridge the next day.
What can you do with leftover sausage and lentil soup?
Did I say leftovers? Yes, the leftovers of this sausage lentil and vegetable soup are just as good the next day. Like many soups it's a perfect recipe to make in a big batch and eat up over the next couple of days. That's exactly what I did with this.
My husband was out and I ate it for lunch, for dinner and the next day. And so did Master Spice. It's always a success when at least one of my children loves a recipe and so much the better when it's a healthy recipe like this one.
Recipe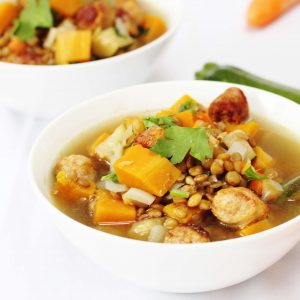 Lentil, Vegetable and Sausage Soup
This sausage lentil and vegetable soup is full of goodness and just the thing to ward off the cold. Delicious, easy and economical too!
Ingredients
400

g

Sausages

(6 sausages)

1

onion

finely diced

1

stick of celery

diced

2

carrots

sliced

300

g

butternut squash

cubed

1

courgette

cubed

150

g

green lentils

800

ml

stock

I used chicken

2

tablespoon

chopped fresh parsley

⅛

teaspoon

black pepper
Instructions
Cut the sausages into bite-sized pieces and cook in a large saucepan until cooked through and browned on all sides.

Remove the sauce pieces from the pan and set aside.

There will probably be quite a bit of fat in the pan so wipe it clean then add all the vegetables and lentils. Cover with the stock and bring to the boil. Lower to a simmer and continue to cook for about 20 minutes until the lentils and vegetables are almost ready. Add the sausage back to the pan and cook for another 5 minutes.

Stir in some freshly chopped parsley at the end and season with black pepper.
Notes
Nutritional information is approximate and a guideline only.
Nutrition
Calories:
514
kcal
Carbohydrates:
41
g
Protein:
26
g
Fat:
27
g
Saturated Fat:
8
g
Cholesterol:
72
mg
Sodium:
1476
mg
Potassium:
1172
mg
Fiber:
14
g
Sugar:
8
g
Vitamin A:
13885
IU
Vitamin C:
33.6
mg
Calcium:
97
mg
Iron:
4.9
mg
More tasty soup recipes
I have loads of soup recipe that you might like including a recipe collection entirely for homemade soups. How about one of these homemade soup recipes?
This recipe is also a great recipe for batch cooking. If you like to prepare meals that can be stored for later then do checkk out my Cook Once Eat Twice page.
Keep in touch
Do let me know if you make this sausage and lentil soup. I love to get feedback from readers.
You can also stay up to date by following on Instagram, Facebook and Twitter.