These easy homemade soup recipes are exactly what you need if you're looking for simple soup recipe ideas and meal planning inspiration! Perfect for healthy midweek meals and most are ideal for batch cooking too!
Soup has become one of my favourite easy meals. It's the ideal dinner to make if you've got leftovers to use up and you can cook enough to have more leftovers the next day too! If you're into saving time in the kitchen with meals you can cook once eat twice then soup definitely has to be one of the top choices.
How to cook soup
You can cook soup in lots of ways too! It's ideal for cooking on the stove top. You can make it in the slow cooker or pressure cooker too. If I'm making a vegetable soup with roasted vegetables I often like to roast the vegetables first to really bring out and intensify the flavours in the finished soup.
If I'm making a really simple vegetable soup I just put everything in the slow cooker and leave it to cook slowly with almost no work at all!
The great thing about soup is that it's really versatile and you can easily adapt it too!
Ideas for soup toppings and garnishes
Soups can look a bit plain but it's actually pretty easy to make them look pretty. Why not try one of these ideas next time?
Croutons - bought or homemade
Roasted chickpeas
Herbs
Yogurt, sour cream or quark
Salsa or pesto
Lightly pickled onions or diced spring onions
Sliced chilli peppers or jalapenos
Vegetable crisps
Crispy fried bacon or chorizo pieces
Do let me know how you like to make a bowl of soup look pretty!
What to serve with soup?
For me, the perfect side with a bowl of soup is a freshly baked bread roll! Or indeed any kind of bread. Pitta bread, naan, foccacia, sour dough, cheese scones or indeed any of the many breads you can think of!
If you're in a hurry why not make this easy soda bread? or if you want a yeasted bread with loads of flavour then try these tomato and nigella seed bread rolls!
Easy homemade soup recipes on Searching for Spice
As soup has been a favourite of mine for a long time then I have a lot of soup recipes here on Searching for Spice. Most of the recipes are vegetarian soups and most of those are vegan too.
Many of them use beans or lentils. I've also got a few soups with meat in and a few older recipes for soups with salmon in.
I'm going to share some of my favourite easy homemade soup recipes here and would love to know if you get inspired to make any of them.
Easy homemade Vegetarian soup recipes
Most of these easy soup recipes are not only vegetarian but vegan too! I love thick hearty soups and you'll find plenty of recipes ideas below.
Potato and kale soup
This beautiful potato and kale soup is mildly spiced with turmeric making it a great soup recipe to warm you up! It's definitely a comfort food dish and tastes really creamy despite not having any cream in at all.
Roasted Garlic and Beetroot Soup
The vegetables in this vibrant roasted garlic and beetroot soup are roasted first making it super tasty. It's delicious just topped with a swirl of natural yogurt or coconut cream.
Ginger and carrot are a brilliant combination in soup and if you've never tried Marmite croutons then trust me, you'll be hooked on them soon!
This tasty North African inspired soup is deliciously spiced with coriander, caraway, chilli and paprika. The couscous makes it quite hearty too!
More tasty homemade vegetarian soup recipes
I've got too many to include all of them here but do also check out these vegetarian soups:
Sugar snap pea and asparagus soup
Easy homemade Vegetarian soup Recipes using beans or lentils
I love adding beans, lentils and chickpeas to soups to make them heartier and more filling. After all, if I decide to eat soup for a main meal I want to be full up afterwards!
Adding pulses like beans and lentils to soup is a really healthy choice. It's a great way of getting more protein into your diet which will also help keep you full for longer.
I love the warming Indian spices in this lentil soup. It's easy to make and for me it's the perfect soup to make if I feel a cold coming on!
Green lentil and coriander soup
I also love the fresh flavours in this green lentil and coriander soup. It's a warming spicy soup with lots of fresh vegetables too.
Black bean and sweet potato soup
You can't get much heartier or healthier than this black bean and sweet potato soup! It's tasty, fresh and beautifully spiced to warm you up!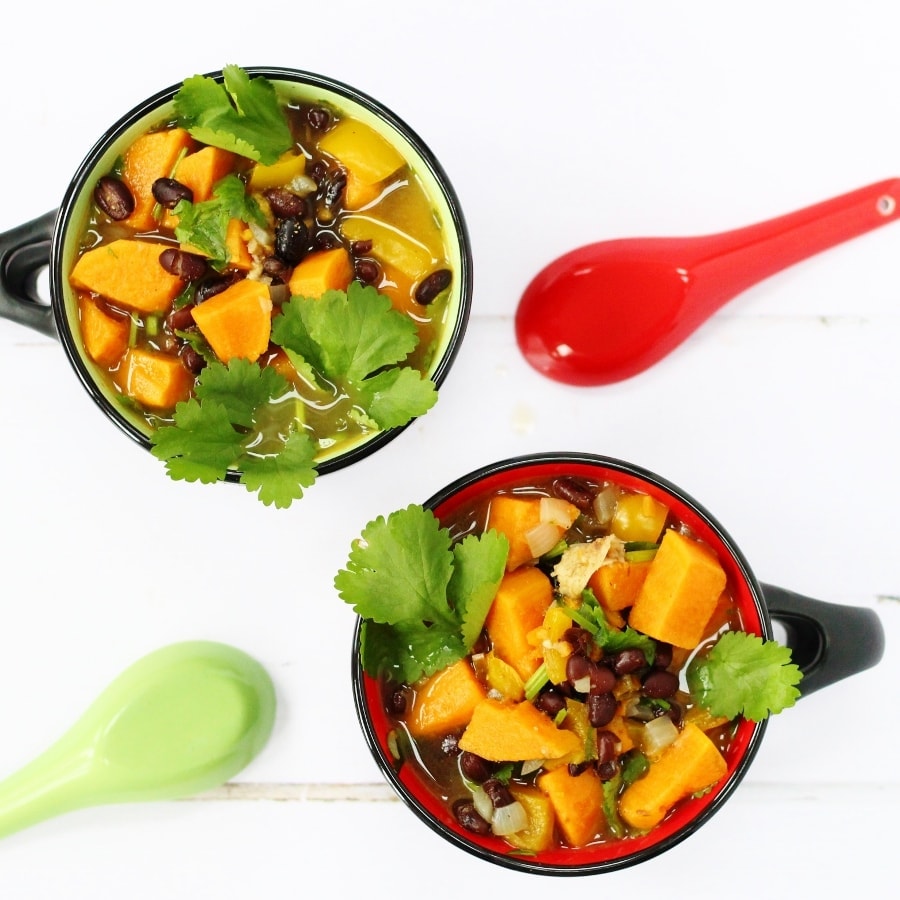 You might also like my Moroccan chickpea soup with roasted chickpeas!
Easy Homemade Soup Recipes with Meat or Poultry
I make a few soups that are non-vegetarian too. They're usually crammed full of veggies as well so are still a great way to get a few portions of your 5 a day! I find meats such as ham, sausage and bacon can add so much flavour even if only a little is actually used.
Tomato and sausage soup
This simple tomato and sausage soup is a great easy midweek meal. It's also ideal for using up any slightly wilted vegetables that may be lurking at the bottom of the fridge!
Sausage lentil and vegetable soup
If you're looking for an even heartier sausage soup then this sausage, lentil and vegetable soup is definitely worth trying! It's also one of those soups that just gets better and better the next day so it's ideal for batch cooking.
Leftover Ham Soup
There are so many ways to use up leftover ham and this leftover ham soup is definitely one of the easiest! It's healthy too and if you make enough you can have even more leftovers for another easy meal.

Butternut squash and Bacon Soup
There's something very comforting about butternut squash and bacon together. They go brilliantly in this deliciously smooth and creamy butternut squash and bacon soup.
If you're a fan of sour soups then you should definitely try this Romanian sour turkey meatball soup. It's a bit different but definitely worth making.
Easy homemade soup recipes with Fish
I wish I had more fish soup recipes. I love salmon in soups and if you do too you'll love this salmon miso soup with soba noodles!
Blender soups
I love often use a stick blender for making smooth soups. It's really easy and quick to do and less to wash up than getting out the blender.
However, I do also love to use my Froothie Evolve blender sometimes as I can just load it up with all the ingredients and it then cooks and blends the soup for me.
If you are interested in a soup maker with lots of different blending functions then do check out my Froothie Evolve review post.
Pin for later
More Recipe Collections
If you liked these recipes then do check out some of my other popular recipe collections:
Keep in touch
Do let me know if you make any of these easy homemade soup recipes I love to get feedback from readers.
Why not sign up to my weekly newsletter too? I'll even send you a FREE printable!
You can also stay up to date by following on Instagram, Facebook and Twitter.