This slow cooked Moroccan lamb with apricots and almonds is perfect as an easy midweek meal, ideal for putting in the slow cooker before work! The spiced slow cooked lamb is delicious with the fruity apricots and herb couscous.
Recently in a post I said something unflattering about lamb. Yes, I know it's only a meat and it won't get offended but I've been thinking about it and I do actually like lamb. I didn't use to, but then I didn't use to like beef either. I don't think roast lamb is ever going to be my favourite meal but slow cooked Moroccan lamb like this? Yes, that's something that could get on to my favourites list!
Lamb neck: a great economical cut for stews
I adapted the recipe from one in the November Sainsbury's magazine which was for lamb shanks. I used lamb neck instead. Lamb neck is cheaper so is good if you are on a tighter budget. It's also a great piece of meat for slow cooking. This had about 8 hours in the slow cooker and was falling apart but still lovely and moist when it was ready. Of course, feel free to use another cut of lamb as long as it is suitable for slow cooking. Legs, shoulders and shanks are all good choices.
Make the most of the slow cooker liquid!
One of the things I love about this lamb recipe is the way the liquid from the slow cooker is used to hydrate the couscous. It's something I do again and again now with different variations of this recipe. The Moroccan spices from the lamb as well as the lamb stock and cooking juices make for really tasty couscous. The dried apricots that are added for the last hour also add their flavour to the cooking liquid to give it a lovely fruitiness.
How to Make a Slow cooker Recipe taste fresh
Adding lots of fresh herbs to a slow cooked meal is a trick I often use to make a meal both comforting and vibrant. The herbs really brighten up the dish at the end. The toasted almonds add a lovely crunchy and nutty dimension to the meal too. Sometimes a slow cooked meal can be a bit mushy so this is a great way of giving it some texture and freshness. The bright orange apricots also add some vibrancy.
Can you adapt this slow cooked lamb with apricots and almonds?
In North African inspired meals, lamb with apricots is a classic combination. However, you can use different dried fruits as well. Dates and raisins are a brilliant substitute for the apricots. Or you can add a few as well as well as the apricots. My husband is not a huge fan of fruit in savoury meals so I tend to use less but by no means do the same!
This meals does not have a lot of vegetables in it. Therefore, to make it healthier and more of a balanced meal then feel free to add some. You can add carrots, aubergine or sweet potato to the slow cooker along with the lamb. Alternatively, serve some green vegetables alongside this Moroccan lamb casserole. Personally I love a side dish of green beans with this.
Slow Cooked North African lamb with apricots and almonds
Slow Cooked Lamb with Apricots and Almonds
This slow cooked Moroccan lamb with apricots and almonds is perfect as an easy midweek meal, ideal for putting in the slow cooker before work! The spiced slow cooked lamb is delicious with the fruity apricots and herb couscous.
Ingredients
300

g

lamb neck

2

tsp

ground coriander

1

tsp

cumin

½

tsp

cinnamon

1

red onion

thinly sliced

1

clove

garlic

diced

10

g

root ginger

finely diced or grated

500

ml

Stock

I used chicken stock

30

g

almonds

30

g

dried apricots

100

g

couscous

2

tbsp

chopped mint leaves

2

tbsp

chopped parsley leaves
Instructions
Put the lamb in the bottom of the slow cooker. Add the spices and mix into the lamb. Add the onion, ginger and garlic. Add just enough stock to cover the lamb. Cook on low for 7 hours.

Add the dried apricots to the slow cooker and cook for another hour.

Put the almonds in a dry frying pan and heat gently, keep shaking the pan so they don't burn. When they are golden, set them aside until you are ready to serve.

Take the lamb out of the slow cooker but put it somewhere where it keeps warm.

Put the couscous and most of the chopped herbs in a bowl. Ladle about 160ml of the liquid from the slow cooker over the couscous. Cover and leave for 10 minutes.

Put the pot from the slow cooker on the hob and simmer to reduce the liquid a little. If you have a ceramic slow cooker bowl, transfer the liquid to another pan first.

Serve the lamb on top of the couscous, topped with the liquid from the slow cooker, the toasted almonds and the extra herbs. You could also add some lemon wedges and harissa.
Notes
Nutritional information is approximate and a guideline only.
Nutrition
Calories:
783
kcal
Carbohydrates:
62
g
Protein:
36
g
Fat:
43
g
Saturated Fat:
15
g
Cholesterol:
109
mg
Sodium:
1103
mg
Potassium:
862
mg
Fiber:
6
g
Sugar:
13
g
Vitamin A:
1495
IU
Vitamin C:
13.5
mg
Calcium:
125
mg
Iron:
5.1
mg
More lamb recipes
Although I said I didn't use to like lamb, these days I love it, especially with a few spices! Why not try one of these spicy lamb recipes?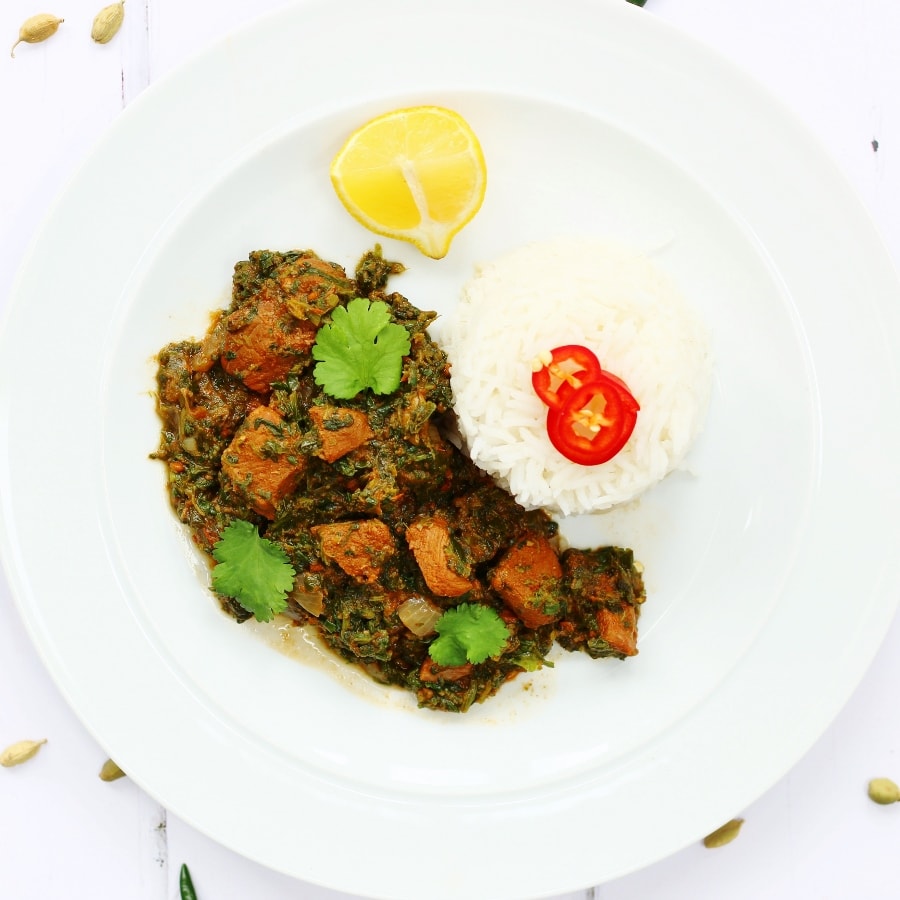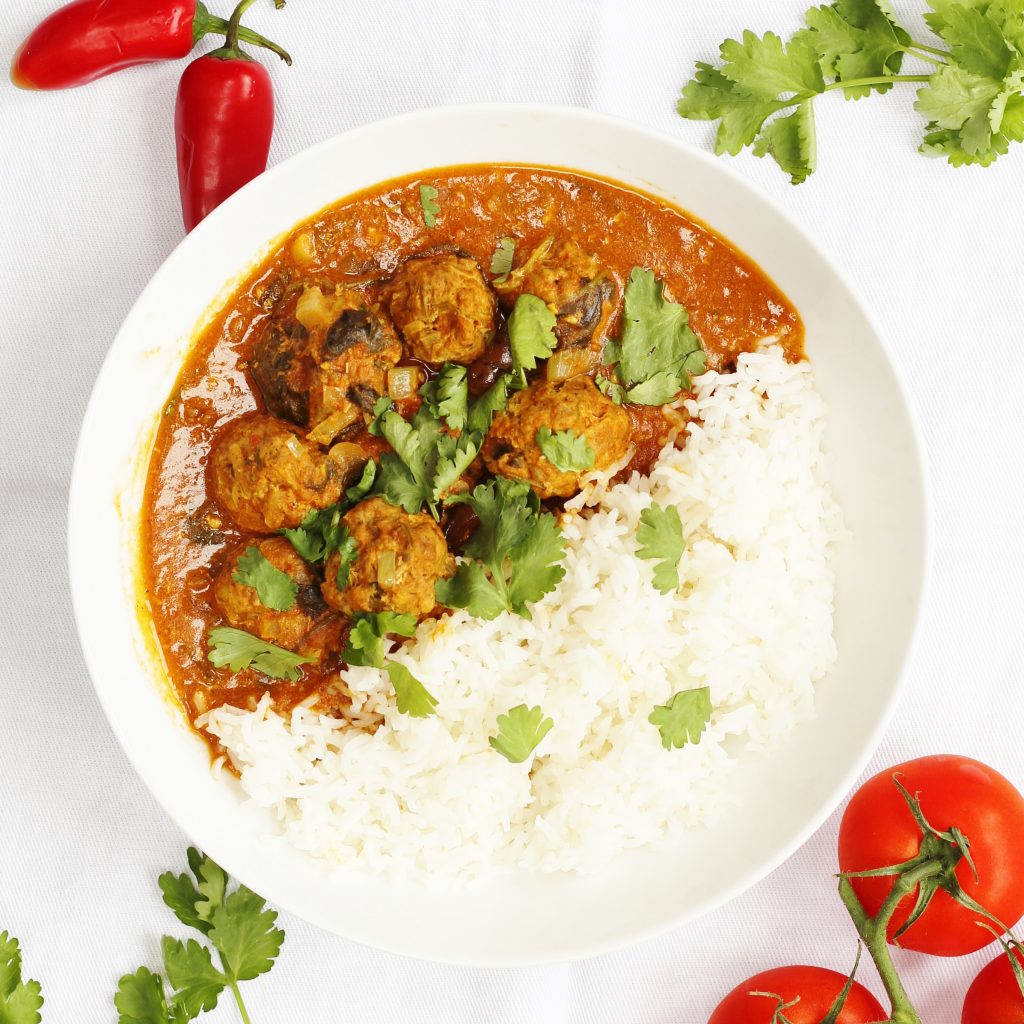 Keep in Touch
Do let me know if you make this slow cooker lamb with apricots and almonds. I love to get feedback from readers.
Why not sign up to my weekly newsletter too. I'll even send you a FREE printable.
You can also stay up to date by following on Instagram, Facebook  and Twitter.