This easy lamb meatball curry is a healthy filling recipe for any night of the week. Make it as mild or as hot as you like. It's full of flavour and perfect for your next curry night!
If you have read this blog for a while you'll know that I love curries! In fact, a good curry is hard to beat and probably one of my favourite meals. Homemade, takeaway or ready meal I am always happy to eat a good curry. In fact, I do not think I have ever turned down the opportunity to eat a curry. If you love curries as much as I do then do check out my collection of easy homemade curries from scratch!
Coconut Chilli
So when Coconut Chilli recently asked me if I
would like to sample their lamb and black pepper keema meatballs I didn't say no! Coconut Chilli delivers healthy microwavable southern Indian meals to offices and workplaces throughout the UK. The sauce was delicious and the meatballs tender and full of flavour. I enjoyed my pot so much but I wished there was more of it. I just has to recreate it at home. You can find my recipe further down this page. Or you can take the easy route and order from Coconut Chilli!
I haven't very often made a curry with meatballs. Why not though? Lamb is fantastic in a curry and you can make such great tasting meatballs with lamb mince, fresh herbs and spices. The meatballs are really easy to make too. Just put all the ingredients into a bowl and mix together with your fingers. These ones cook in the sauce too so you only need one pan. Less washing up is always a bonus!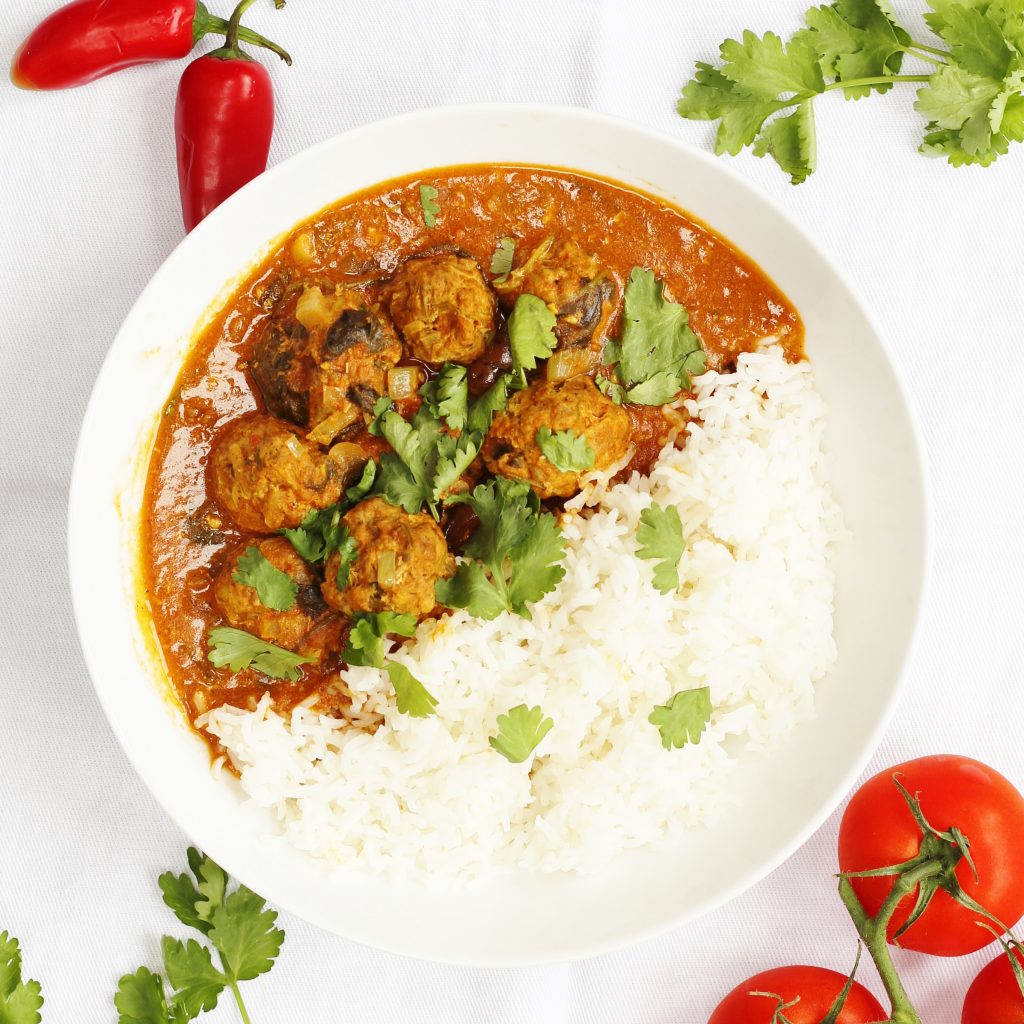 I used a little bit of dried chilli pepper crumbled into the sauce but you could use fresh chopped chillies or both for a hotter curry. These days I am always hoping my children will eat my food so I use a lot fewer chillies than I used to and find my tolerance to chillies has gone down too!
Did the children eat this curry?
So did my children like this lamb meatball curry? Well, Little Miss Spice claimed she didn't like meatballs and refused to taste them. It wasn't all bad though. Master Spice loved the meatballs but he did complain about the green bits of spinach in the sauce. I'm taking it as a win though!
Recipe for lamb meatball curry with coconut gravy
Lamb Meatball Curry with Coconut Gravy
An easy meatball curry that's great for midweek or curry night!
Ingredients
For the Meatballs
500

g

lamb

minced

1

egg

1

tsp

garam masala

1

tbsp

finely chopped ginger

or easy ginger

3

cloves

garlic

crushed

2

tbsp

chopped fresh coriander

1/2

medium onion

finely diced
For the Sauce
2

tbsp

vegetable oil

1

large onion

finely diced

400

g

tin of tomatoes

or 4 roughly chopped tomatoes

3

cloves

garlic

1

tbsp

chopped ginger

1/2

tsp

cinnamon

1/2

tsp

turmeric

1

tsp

cumin

2

tsp

ground coriander

1

tsp

garam masala

1

dried red chilli

crumbled up (use more or less to taste)

2

large handfuls

spinach

400

g

tin coconut milk

Pinch

Salt

to taste

1

handful of

coriander including stalks

including stalkschopped
Instructions
Put all the ingredients for the meatballs into a large bowl and mix together with your hands. Form into meataballs and put them in the fridge until you are ready to cook them.

Heat the oil in a large frying pan. Fry the onions gently for about 5 minutes until soft.

While the onions are frying, put the tomatoes, ginger and garlic into the food processor and blitz.

Stir all the spices into the pan with the onions and cook for a minute. Stir in the blended tomato mixture.

Continue to cook for about 10 minutes.

Add the spinach. Put it on top of the curry. It will wilt. Then stir it in and add the coconut milk.

Bring it up to the boil then add the meatballs carefully. Cover the pan and let it simmer gently for 20 minutes until the meatballs are cooked through.

Season with a little salt and pepper at the end if necessary. Stir in some of the chopped coriander and then garnish with the remainder when serving.
Notes
Use easy ginger and easy garlic to make the recipe a little quicker to prepare.
Nutritional information is approximate and should be used as a guideline only
Nutrition
Calories:
690
kcal
Carbohydrates:
17
g
Protein:
26
g
Fat:
59
g
Saturated Fat:
37
g
Cholesterol:
132
mg
Sodium:
239
mg
Potassium:
906
mg
Fiber:
3
g
Sugar:
6
g
Vitamin A:
370
IU
Vitamin C:
16.3
mg
Calcium:
107
mg
Iron:
7.4
mg
Pin this lamb meatball curry for later
My other lamb curries
If you like this lamb meatball curry then why not try one of these other lamb curries?
KEEP IN TOUCH
Do let me know if you make this lamb meatball curry. Or any of the other recipes here on Searching for Spice.
You can also stay up to date by following on Instagram, Facebook and Twitter.
Why not sign up to my weekly newsletter too?
Places I'm sharing this lamb meatball curry
Cook Blog Share hosted by Eb at Easy Peasy Foodie