A rich and sticky date and apple cake recipe with no added sugar. This cake is perfect as a mid-morning snack and makes a healthy dessert too!
Eat less sugar
Recently I've become interested in the idea of sugar free baking. Have you heard the theory that you can omit up to a third of the sugar in most cake recipes without it affecting the cake? Except to make it less sweet of course. I can't say I've tested the theory to that extent but I often add little less sugar than a recipe states. This particular date and apple cake contains no added sugar but still tastes sweet.
Personally
I don't have a particularly sweet tooth but unfortunately my children seem to be developing one. I certainly don't want them to eat too much sugar so when I was asked if I'd like to review a copy of Simply Sugar Free
by Susanna Booth, I said yes straightaway.
What's this sticky date and apple cake like?
My first recipe choice was this sticky date and apple cake, based on an Omani recipe. The cake is sweetened with apple and dates. Despite having no added sugar in, it is quite sweet. It also smells deliciously rich and treacly as the dates and apple are cooking. It results in a rich, moist and soft cake.
But what did the children think?
Well, they ate a little of the date and apple cake but were a bit put off by the apple slices on the top. So, no decoration next time!
What ingredients do you need for sticky date and apple cake?
To make this cake you'll need:
Sweet apples - The apples as well as the dates add sweetness to this cake so don't replace them with cooking apples.
Lemon juice - This is just to stop the apple slices you use to decorate the cake from going brown. It doesn't matter if you use freshly squeezed lemon juice or bottled lemon juice.
Pitted dried dates
Water
Unsalted butter
Bicarbonate of soda - Also called baking soda
Eggs - I use large eggs
Plain whole wheat flour
Baking powder
Vanilla extract
What substitutions can you make?
If you can't get hold of all the ingredients don't worry. I used apples for this cake of course but I'm sure it would work with pears instead.
If you don't have plain wholemeal flour then just use plain white flour. You can also substitute self-raising flour for the plain flour. Just add half a teaspoon of baking powder.
How do you make this sugar free apple and date cake?
This cake is fairly easy to make but there are a few steps to make it. For full details see the recipe card further down this page.
First set aside one apple. Then peel, core and dice the other apple and put it in a saucepan with the water and dates. Boil for about 3 minutes.
Take the pan off the heat and stir in the butter till it melts. Then add the bicarbonate of soda. It will foam up but that is supposed to happen!
Then put this plus all the other ingredients into a food processor or blender and blitz until smooth. Pour this cake batter into a greased and lined 20cm square cake tin. Slice the apple you set aside earlier and lay the slices on top of the cake to decorate it.
Bake in the oven for about 40 minutes.
How long will this cake stay fresh for?
If you keep this cake in an airtight container at room temperature it should keep well for at least 3 days.
About Simply Sugar Free
The book, Simply Sugar Free, also published as Sensationally Sugar Free, is crammed full of sweet recipes for cakes, desserts, ice creams, snacks and sauces, all of which use alternatives to sugar as a sweetener. Most of the recipes in the book use fruit or vegetables, especially dried fruit as a sweetener. Of course, the fruit still contains sugar but it also contains fibre, vitamins and minerals. So overall it's a healthier choice.
Some of the recipes use stevia, which is naturally derived from the stevia plant. It is 200 times stronger than sucrose so only a little is needed and it can taste bitter if too much is used. I have to admit, I'm a little suspicious of it and prefer to stick to recipes using fruit as a sweetener. Luckily the book contains plenty to choose from.
More recipes in Simply Sugar Free
The other recipe I've tried so far is the peanut snack bars which are sweetened with dried figs. Now, if you are a runner like I am, these make the perfect post-run snack as they are filled with dried fruit and plant protein from the nuts and seeds.
But even if you're not a runner (and I know most of you aren't!) they just make a sweet nutty snack. I made them as bars as that's how they were presented in the book. Alternatively you could roll them into balls. My kids love to eat bars as a snack but I have to say they were suspicious of these as they didn't come with a wrapper on!
So what next?
Well, the recipes I've tried so far have been more popular with me than with the children. However, I do have my eye on a number of other recipes in the book. Both children love dried apricots so I plan to make the apricot and lemon cake. I also fancy trying the oatmeal raisin cookies, the raw gingerbread and the apple freezer flapjacks! I will definitely let you know if I do!
Some more sugar free bakes
If you like this sugar free sticky date and apple cake and would like to try some more recipes free from added sugar then do check out the ones below:
You might also like my fruity carob chocolate cake. It's not sugar free but it does have lots of apple in.
Recipe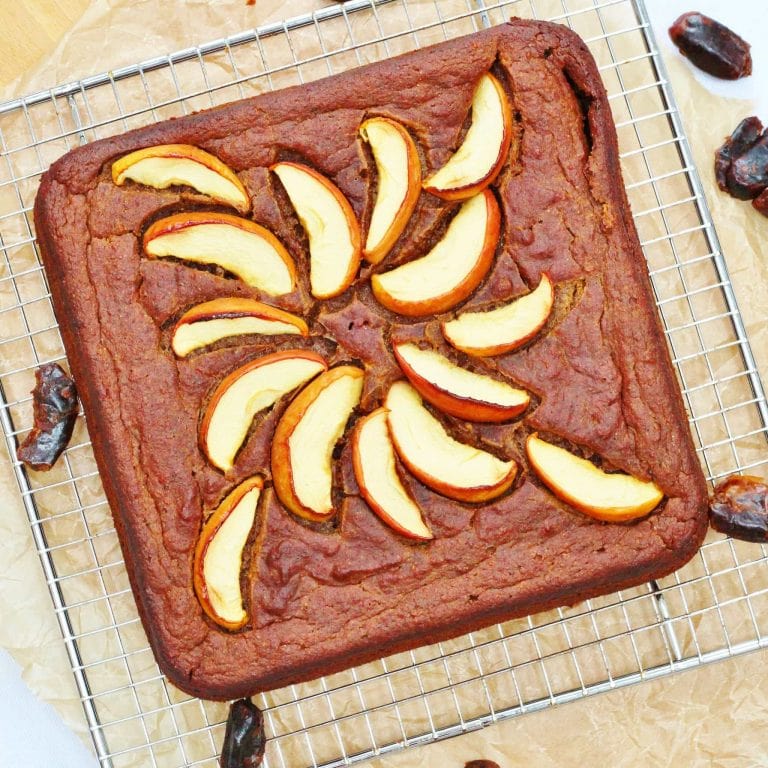 Sugar Free Sticky Date and Apple Cake
A rich and sticky date and apple cake with no added sugar!
Ingredients
350

g

sweet apples

about 2-3

1

tablespoon

Lemon juice

optional as not in the original recipe

250

g

pitted dried dates

250

ml

water

100

g

unsalted butter

1

teaspoon

bicarbonate of soda

2

eggs

150

g

plain whole wheat flour

2

teaspoon

baking powder

1

teaspoon

vanilla extract
Instructions
Preheat the oven to 200C/180C fan.

Grease a square 20cm tin with a little extra butter and line the bottom with baking paper.

Core the apples. Cut one of the apples (150g) into slices. Squeeze a little lemon juice on and set aside.

Chop the rest of the apple and put it in a saucepan with the dates and water. Boil until the apple is soft (about 3 minutes).

Take the pan off the heat and stir in the butter till it melts then stir in the bicarbonate of soda. Don't worry, it's supposed to foam up!

Put the remaining ingredients - eggs, flour, baking powder and vanilla- in a food processor. Add the date mixture and blend until it is combined.

Transfer the mixture to the prepared cake tin. Arrange the apple slices on the top.

Bake for about 40 minutes. A skewer should come out clean when it is ready.
Notes
Nutritional information is approximate and a guideline only.
Nutrition
Calories:
112
kcal
Carbohydrates:
17
g
Protein:
1
g
Fat:
4
g
Saturated Fat:
2
g
Cholesterol:
27
mg
Sodium:
71
mg
Potassium:
189
mg
Fiber:
2
g
Sugar:
10
g
Vitamin A:
175
IU
Vitamin C:
1.1
mg
Calcium:
37
mg
Iron:
0.5
mg
Pin for Later
Places I'm sharing this sticky date and apple cake
Cook Once Eat Twice hosted by me, Corina here at Searching for Spice
Disclosure: I was sent a complimentary copy of Simply Sugar Free but all opinions of the recipes are my own.