These traditional waffles make a delicious healthy breakfast but with a few indulgent accompaniments they can also be a decadent dessert!
I love new kitchen appliances. We moved house 2 years ago and I was delighted to have a bigger kitchen with more space to put all my kitchen gadgetry. However, that space filled up rather quickly. Even so, I have recently squeezed in my newest kitchen toy, this VonShef Belgian Waffle Maker . Some things are worth making extra space for.
Is a Waffle Maker easy to use?
I'd imagined a waffle maker might be awkward to use and fiddly to clean but it was actually much simpler than I'd expected. You heat it up, pour the batter into the middle of the tray, close the lid and then in about 5 minutes the waffles are ready. You just wipe it clean afterwards, rather like a toasted sandwich maker.
The Vonshef Waffle maker came with three recipes so you can make traditional waffles, Belgian waffles or buttermilk waffles. The toppings and accompaniments are then up to you. I made traditional waffles first as the recipe was the simplest and just like mixing up pancake batter. However, I have since tried the Belgian waffles and they are delicious too, although more effort to make!
Aren't Waffles an Unhealthy dessert?
That is definitely what I used to think! When I think of waffles it brings back childhood memories of going to the beach and buying waffles piled high with ice cream, cream, and chocolate sauce. not fruit. Not yogurt. No, not healthy waffles. Not the waffles I'm going to show you.
Ok, don't get me wrong, I love unhealthy waffles but these healthy waffles are actually a great breakfast recipe. There is no sugar in these waffles so they really do make a healthy breakfast recipe. Despite being sugar free, they are still delicious enough to feel like a treat.
What to serve with these traditional waffles?
My daughter loves these waffles with just a light dusting of icing sugar and some fresh berries. Strawberries, raspberries and blueberries are all delicious.
If you want you can stew the fruit lightly before serving.
I like to serve them with some lightly cooked blackberries and a big dollop of yogurt on the side. You can't get a healthier waffle topping than that!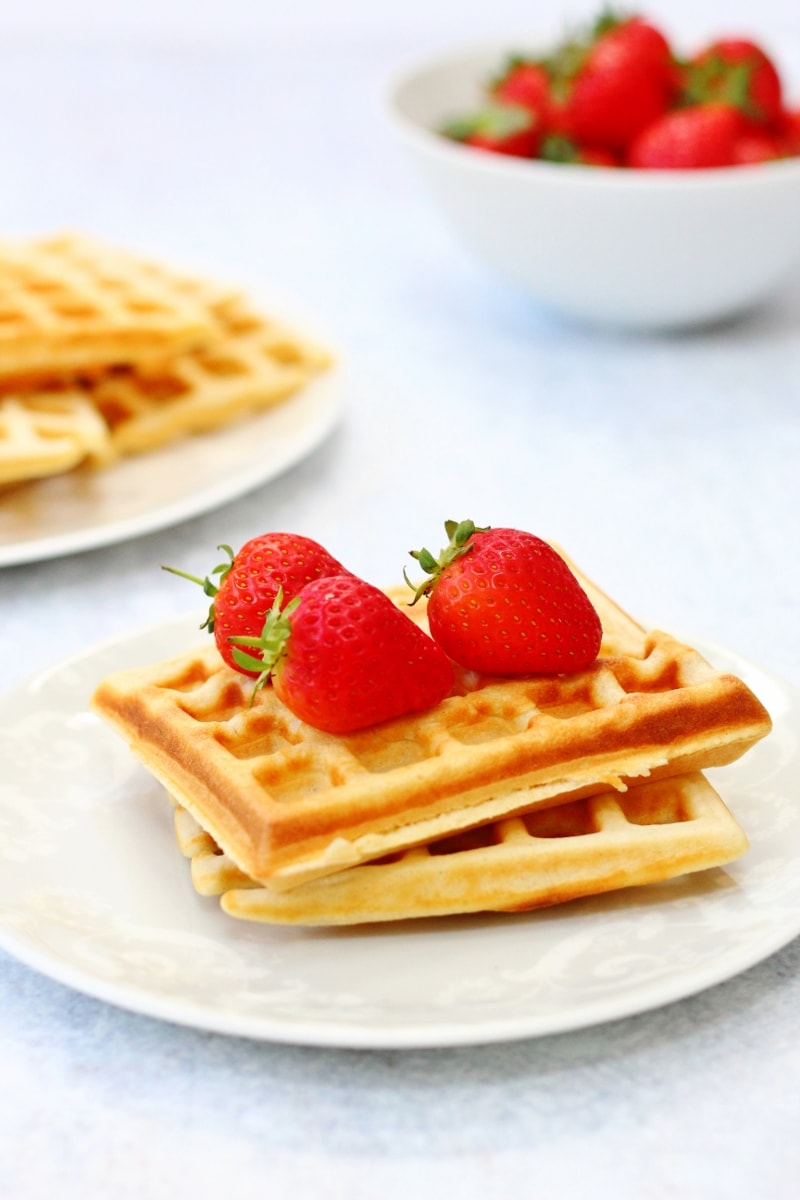 What are these traditional Vonshef Waffles like?
The waffles themselves are slightly crisp on the outside but soft inside. The recipe is perfect as a basic simple waffle recipe that you can then jazz up with special toppings.
How many people do these waffles serve?
The recipe makes 8 waffles and serves 4 people if each person eats two waffles. It is easy to double the quantities to make more waffles though. In my Vonshef Waffle Maker you can cook 4 waffles at a time and after each batch is ready I close the lid for a moment to make sure the waffle iron is hot and then just add more batter.
You don't need to add extra oil for each batch as the batter contains oil and it shouldn't stick. If you have a different waffle maker the recipe will still work.
How to store the leftover waffles
You can store the leftover waffles in the fridge for up to 48 hours. When you want to eat them, just reheat them in the toaster.
If you want to keep them for longer then stack them on top of each other and store in a freezer bag in the freezer. They are easy to separate even when frozen so you can make a big batch and then take one or two out whenever you want to eat them.
Can you make any waffles in a waffle maker?
You don't need this particular waffle maker to make these waffles. Any waffle maker is fine and you can use other recipes in this appliance. If you want to make potato waffles then that works too! Go ahead and experiment.
No longer do waffles have to be just an occasional treat in my house. And no longer do they have to be unhealthy either!
Recipe
Traditional Waffles
These traditional waffles make a healthy breakfast that feels really special.
Ingredients
300

g

plain flour

2

teaspoon

baking powder

2

eggs

350

ml

warm milk

50

g

butter

melted. Can be replaced with vegetable oil

Pinch

salt

1

tablespoon

icing sugar

natural yogurt

(optional topping)

blackberries

(optional topping)
Instructions
Put the flour and baking powder in a bowl. Beat in the eggs.

Pour in the milk gradually, beating to avoid getting lumps. Stir in the butter..

Prepare any toppings you might need. I just put the frozen blackberries in a saucepan and let them defrost and then break down a bit as they stewed.

Pour the batter into the waffle maker and cook for about 5 minutes until golden brown.

Sprinkle a little icing sugar over the waffles and top with whatever you like.



Notes
Other ideas for toppings – other stewed fruit, fresh fruit, mascarpone, ice cream, cream, honey, maple syrup, strawberry sauce, toffee sauce, chocolate sauce…
Nutritional information is approximate and a guideline only.
N.B. This recipe has been updated in November 2020. An extra teaspoon of baking powder has been added and the oil has been changed to melted butter.
Nutrition
Calories:
458
kcal
Carbohydrates:
65
g
Protein:
13
g
Fat:
16
g
Saturated Fat:
9
g
Cholesterol:
117
mg
Sodium:
162
mg
Potassium:
479
mg
Fiber:
2
g
Sugar:
7
g
Vitamin A:
573
IU
Calcium:
234
mg
Iron:
4
mg
More delicious breakfast recipes
If you have a bit more time to make breakfast or brunch then why not have a look at these healthy breakfast options too!
You might also like my mini baked doughnuts!
Pin these Traditional Waffles for later!
Disclosure: I was sent a free Vonshef Belgian Waffle Maker from Domu but the opinions are my own.