These yummy mini beef and chorizo burgers are full of flavour. The burger is topped with vintage cheddar and a quails egg to make them extra special.
Sometimes you can't do everything you want to do. It's a hard lesson but sometimes you just have to accept the next best option. That was the case with the International Street Food Challenge back in August. I would love to have attended but unfortunately wasn't able to.
Instead I'm having to settle for making one of the top recipes at home myself. These Beef and Chorizo burgers were the Spanish entry by Spanish Lab and although they are not exactly the same, they are as near as I could come to recreating them at home.
My chorizo burgers are full-sized burgers whereas the originals were mini. That's because I couldn't find mini burger buns locally, although I wouldn't be surprised if I come across some next week now!
The buns are just plain white sesame coated bread rolls but the originals used brioche. Again, I could find brioche in loaves, twists and hot dog rolls but burger buns? Not last week and not around here.
Maybe I should have baked my own brioche? Well, once upon a time I probably would have done but I'm afraid to say that that would have been a challenge too far right now.
Even though these chorizo burgers are not exactly the same as the originals, they were still absolutely delicious. The burger is a mixture of beef mince and cooking chorizo and it would be a challenge to get a tastier burger. I love cheddar on my burgers and putting the cheddar on the burgers as they cook is a great way of ensuring it melts beautifully.
The chorizo burgers are topped with a quail egg. I felt you couldn't really taste the egg but that may have been because my burgers were twice as big as the originals. Maybe I should have used a hen's egg instead, but just knowing the egg was a quails egg made these burgers seem that little bit more special than your average burger.
The International Street Food Challenge was organised by Travel Supermarket after a survey found that a quarter of people book their holidays based on the food they'll be able to eat while there. That doesn't surprise me. Although I wouldn't say I book my holiday based on that, I do definitely consider the food to be a big part of a holiday.
I chose to recreate one of the Spanish recipes as Spain is a county I love visiting and I'm sure I wouldn't have been able to resist the chorizo burger if I'd been at the International Street Food Festival. Besides Spain, there were entries from the US, France, Italy, Sri Lanka and the Seychelles.
Recipe for Beef and Chorizo Burgers
Recipe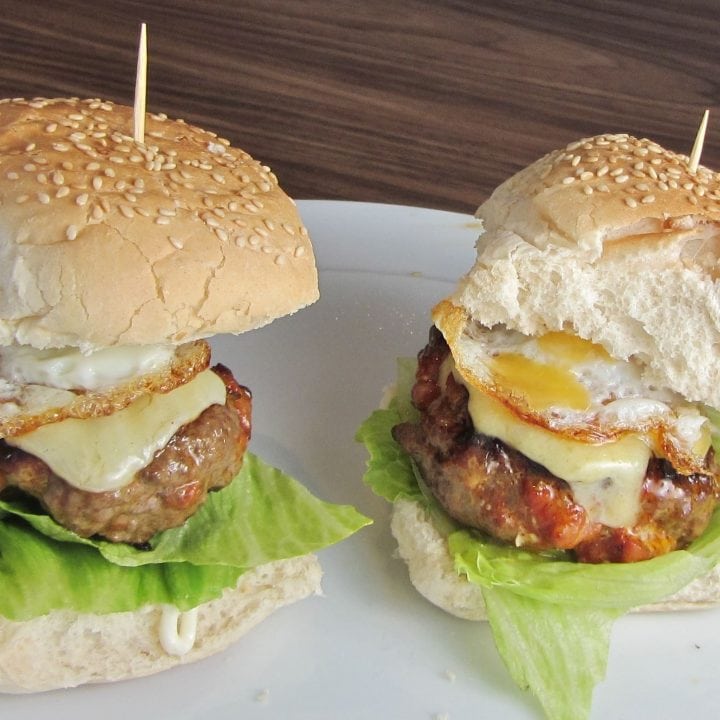 Beef and Chorizo Burgers
These yummy mini beef and chorizo burgers are full of flavour. The burger is topped with vintage cheddar and a quails egg to make them extra special
Ingredients
200

g

cooking chorizo

200

g

beef mince

Vintage cheddar

4

quails eggs

4

bread buns

Salad leaves

2

tablespoon

Mayonnaise
Instructions
Put the chorizo and beef mince in a bowl and mix them together with your hands. When they are combined, shape them into 4 burgers. Put them in the fridge to chill for a couple of hours.

Heat a little oil in two frying pans.

In one pan, put the burgers. Cook them for a couple of minutes on one side. Turn them over and put the cheese on top of the side that has been cooked so it begins to melt. Cook for another couple of minutes.

In the other pan, gently break the quails eggs and fry them until the white has just set but so the yolk is still runny.

Toast the burger buns lightly under a grill.

Put the burgers together by putting some mayonnaise on the bread at the bottom, then some salad leaves, the burgers and cheese and finally the egg. Use a cocktail stick or bamboo skewer to hold the burgers together.
Notes
Nutritional information is approximate and a guideline only.
Nutrition
Calories:
535
kcal
Carbohydrates:
22
g
Protein:
26
g
Fat:
36
g
Saturated Fat:
12
g
Cholesterol:
158
mg
Sodium:
922
mg
Potassium:
400
mg
Sugar:
2
g
Vitamin A:
50
IU
Vitamin C:
0.6
mg
Calcium:
93
mg
Iron:
3.6
mg
More Recipes you might like!
Why not make your own burger buns next time? These easy white burger buns are made in the bread maker. Or why not try my cheese stuffed juicy Lucy burgers?
Places I'm sharing these Beef and Chorizo Burgers
I am also linking to Tasty Tuesdays at Honest Mum.
Disclosure: I was provided with a voucher to buy ingredients to make this recipe but the opinions are my own.