This blackcurrant frozen yogurt is fruity and refreshing with a strong berry flavour. It's delicious as a snack or dessert and a slightly healthier option than ice cream!
Until a few weeks ago I had never ever been to a pick your own. Apart from blackberries I'd always relied on someone else, usually the supermarket, to pick, package and provide me with the fruit and vegetables I ate.
And I eat a lot of fruit and vegetables. Half my fridge is probably dedicated to them and they rarely go off. I'm quite good at eating them all up. And yes, I'm quite smug about it too!
We picked our own blackcurrants for this frozen yogurt
But, going back to the subject of pick your own. This summer it has become a weekly trip out for Little Miss Spice, Master Spice and me. Little Miss Spice is a very fussy eater so we try to pick something new each time.
I'm hoping it might help encourage her to try a few more vegetables. Although she was happy to try the broccoli we picked last week, it didn't stay in her mouth long and one try was enough.
Fruit is not such an issue. She happily ate a few blackcurrants before we made the frozen yogurt, although I didn't manage to persuade her to try the finished product. I don't think she trusted it after seeing the natural yogurt go into it.
It was the first time I had made frozen yogurt and the first time I'd used my ice cream maker this summer. I love yogurt and using it instead of cream gives a much lighter dessert and as I used low fat yogurt, a much healthier dessert too, although I can't claim the amount of sugar I put in is healthy.
The finished frozen yogurt had a lovely strong blackcurrant flavour and I could happily have eaten more and more of it. Luckily, I forced myself to put some in the freezer for later and it kept there really well too. It didn't go too hard and was still easy enough to scoop out whenever I wanted just one more spoonful!
The first time I ate Frozen yogurt
The first time I had and heard of frozen yogurt was as a child on holiday in Spain in the 1980s. At the time most ice cream in the UK was pretty boring - strawberry, chocolate or vanilla. In Spain you could get all types of combinations and flavours.
I remember one cafe we used to go to with about 40 different flavours and I would have a different one every day. Some of the flavours were frozen yoghurt and I remember trying a lemon one and a red one although I can't now remember what flavour the red one was.
Maybe it was blackcurrant, maybe not. Anyway, as this frozen yoghurt is also a reminder of those first ones I tried all those years ago.
How to Adapt this Frozen Yogurt
This recipe is really easy to adapt. Any berries could be used instead of the blackcurrants. If they are really sweet you may be able to cut down on the sugar content too. However, be careful about reducing it too much as the sugar helps keep the frozen yogurt scoopable.
Don't feel you have to remove all the seeds. If you want to skip that step then it'll still be delicious. However, I find that some picky eaters prefer the seeds to be removed so it has a smoother texture.
Recipe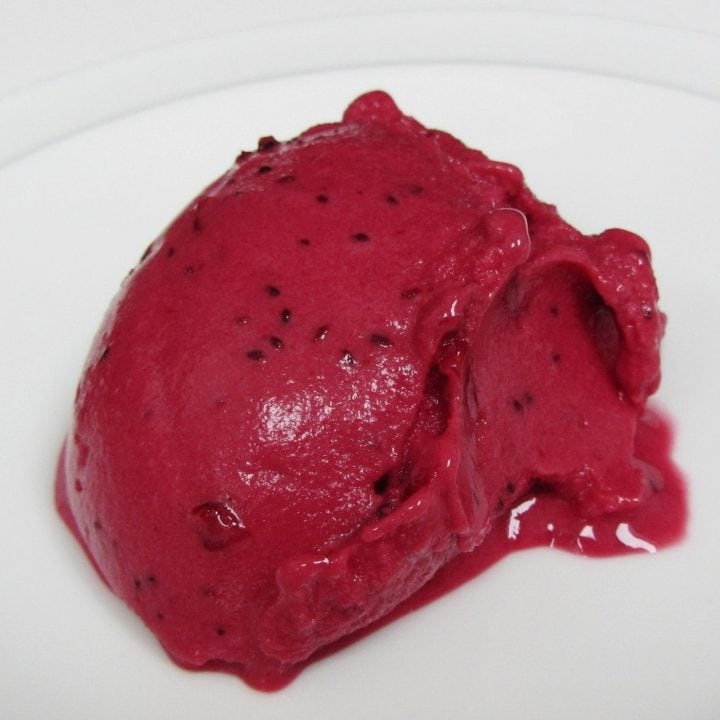 Blackcurrant Frozen Yoghurt
This blackcurrant frozen yoghurt is fruity and refreshing with a strong berry flavour. It's delicious as a snack or dessert and a slightly healthier option than ice cream!
Ingredients
200

g

blackcurrants

100

g

caster sugar

50

ml

water

250

g

natural yoghurt

I used low fat
Instructions
Put the blackcurrants, sugar and water in a saucepan. Bring to the boil and let it bubble for about 5 minutes. The blackcurrants will break down quickly and the mixture will go quite syrupy.




Press the mixture through a metal sieve and leave to cool.




Stir the yoghurt into the berry mixture. I used an ice cream maker and then poured it into the machine. When the ice cream maker finishes, either eat it immediately or transfer it to another container and put it in the freezer.




If you don't have an ice cream maker, put the mixture into a container in the freezer. Take it out after an hour and whisk it. Return it to the freezer and keep taking it out and whisking it every 20-30 minutes for the next 1.5 hours. It should then be fairly stiff and you can leave it until you are ready to eat it.



Notes
Nutritional information is approximate and a guideline only.
Nutrition
Calories:
166
kcal
Carbohydrates:
35
g
Protein:
2
g
Fat:
2
g
Saturated Fat:
1
g
Cholesterol:
8
mg
Sodium:
30
mg
Potassium:
257
mg
Sugar:
27
g
Vitamin A:
175
IU
Vitamin C:
90.8
mg
Calcium:
103
mg
Iron:
0.8
mg
More Frozen Desserts and Snacks
Why not check out my recipe collection for frozen desserts and snacks?
Pin for later
Places I'm sharing this Blackcurrant frozen yogurt
Shop Local at Elizabeth's Kitchen Diary
Ren Behan's Simple and in Season, hosted this month by My Custard Pie.