This cantaloupe melon frozen yogurt makes a delicious refreshing summer dessert or snack. It's perfect as a cool sweet treat for hot days and has only 3 ingredients too!
Not long ago I hadn't used my ice cream maker in about a year. Now I've made two frozen yoghurts within a month and am already planning more. While the blackcurrant frozen yoghurt was a strong in-your-face flavour, this cantaloupe melon frozen yoghurt is a little more delicate, both in looks and taste.
Don't let that put you off though. Although it's more subtle, it's still delicious, refreshing and incredibly easy to make. Frozen yogurt is also much healthier than a typical ice cream.
What ingredients are in this melon frozen yogurt?
As I said there are just 3 ingredients in this frozen dessert! They are melon and yogurt of course plus some honey for extra sweetness
What kind of melon do you use for frozen yogurt?
As melon can be quite a gentle flavour, it's best to use a really ripe sweet melon so it has as much taste as possible. I used cantaloupe but you could use any melon. If you use a watermelon, remove the seeds before blending.
Can you replace the melon with another fruit?
This recipe would also work really well with fruit like peaches and nectarines. I am planning to try those flavours in the next few weeks.
How hard does this frozen yogurt freeze?
I ate some of this as soon as it had stopped churning and put the rest in the freezer. It freezes quite hard but if you leave it out of the freezer for a few minutes before serving, it is easy enough to scoop out.
If you don't want to have to scoop it and aren't planning on eating it immediately then you can freeze it in ice lolly moulds too.
How do you make this melon frozen yogurt?
This recipe is fairly simple to make and there is a detailed recipe card further down the post. If you are making this in an ice cream maker then the day before you make it you need to remember to put the bowl in the freezer.
When you are ready to make the frozen yogurt you need to dice the melon and blitz it in a blender or food processor until smooth.
Then you need to sweeten the melon by adding honey and stir in the yogurt.
After that you can pour the melon and yogurt mixture into your ice cream maker and let it churn for about 20 minutes.
You can eat it immediately if you want a soft scoop ice cream or freeze it to eat later.
Do you have to use an ice cream maker to make this recipe?
You don't have to use an ice cream maker but it makes it so much easier if you do have one. If you don't have one then put it straight in the freezer at step 3 and keep taking it out every hour and whisking.
This method is quite time consuming and you have to be at home to be able to do that but you will still get delicious frozen yogurt. Alternatively, why not just put the mixture into ice lollipop moulds?
My ice cream maker
I use an Andrew James Ice Cream Maker
. It's very simple to use, easy to store and affordable as well. I've had it for quite a few years and it's still working well too. I love the fact that I can use it to make flavour combinations that you just can't buy in the shops.
Can you adapt this melon frozen yogurt?
As I said earlier, you can use any kind of melon for this frozen yogurt, not just cantaloupe. You could also replace the melon with another fruit.
If you don't have honey then you could use maple syrup instead. Or just make a basic sugar syrup. Put three tablespoons of sugar in a small saucepan. Add two tablespoons of water and heat until a syrup forms and the sugar has completely dissolved.
Wait until the syrup has completely cooled before using in the frozen yogurt.
More Frozen Desserts and Snacks
All these frozen treats make a much healthier choice than reaching for a tub of bought ice cream!
Do also check out my collection of homemade frozen desserts and snacks! There are recipes for ice cream, sorbet, frozen yogurt and ice lollies.
Recipe
Cantaloupe Melon Frozen Yoghurt
This cantaloupe melon frozen yoghurt makes a delicious refreshing summer dessert or snack. It's perfect as a cool sweet treat for hot days and has only 3 ingredients too!
Ingredients
300

g

cantaloupe melon

skin and seeds remove, cubed

40

g

runny honey

250

ml

natural Greek yoghurt
Instructions
Blend the melon in a food processor or with a stick blender.

Mix in the yoghurt and then the honey. You may need a little more or less depending on how sweet you want the frozen yoghurt to be. Keep tasting and add more or less if necessary.

Pour into an ice cream maker and leave to churn. Alternatively, look at the method here if you don't have an ice cream maker.

When you're ready to serve, take it out of the freezer for 10 minutes before scooping as it freezes quite hard.
Notes
Nutritional information is approximate and a guideline only.
Nutrition
Calories:
87
kcal
Carbohydrates:
15
g
Protein:
2
g
Fat:
2
g
Saturated Fat:
1
g
Cholesterol:
8
mg
Sodium:
41
mg
Potassium:
225
mg
Sugar:
14
g
Vitamin A:
2600
IU
Vitamin C:
10.8
mg
Calcium:
88
mg
Iron:
0.2
mg
Pin for later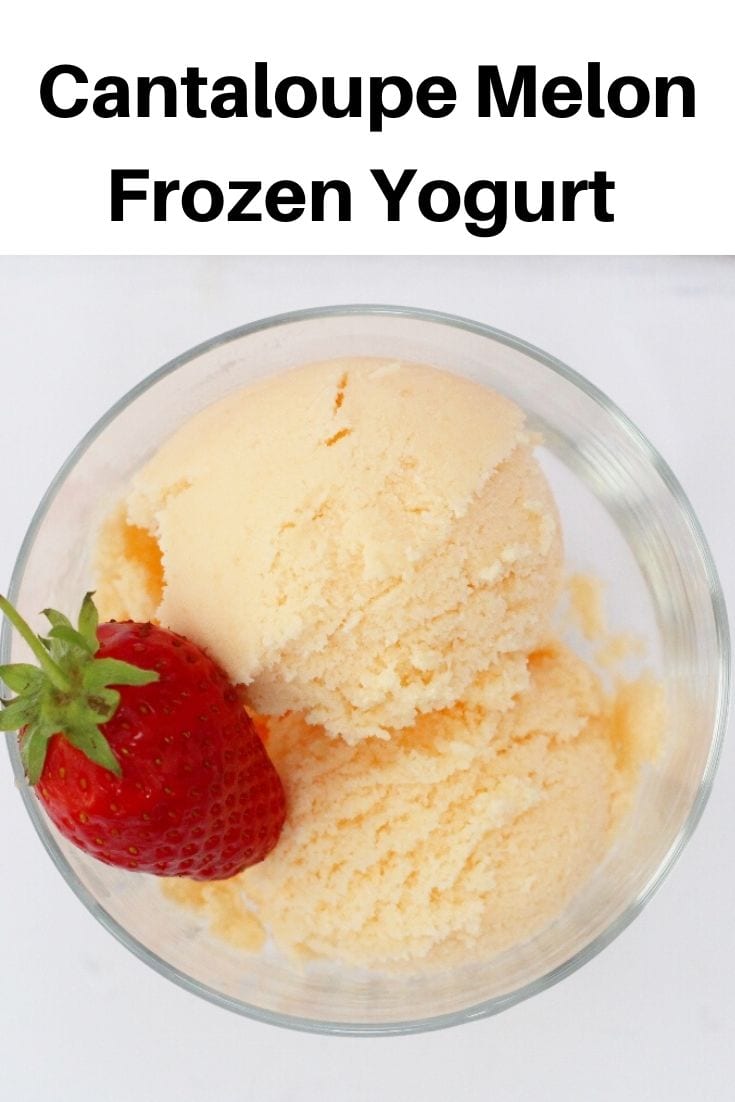 Keep in touch
Do let me know if you make this frozen yogurt. I love to get feedback from readers.
You can also stay up to date by following on Instagram, Facebook and Twitter.
Places I'm sharing this frozen yogurt
Cook Once Eat Twice hosted by me, Corina, here at Searching for Spice
This post was first published in 2014 but has been updated.