This dry curried okra is so easy to prepare. It makes a tasty vegan side dish as part of an Indian meal. If you've ever wondered how to cook okra then this stir fry is a great recipe to start with.
I love cooking. After all, if I didn't, I wouldn't have started this blog and I certainly wouldn't still be writing it almost 8 years later. One of the things I love about cooking and food blogging is learning new things and so birthday and Christmas presents invariably end up being connected to food.
This curried okra is a recipe that I made in a cookery class that I'll tell you about about later. But first...
What is okra?
Okra is a tapering tube shaped green vegetable filled with white seeds. It's also known as ladies' fingers and in Indian, bhindi. It is becoming much more widely available these days. I managed to buy some in Sainsburys and you can buy frozen bags of it too. When you are buying it, just make sure it is nice and greenand doesn't feel bendy. It quickly starts to get brown patches on and go a little soft.
It feels slighly fuzzy on the outside but this fuzziness disappears when it cooks.
How do you cook okra?
There are lots of ways to cook okra. In this recipe the okra is fried and a little crispy. It's one of the most popular ways to cook okra in India where it is often known as bhindi masala.
If you've seen okra but aren't quite sure how to cook it then this recipe is an ideal one to start with. Okra can have a slightly slimy texture which some people may not like so it's best to wash and dry it well before you start to cook it.
Don't just let the water drain off but actually use the tea towel to dry it properly. Then, don't overcrowd the pan. Use a large frying pan so the pieces are not on top of each other. You want them to fry not steam. The okra in the finished dish still has a little bite to it and the spices flavour it beautifully.
The inspiration for this recipe
In our local market there is a lady, Anila, who sells Indian cooking sauces and I quite often pick up a couple of jars when I see her as they're great for lazy meals. I'd also seen that she runs vegetarian Indian cookery classes and as a big fan of her sauces I'd been thinking of taking one of her classes for a couple of years.
Yes, that's right! I'd been thinking of doing a class for a long time. In the end, my husband gave it to me as a Christmas present.
The vegetarian Indian cookery class
I was lucky that there was only one other person in the class that day and so I got to do everything. That is the best thing about small classes! I spent the whole day making recipes for a thali platter. The dishes included: dry curried okra; a potato, aubergine and pea curry; two completely different daals; a carrot, cabbage and chilli stir fry; saag paneer; raita; chapatis; khandvi (a rolled savoury starter) and halva.
I brought enough home for me and my husband to eat for dinner that evening as well as leftovers for the next day! Since the class I've been remaking some of the dishes and have plans to remake more of them.
As you can see in some of these pictures, when I remade the okra at home I also made the potato and aubergine curry as well as some chapatis. Chapatis are so easy to make and although mine are not beautifully round like the ones you might buy or get in restaurants, they do taste just as good!
More information about Anila's classes and sauces
If you would like to find out more about vegetarian Indian cookery then I can highly recommend Anila's classes. The classes are in Walton on Thames (which is easily reachable from London) and you can contact Anila through her website for more details and to book a class.
At the time of writing, the cost of the classes ranges from £50 to £100 and there are even children's cookery classes!
As well as running cookery classes Anila sells sauces and you can buy them through her website or even on Amazon
. I can especially recommend the Green Goan Concentrated Curry Sauce as well as the sweet lime pickle. Little Miss Spice loves the curry sauce too!
More Curry Recipes
As a big fan of curries and recipes with spices I have quite a few curry recipes including a whole recipe collection devoted to easy homemade curries! Here are just a few I think you might like!
You might also like this roasted cauliflower curry! Or these cauliflower pakoras?
Recipe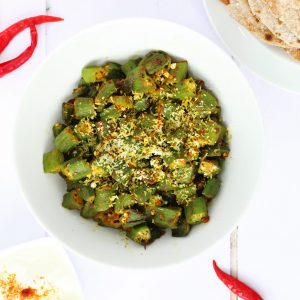 Dry Curried Okra
This dry curried okra is a breeze to prepare. It makes a tasty vegan side dish as part of an Indian meal and if you've ever wondered how to cook okra then this is also a great recipe to start with.
Ingredients
2

tablespoon

oil

¼

teaspoon

asafoetida

½

teaspoon

cumin seeds

250

g

okra

washed,dried and cut into 1cm pieces

¼

teaspoon

turmeric

½

teaspoon

chilli powder

½

teaspoon

coriander powder

½

teaspoon

cumin powder

1

tablespoon

dessicated coconut

or use sesame seeds or cashew nuts
Instructions
Heat the oil in a large frying pan. When it is hot, add the asafoetida and cumin seeds. After about 30 seconds add the okra.

Stir fry the okra for a couple of minutes. Add the rest of the spices, cover the pan and cook for another 2-3 minutes.

At the same time put the dessicated coconut in a dry saucepan and heat it so it toasts slightly.

Serve the okra with the coconut sprinkled on top.
Notes
Nutritional information is approximate and a guideline only.
Nutrition
Calories:
95
kcal
Carbohydrates:
5
g
Protein:
1
g
Fat:
8
g
Saturated Fat:
1
g
Sodium:
11
mg
Potassium:
186
mg
Fiber:
2
g
Sugar:
1
g
Vitamin A:
550
IU
Vitamin C:
14.8
mg
Calcium:
51
mg
Iron:
0.9
mg
Pin this Dry Curried Okra for Later!