Do you know how to make caramelised nuts? These easy caramelised pecans are so good but so simple. They're perfect as a Christmas gift, a tasty snack or as a salad topping. You can whip them up in less than 10 minutes so there's no reason not to make them now!
There is something so Christmassy about nuts. As a child we always had a bowl of nuts in our living room around Christmas time and I used to love cracking them open and eating them fresh from their shells.
We never had honey roasted or salted nuts, except for the dry roasted ones in this Winter rice salad. Christmas was time to get the nutcrackers out and then to throw the shells into the open fire and watch it blaze up. We don't have an open fireplace now either.
Caramelised nuts are so addictive!
Anyway, traditions change and Mr Searching for Spice has always been more into salted or sweet nuts like these. I have to admit that there's something incredibly moreish about caramelised nuts, especially when they are homemade.
I first made my own caramelised nuts a couple of years ago. They were honey roasted cashew nuts and were a real hit. Now, I love to make them as a snack or to go with salads.
What ingredients do you need to make caramelized pecans?
To make these simple caramelised nuts you need just 3 ingredients:
Nuts - I use whole pecans for this recipe
Runny honey
Soft brown sugar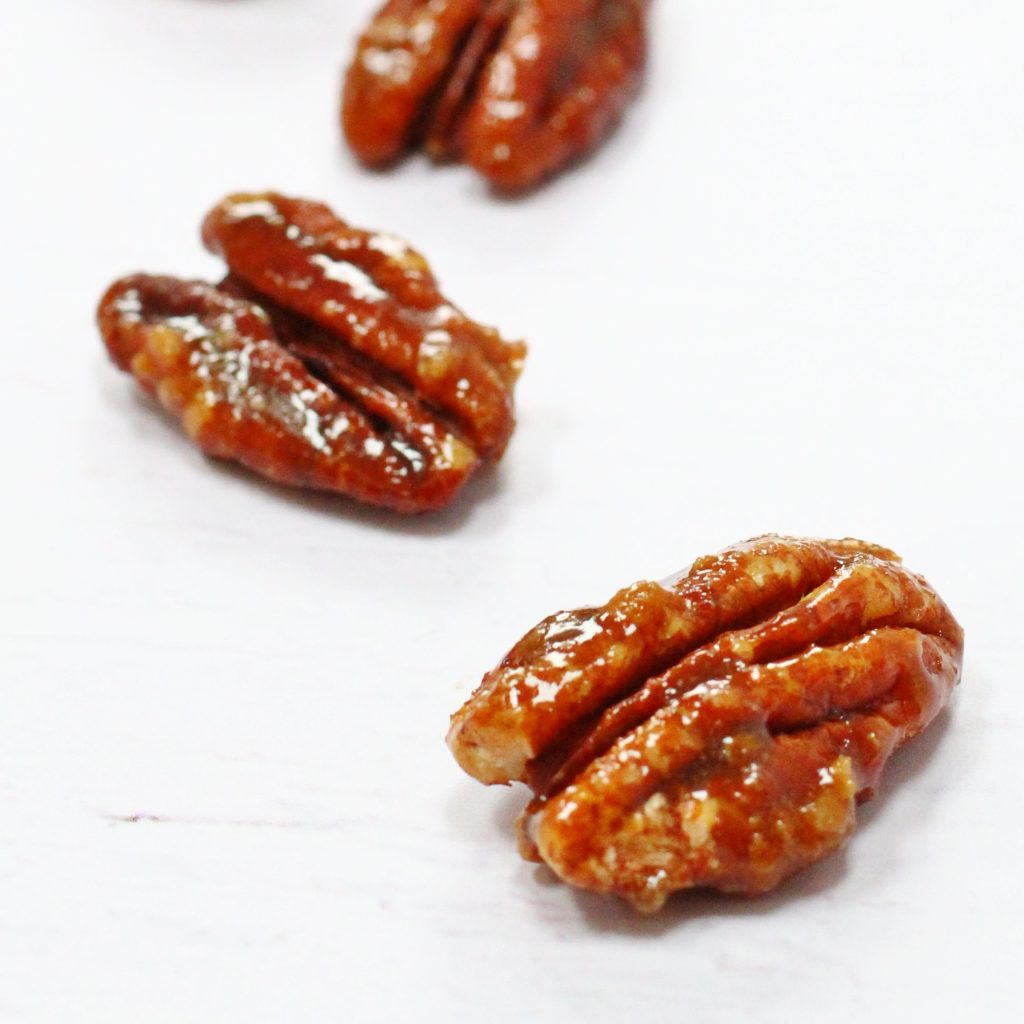 How to make Caramelised nuts
These easy caramelised pecans are made using a simple one pan method. They really are the simplest of recipes. Previously I've made caramelized nuts in the oven but this time I went for super easy.
I toasted the pecans gently in a saucepan to brown them just slightly. I tipped the pecans out of the pan. Then I melted sugar and honey in the same saucepan and stirred the pecans in to coat them in the delicious caramel.
If you use this method you really can make caramelised pecans in less than 10 minutes. If you want to make it even easier you can skip the first step and just go straight to making the caramel.
How to adapt the flavours of the caramelised nuts or pecans
Why not make your own caramelised pecans when they are this easy? I didn't add any extra flavours this time but you could add some spices to the caramel. Ginger, cinnamon or mixed spice would all work beautifully.
Sometimes caramelised nuts can be a bit sticky. If you are finding that they are a bit too sticky then toss them in a little sugar.
What can you do with Caramelised nuts?
Caramelised nuts are so versatile. They make great presents too. Why not make a big batch and give them as Christmas gifts? People love the thought that goes into homemade gifts like this.
If it is Christmas time or you're just having a party then why not make some as snacks? I know that when I visit people I can't resist snacking if there's a bowl of nuts anywhere near me!
They are great for other recipes. Caramelised nuts are a great garnish on all kinds of salads. We love them in this beautifully nutty coleslaw.
Finally, after you've made them, make sure you keep them somewhere safe. Mr Searching for Spice ate almost all of these!
How to store Caramelised nuts
Once you've made these nuts then store them in an airtight container. They will keep for about a month.
More nutty recipes
If you like the caramelised pecans you will love the caramelised cashew nuts too!
Recipe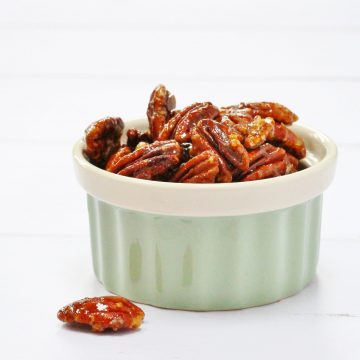 Easy Caramelised Pecans
These sweet and crunchy caramelised pecans are great for snacking on. They also make a delicious topping for salads.
Ingredients
100

g

whole pecans

1

tbsp

runny honey

2

tablespoon

soft brown sugar
Instructions
Put the pecans in a saucepan and turn the heat on. Keep moving the pan a little to make sure they don't burn.

When the pecans start to brown a little, tip them out into a bowl and put the honey and sugar in the saucepan.

When it begins to bubble, stir with a wooden spoon. Let it bubble for a minute and then tip in the pecans and stir to coat in the caramel.

Tip the pecans out onto a piece of non-stick baking paper and leave to cool and harden.
Notes
You can add extra flavours to the nuts such as cinnamon, ginger or mixed spice by adding ½ teaspoon of spices to the sugar and honey mixture.
Nutritional information is approximate and a guideline only.
Nutrition
Calories:
211
kcal
Carbohydrates:
13
g
Protein:
2
g
Fat:
17
g
Saturated Fat:
1
g
Sodium:
1
mg
Potassium:
102
mg
Fiber:
2
g
Sugar:
11
g
Vitamin A:
15
IU
Vitamin C:
0.2
mg
Calcium:
22
mg
Iron:
0.6
mg
Pin these caramelised nuts for later
Places I'm sharing these easy caramelised pecans
Cook Once Eat Twicehere at Searching for Spice