These egg-free chocolate muffins are so chocolatey and moist you'd never know they were baked without eggs! Perfect for sharing this Valentine's Day
This post didn't start out as a Valentine's post at all. I wasn't even planning to bake on the day I made these egg-free chocolate muffins. Well, I was planning to make them at some point. However, on this particular day I was guilt tripped into making them slightly sooner than planned.
Maybe Little Miss Spice is getting a bit spoilt but on the way to school she asked me what her after-school snack would be. I said I wasn't sure. Maybe a cereal bar.
As the daughter of a food blogger, she was clearly not impressed. She demanded to know why I hadn't made any interesting snacks during the past week. I pointed out that I'd made two different types of muffin the week before but she has a rather selective memory.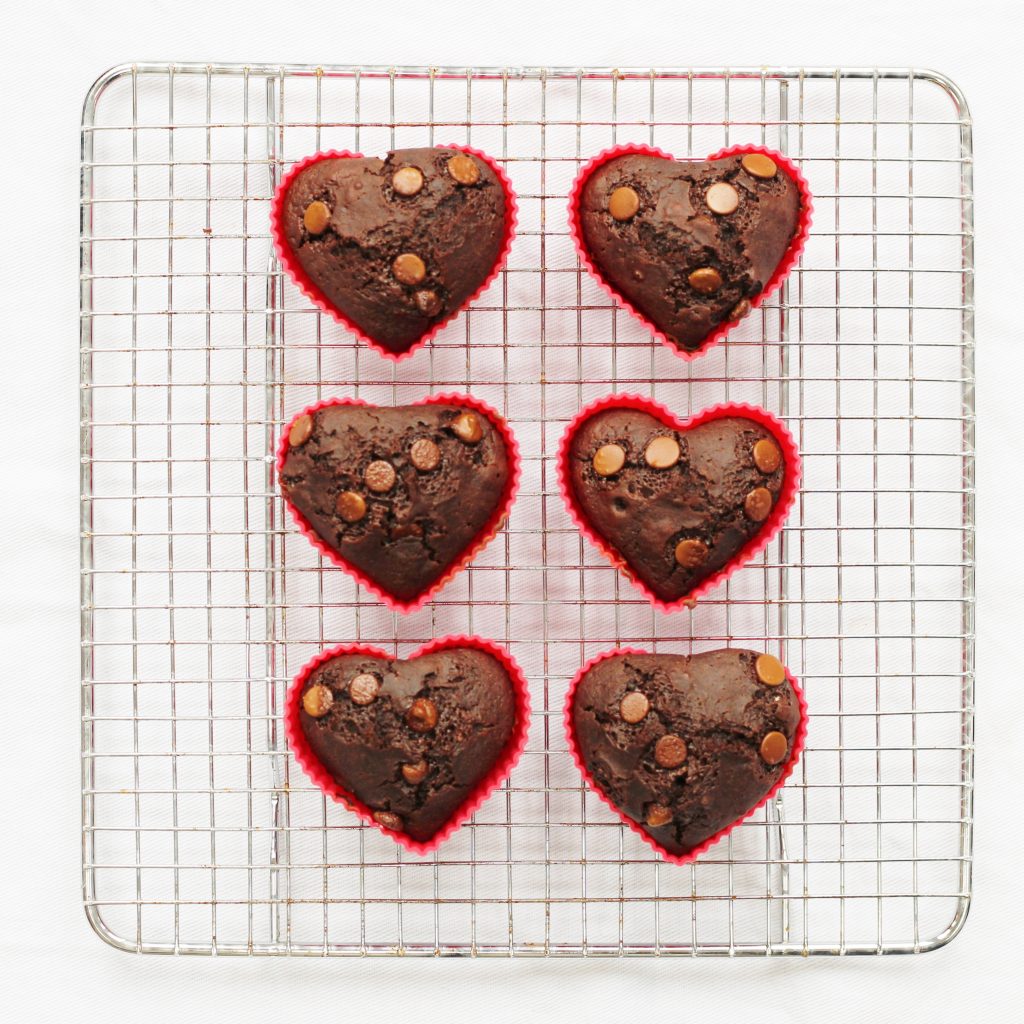 The result being that once she was at school I abandoned what I had been planning to work on. I came home and ended up researching how to make the best egg-free chocolate muffins instead. Well, the best egg-free chocolate muffins without having to use ground flax seeds, chia seeds or aquafaba! As I have heart-shaped silicone muffin cases at home and as Valentine's Day was on its way, they accidentally ended up being Valentines themed too.
You may be wondering why I wanted to make these chocolate muffins egg-free. Well, Little Miss Spice has a friend with an egg allergy and so for a while now I've been planning to experiment to find the perfect cake to make for her. I'm hoping I've found it!
Do egg-free cakes go dry quickly?
Some people worry that egg free cakes will end up being a little dry but I was really pleased with these eggless chocolate muffins. They were beautifully moist and really really chocolatey. If you like your chocolate cake to have a strong chocolate flavour then these are definitely for you.
I'm not an expert on egg-free baking but I did feel these went drier slightly more quickly than other muffins I've made. They do keep well in the freezer though so if you want some of them to last longer than three days then just wrap them up and freeze for later.
How long can you store them in the freezer?
They'll keep well in the freezer for at least three months. When you want to eat them you can defrost them at room temperature. Alternatively you can pop them in the microwave and enjoy them warm!
Are these muffins vegan too?
These egg-free chocolate muffins are not vegan as I made them using cows milk. You could easily make them vegan though by using rice, almond or soya milk instead.
Recipe
Egg Free Chocolate Muffins
These egg free chocolate muffins are perfect for a snack at any time of year and especially to share with your Valentine!
Ingredients
200

g

self-raising flour

70

g

cocoa powder

1

teaspoon

baking powder

50

g

soft dark brown sugar

50

g

caster sugar

1

teaspoon

vanilla extract

450

ml

milk

I used semi-skimmed

30

g

vegetable oil

120

g

chocolate chips

I used milk chocolate
Instructions
Pre-heat the oven to 150C

Put the flour, baking powder and cocoa powder into a bowl and then sift into a large mixing bowl. Stir in the sugar.

Put the milk, oil and vanilla extract into a measuring just. Whisk together then pour onto the dry ingredients. Fold together until just combined.

Add the wet ingredients to the dry ingredients and stir until just combined.

Stir in about two thirds of the chocolate chips.

Spoon the mixture into the muffin cases. Sprinkle the extra chocolate chips on top of the muffins.

Bake in the pre-heated oven for about 20 minutes. Check with a skewer or cocktail stick and if it comes out clean they are ready.

Let the muffins cool for a few minutes in the tin and then transfer them to a wire rack to finish cooling.
Notes
Nutritional information is approximate and a guideline only.
Nutrition
Calories:
161
kcal
Carbohydrates:
26
g
Protein:
3
g
Fat:
5
g
Saturated Fat:
3
g
Cholesterol:
4
mg
Sodium:
20
mg
Potassium:
162
mg
Fiber:
2
g
Sugar:
13
g
Vitamin A:
65
IU
Calcium:
68
mg
Iron:
0.9
mg
More Delicious Recipes
Do let me know if you try them. I'd love to know your experiences of egg-free baking too so let me know in the comments. And if you're looking for Valentines day recipes then how about my Frozen Yoghurt Hearts or Strawberry Heart Shortbread biscuits?
Pin Egg-free chocolate muffins for later
Places I'm sharing these egg-free chocolate muffins
Free From Fridays with the Free From Farmhouse and Le Coin De Mel.