Try this scrumptious sticky ginger cake recipe next time you need an easy sweet bake! It's got that lovely gooey top that just makes you want to take a bite! Perfect for an afternoon snack, after school snack or dessert.
This deliciously sticky sweet and spicy ginger cake is a recipe that always reminds me of my childhood. Ginger cake was a regular cake in our house and I especially loved the sticky bit on top of the cake.
Is there a name for the sticky top of a ginger cake? I don't know but there should be. This whole cake is really moist and tasty and the sticky surface of the cake especially is impossible to resist.
It is definitely a cake that needs nothing doing to it. No decoration. You could drizzle it with ginger syrup or even caramel but it's just not necessary. This ginger cake is good enough exactly as it is.
Is this a healthy ginger cake?
In looks this ginger cake is very similar to the carrot cake I made a couple of weeks ago. I managed to claim the carrot cake was fairly healthy as far as carrot cakes go.
Unfortunately I can't claim the same for this! But, as long as you cut it into small squares to serve, it really doesn't feel so bad. And anyway, we all need a treat sometimes.
What ingredients do you need for this cake?
For this cake you'll need self-raising flour, bicarbonate of soda, ground ginger, cinnamon, mixed spice, soft brown sugar, golden syrup, butter, milk and an egg.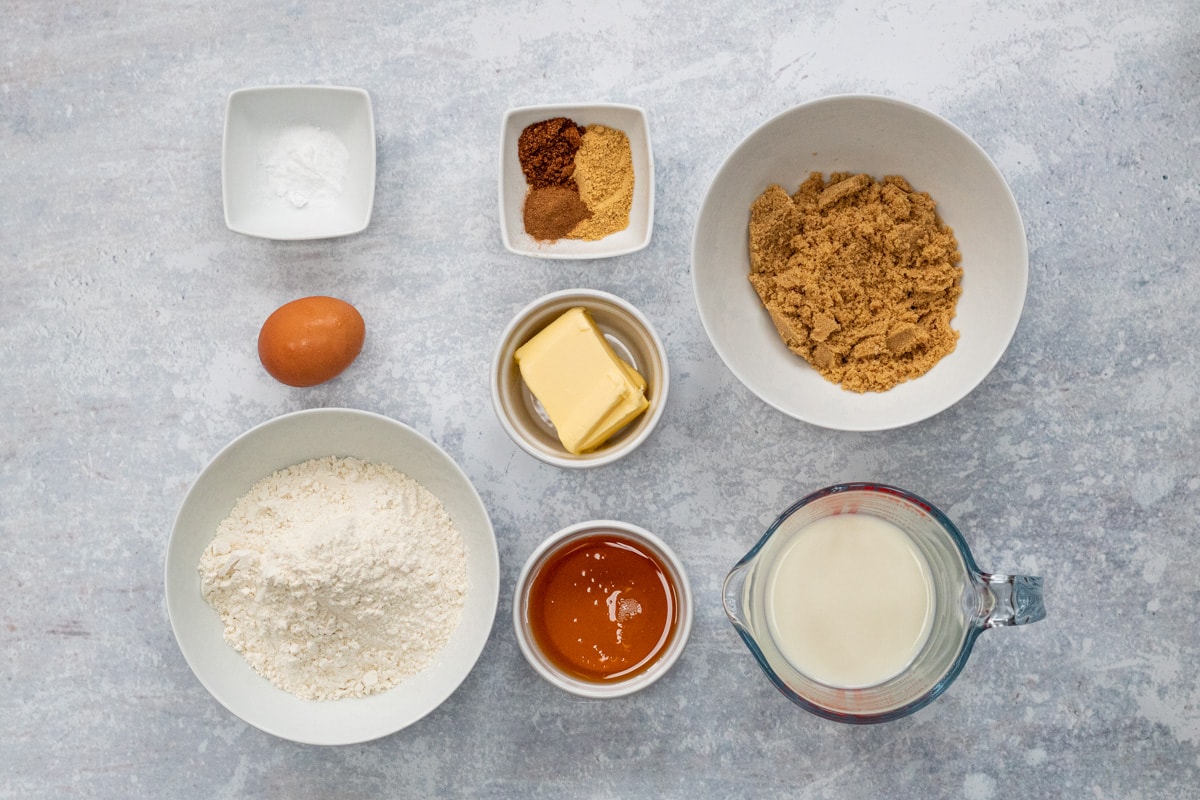 Do you need any special equipment?
You don't need much equipment to make this ginger cake recipe. You'll need:
a 20cm square cake tin. I use one with a loose bottom so it's easy to get the cake out
Baking paper
A saucepan
A wooden spoon
A large mixing bowl
Can you adapt this ginger cake recipe?
I wouldn't adapt this cake much at all. It's fairly light with a great moist texture and just the right amount of sweetness. And I'll mention it just one more time. It's got the best gooey sticky surface ever!
However, you can vary the spices. Play around with the spices you like and don't worry about the exact quantities of ginger, cinnamon or mixed spice. If you don't have one of the spices, just use a little more of one of the others.
Sometimes I use mainly ginger but at other times I use mainly mixed spice. It still works really well and tastes delicious.
How long does this cake keep for?
This ginger cake should keep well in an airtight container for up to five days.
Can you freeze this sticky ginger cake?
Yes, if you want to freeze this cake, wait until it has cooled completely after you've baked it. Wrap it up well in greaseproof paper and put it in a freezer bag.
It can be frozen for at least three months. Take it out of the freezer and defrost at room temperature for a few hours before eating.
The inspiration for this ginger cake
I made this sticky ginger cake as part of a baking challenge and it is adapted from Step-by-Step Baking by Caroline Bretherton. I love this book and have made so many recipes from it.
If I ever want to make something I haven't made before and need a basic recipe as a starting point, it's a great resource.
More ginger recipes!
I love ginger and have so many recipes that use it. Here are just a few of them:
Recipe
Ginger Cake Recipe
Try this scrumptious ginger cake recipe next time you need an easy sweet bake! It's got that lovely gooey top that just makes you want to take a bite!
Ingredients
225

g

self-raising flour

1

teaspoon

bicarbonate of soda

2

teaspoon

ground ginger

1

teaspoon

mixed spice

1

teaspoon

cinnamon

110

g

unsalted butter

at room tempterature

110

g

soft brown sugar

200

g

golden syrup

200

ml

milk

1

egg
Instructions
Preheat the oven to 170C. Line the bottom of a square 18cm cake tin with baking parchment and grease the sides.

Sift the flour, bicarbonate of soda and spices into a large mixing bowl.

Put the butter, sugar, golden syrup and milk into a small saucepan and heat gently until the butter is melted and the sugar dissolved.

Pour the liquid from the saucepan into the mixing bowl with the flour. Whisk well and then beat in the egg too.

Pour the mixture into the cake tin. Bake in the oven for 35 minutes. Test with a skewer and bake for a bit longer if it comes out wet.

Turn the cake out onto a wire rack and leave to cool.
Notes
Nutritional information is approximate and a guideline only.
Nutrition
Calories:
238
kcal
Carbohydrates:
37
g
Protein:
3
g
Fat:
8
g
Saturated Fat:
5
g
Cholesterol:
35
mg
Sodium:
121
mg
Potassium:
58
mg
Sugar:
23
g
Vitamin A:
275
IU
Vitamin C:
0.1
mg
Calcium:
38
mg
Iron:
0.4
mg
Pin for later
Keep in touch
Do let me know if you make this ginger cake or any of my other recipes. I love to get feedback from readers.
You can also stay up to date by following on Instagram, Facebook and Twitter.
Why not sign up to my weekly newsletter too.