Not a fan of tofu? I bet you will be if you try this chilli and black pepper tofu! It's the perfect dish to convert anyone to tofu. Well, as long as you like chillies, garlic, black pepper and soy sauce!
I first made this delicious chilli and black pepper tofu back in 2011. At the time I was a big fan of Masterchef and every week I made a recipe at home inspired by the show.
One week on Masterchef all the recipes were vegetarian and so who better to have on the show than Yotam Ottolenghi. Although not a vegetarian, he is well-known for his modern vegetarian recipes. I have to admit that although I had heard a lot about him I hadn't read any of his books or made any of his recipes at that point. Although now, quite a few years later I have made loads of Ottolenghi recipes and have at least two of his recipe books!
As I was watching that old Masterchef episode I was quite impressed by Ottolenghi. He also came across well on the show. He was supportive of the contestants, approachable and just nice, which cannot always be said for John and Greg. If I was looking for someone to help, teach and encourage me with my cooking, he is exactly who I would choose.
I chose to make this chilli and black pepper tofu as it contained lots of chillies, onions, garlic and black pepper. Those are of course some of my favourite ingredients. Also, Ottolenghi said that until he tried this dish, he didn't really like tofu. As I would also consider myself to not really like tofu, this seemed like a good dish to make as a first-time tofu cook.
And the verdict?
I would agree with Ottolenghi. Even if you don't consider yourself to like tofu, this dish is delicious. The flavours soak into the tofu so that in the end the soy sauce, chillies, garlic and black pepper are what you are actually tasting and so if you like those, then you will like this.
Can you adapt the black pepper tofu recipe?
I have adapted this recipe so of course you can adapt it again. You can find the original tofu recipe on the Guardian website if you want to see it. I drastically reduced the amount of black pepper but it you want it to be really peppery then do add some more.
There are lots of other simple additions you could make. Why not add extra vegetables? Mushrooms, sugar snap peas or baby sweetcorn?
What can you serve with this tofu?
Why not cook some simple sticky rice or jasmine rice? Or if you don't want it to be a vegan recipe then egg fried rice?
Do you need to press the tofu?
You don't have to press the tofu first if you don't have time. However, if you press it, it removes some of the moisture and helps it to crispen up.
How do you press tofu?
It's easy to press tofu. Put some sheets of kitchen roll on a plate. Place the block of tofu on the kitchen roll. Put some more kitchen roll on top and then put a heavy pan on top. Leave it for 30 minutes.
Chilli and Black Pepper Tofu
Not a fan of tofu? I bet you will be if you try this chilli and black pepper tofu! It's the perfect dish to convert anyone to tofu. Well, as long as you like chillies, garlic, black pepper and soy sauce!
Ingredients
250

g

tofu

cut into bite-sized cubes

2-3

tbsp

cornflour

4

large red chilli peppers

cut into strips, discard some seeds to suit how hot you want it

1

onion

cut into slices

8

spring onions

cut into approximately 3cm long pieces

15

g

fresh ginger

cut into thin sticks

5

cloves

garlic

1

tbsp

light soy sauce

1

tbsp

dark soy sauce

1.5

tsp

sugar

1

tbsp

black peppercorns

crushed

50

ml

water or vegetable stock
Instructions
Heat about ½ cm of oil in a wok. Dip the cubes of tofu in the cornflour and then put in the wok. You will probably need to do this in two batches. Fry for about 5 minutes then turn over and fry for another 5 minutes or until each side is golden and crispy. Drain on kitchen paper.

Pour away most of the oil. Keep the temperature hot. Add the garlic, ginger, chilli and onion. Stir fry for about 2 minutes.

Add the black pepper, soy sauces and a little water or vegetable stock. Bring to the boil then add the tofu. Heat through then add the spring onions. Give a final stir then serve with rice.
Notes
Nutritional information is approximate and a guideline only.
Nutrition
Calories:
261
kcal
Carbohydrates:
37
g
Protein:
17
g
Fat:
6
g
Sodium:
1033
mg
Potassium:
668
mg
Fiber:
6
g
Sugar:
12
g
Vitamin A:
1365
IU
Vitamin C:
144.8
mg
Calcium:
252
mg
Iron:
4.3
mg
More Easy Vegan Recipes
Are you looking for more vegan recipes that are great for main meals too?
How about this black bean and sweet potato soup?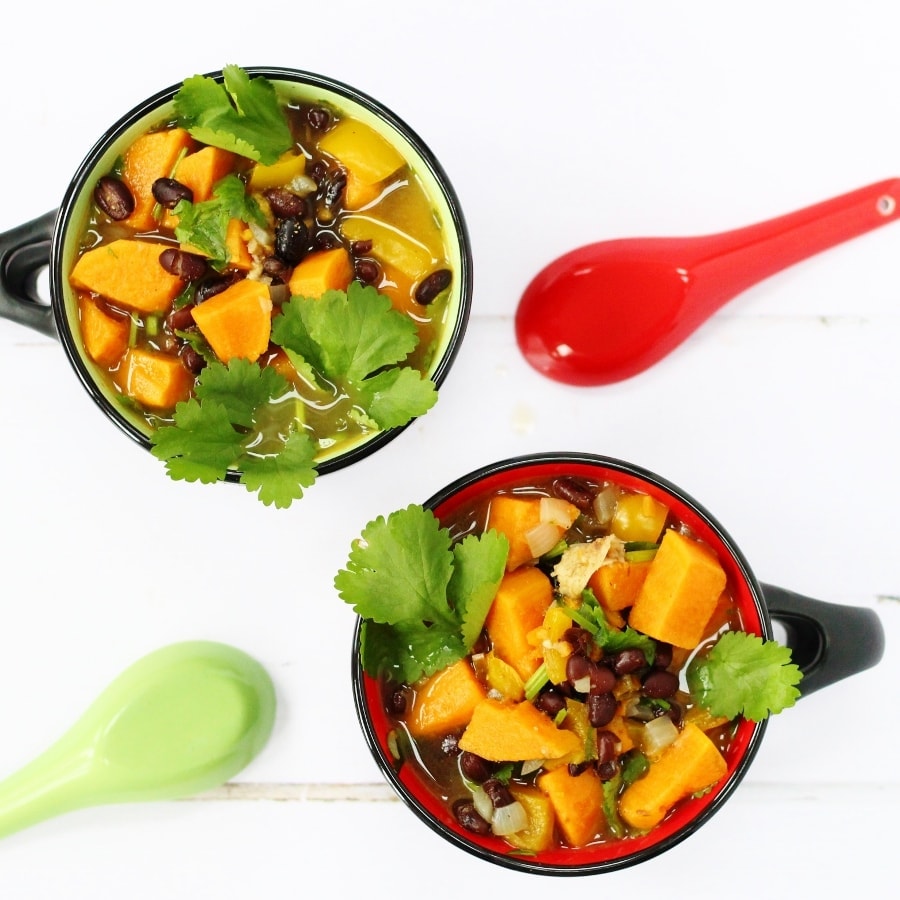 Or this spaghetti with an avocado, chilli and lemon sauce?
Or if you are a curry lover then this nutty roasted romanesco curry is another of my favourites!