This homemade mushroom paté recipe is easy to make at home and full of flavour. It's ideal for serving with toast, crackers or as a dip. You can even use it as a sauce!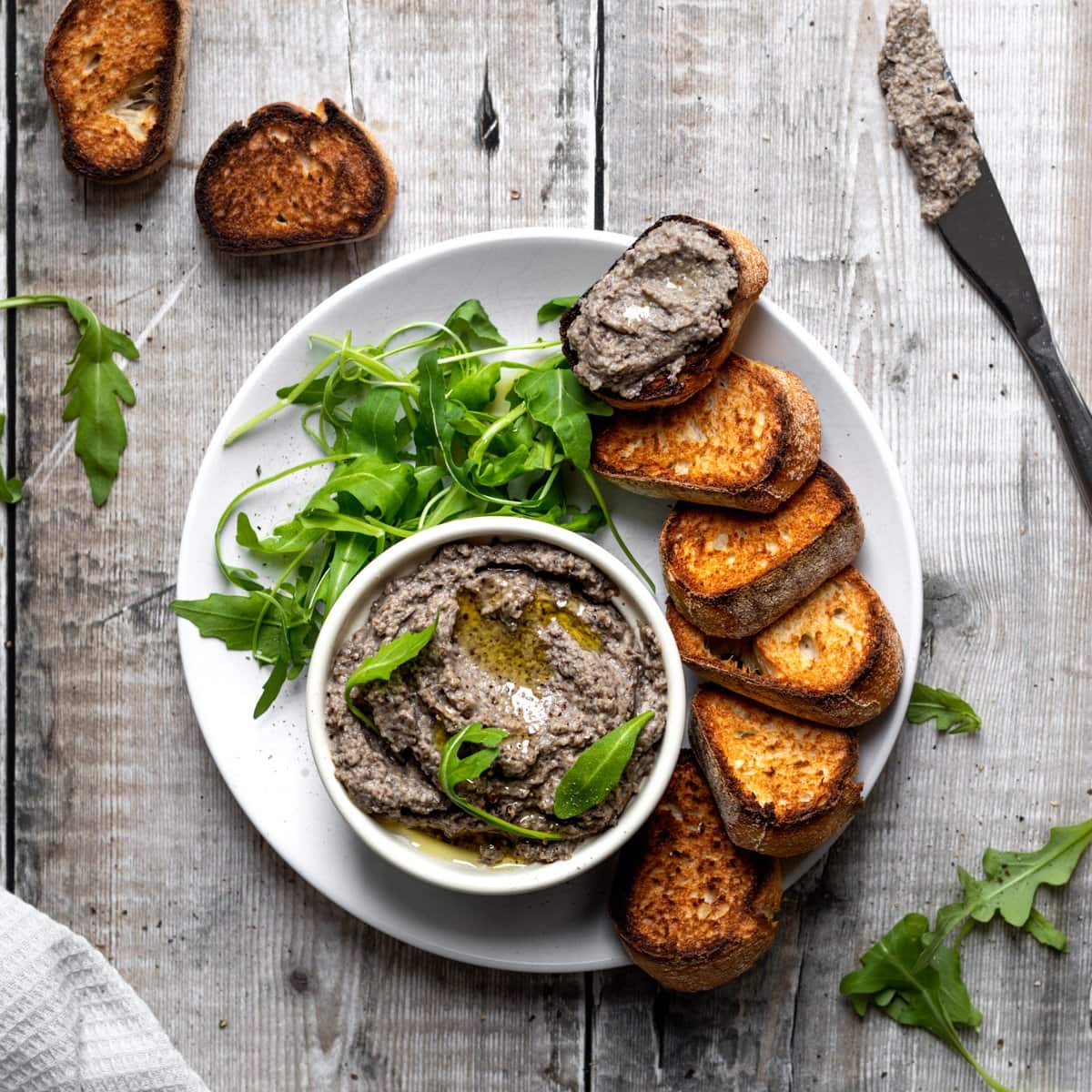 I don't often eat paté and I have to admit it's not something I make very often either. However, this homemade mushroom paté is really easy to make and is a great addition to a cheeseboard. That means it's especially good right now for any Christmas or New Year get togethers.
It has a lovely creamy herby mushroom flavour. The paté itself is quite soft and more like a dip in texture. It's not the type of paté you can slice into.
It really is a great recipe for any time of year. You can use it as a sandwich filling for packed lunches and picnics, a dip for vegetable sticks or bread sticks.
I actually first developed this recipe when I was pregnant and was craving paté for some reason. Now, this homemade mushroom paté recipe is nothing like the meaty variety with liver in. But, it can be eaten in just the same way. And I have to say, eating freshly made paté with warm toast as a starter has to be one of my favourite things.
Because it's meat-free, it's perfect for vegetarians too. It's also gluten free and can easily be adapted to be vegan and dairy free if you use a dairy-free cream cheese substitute. That means it's perfect for anyone!
What ingredients are in mushroom paté?
To make this mushroom paté you'll need:
Butter - I like to fry the mushrooms in a little butter as this is a special recipe and butter feels a little more indulgent. You can use salted or unsalted. Omit the butter and use just oil if you are adapting the pate recipe to make it dairy-free
Olive oil - I also use a little light olive oil as there are a lot of mushrooms!
Mushrooms - You can use button mushrooms, chestunut mushrooms or a mixture of different mushrooms.
Onion - I usually use a normal brown onion but red also works.
Garlic - Garlic adds lots of flavour to this pate
Herbs and spices - Nutmeg, thyme, rosemary and black pepper
Cream cheese - I use a regular cream cheese but you can replace it with a diary free or vegan brand to make it suitable for more people
How do you make mushroom paté?
This mushroom paté is very easy to make. You just need to fry the mushrooms, onion and garlic gently for about 20 minutes. The mushrooms will release liquid at first and then it will evaporate. Wait until the pan is fairly dry before transfering to a food processor and blitzing along with the cream cheese.
Taste the paté and add extra seasoning if neceassary. You may need extra black pepper and a touch of salt.
What equipment do you need?
To make this paté all you need is:
A large frying pan
A food processor or blender - I use my Magimix
How long does it stay fresh for?
As long as it is in a covered container this paté should stay fresh for at least three days in the fridge.
If you melt butter on the top it will last for up to a month but as soon as you break the butter and start to eat it, it will keep for about 3 days.
Can you freeze it?
Personally, I wouldn't advise freezing this pate as when it defrosts the texture will change a little and it can be more grainy and watery.
Rather than freezing it, I'd advise you to just make a smaller amount.
Can you adapt this mushroom paté recipe?
I usually keep this mushroom paté recipe fairly simple. However you could easily adapt it. Why not intensify the flavour by using wild mushrooms, a stronger cheese or different herbs and spices?
What can you serve with homemade mushroom paté?
Not much beats eating this paté spread on warm buttered toast. However, there are lots of ways you could eat it. It's great as a sandwich filling too.
Because this paté has quite a soft texture, I have even used it as a sauce for steak. Just zap it in the microwave and pour it over!
Along the same lines you could serve it as a sauce for chicken or even as a pasta sauce.
More mushroom recipes
If you like mushrooms as much as I do, why not try one of these recipes:
Or if you're looking for more dip/spread recipes why not try this ajvar, a roasted red pepper and aubergine dip?
Recipe
Mushroom Paté
This homemade mushroom paté recipe is easy to make at home and full of flavour. It's perfect for spreading on toast or even using as a sauce!
Ingredients
10

g

butter

for step 1

1

tablespoon

olive oil

500

g

mushrooms

chopped into fairly small pieces

½

onion

finely diced

1

clove

garlic

finey diced or crushed

⅛

teaspoon

nutmeg

½

teaspoon

dried thyme

¼

teaspoon

dried rosemary

Pinch

black pepper

60

g

cream cheese

40

g

butter

for step 4 (optional)
Instructions
Put a little butter and olive oil in a saucepan and add the mushrooms, onion, garlic, thyme, rosemary, nutmeg and black pepper. Cook over a gentle heat for about 20 minutes, stir occasionally. The mushrooms will give out lots of liquid at first but by the end of the cooking time the pan should be fairly dry. Take off the heat and leave to cool.

Put the mushroom mixture and cream cheese in a food processor. Blend until smooth.

Spoon the paté into the ramekins and flatten the top with a spoon. At this point you can serve.

If you want to make the pate last longer, melt some butter in the microwave or in a small pan. Let it cool slightly then pour on top of the paté to seal it in. When the butter has fully cooled and hardened, put the ramekins in the fridge to store until ready to serve.
Notes
Nutritional information is approximate and a guideline only.
Nutrition
Calories:
138
kcal
Carbohydrates:
4
g
Protein:
3
g
Fat:
13
g
Saturated Fat:
7
g
Polyunsaturated Fat:
1
g
Monounsaturated Fat:
4
g
Trans Fat:
1
g
Cholesterol:
29
mg
Sodium:
96
mg
Potassium:
297
mg
Fiber:
1
g
Sugar:
2
g
Vitamin A:
346
IU
Vitamin C:
3
mg
Calcium:
19
mg
Iron:
1
mg
Keep in touch
Do let me know if you make this mushroom paté. Or any of the my other recipes.
You can also stay up to date by following on Instagram, Facebook and Twitter.