This creamy chorizo pasta recipe is perfect for a quick and easy midweek meal. It's a real comfort food pasta dish with a gorgeous creamy paprika flavour.
Creamy chorizo pasta is the perfect comfort food
Chorizo is one of those staple ingredients in our house. I use it a lot to add extra flavour and we all love the warmth of the smoked paprika that comes out as you cook it. I also love the combination of creme fraiche and chorizo. It makes for a really comforting dish of pasta that's excellent for cooler days. This is the kind of bowl of pasta you just want to curl up on the sofa with!
So easy to make
The great thing is that it's so easy to make too. You don't need to spend long at all to make it and I even catch sight of my husband licking the plate clean at the end! That's always a sign of a successful recipe!
This creamy chorizo pasta recipe is actually one of the first recipes I made for my husband. The idea came from a recipe I found at my parents' house a long time ago. At the time I was only just beginning to get interested in cooking. I wanted to impress my future husband and felt I should expand my rather limited repertoire.
The inspiration for this creamy pasta recipe
Little did I know back then that cooking would become a passion and that my favourite tv programmes a few years later would all end up being about food. I spent an afternoon going through lots of old cook books and magazines, making notes.
This gorgeous creamy pasta dish was one of the recipes I came away with. Well, not exactly this as I only read the recipe once and I don't have those notes any more. I'm sure the recipe I make has changed a bit over the years too.
What ingredients are in this chorizo pasta?
You don't need many ingredients to make this creamy choriso pasta. Just pasta, chorizo, vegetables and and creme fraiche. I sometimes use spaghetti and sometimes another kind of pasta such as penne. It really doesn't matter what kind of pasta you use. You could even make it with gluten free pasta!
I often add peppers, onions and mushrooms for the vegetables but feel free to vary what you have.
It's best to use cooking chorizo for this as you can cut it into thick slices. If you only have the thin ready sliced chorizo it will still be tasty though. You won't need to cook it for as long either.
Can you adapt this creamy chorizo pasta recipe?
This recipe is one I've been making for years and I don't even remember the exact ingredients in the original recipe.
There are lots of ways you can adapt it by varying the vegetables you use. You can use any colour of pepper for example. You can substitute the vegetables for different ones. Courgette and aubergine go well and green vegetables like broccoli are delicious as well. You can steam it and then stir it in at the end so it's not too crunchy!
Sometimes I want my pasta to have that little bit of a kick to it and on those days I like to slice up a chilli pepper and throw that in too. I also sometimes add slices of garlic too.
If you don't have creme fraiche I'm sure you could substitute if for a little cream too.
Recipe
Creamy Chorizo Pasta
This creamy chorizo pasta recipe is perfect for a quick and easy midweek meal. It's a real comfort food pasta dish with a gorgeous creamy paprika flavour.
Ingredients
160

g

pasta

1

green pepper

deseeded and sliced

6

mushrooms

sliced

1

small onion

peeled and sliced

2

tablespoon

creme fraiche

80

g

chorizo

sliced

Pinchq

black pepper

optional
Instructions
Put the pasta on to boil while preparing the sauce.




Heat a dry saucepan. Add the chorizo. Enough oil will come out of it so you don't need extra oil. Cook it for about 5 minutes till it browns. Remove the chorizo from the pan.

Cook the vegetables in the oil from the chorizo. If there is too much oil in the pan then drain a little of it away before adding the vegetables.

When the pasta is ready, drain it and add it to the pan with the vegetables, along with the chorizo too. Add the creme fraiche and stir well. Serve immediately.



Notes
Nutritional information is approximate and a guideline only.
Nutrition
Calories:
577
kcal
Carbohydrates:
70
g
Protein:
23
g
Fat:
22
g
Saturated Fat:
9
g
Cholesterol:
55
mg
Sodium:
511
mg
Potassium:
712
mg
Fiber:
5
g
Sugar:
7
g
Vitamin A:
440
IU
Vitamin C:
53.1
mg
Calcium:
45
mg
Iron:
2.3
mg
More Pasta Recipes
Do check out these pasta recipes and there are plenty more if you look at my pasta category in the index.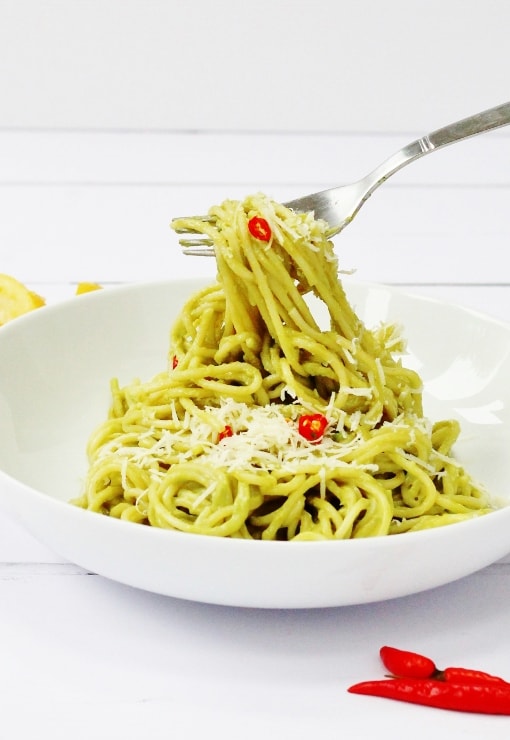 If you like chicken in pasta then why not try my chicken piccata recipe?
You might also like my recipe collection for easy spicy midweek meals!
Pin for later!