This naan bread pizza makes a super tasty midweek meal. It may be an Indian twist on the classic margherita but it packs so much more spice and flavour, topped with a fiery coriander chutney too.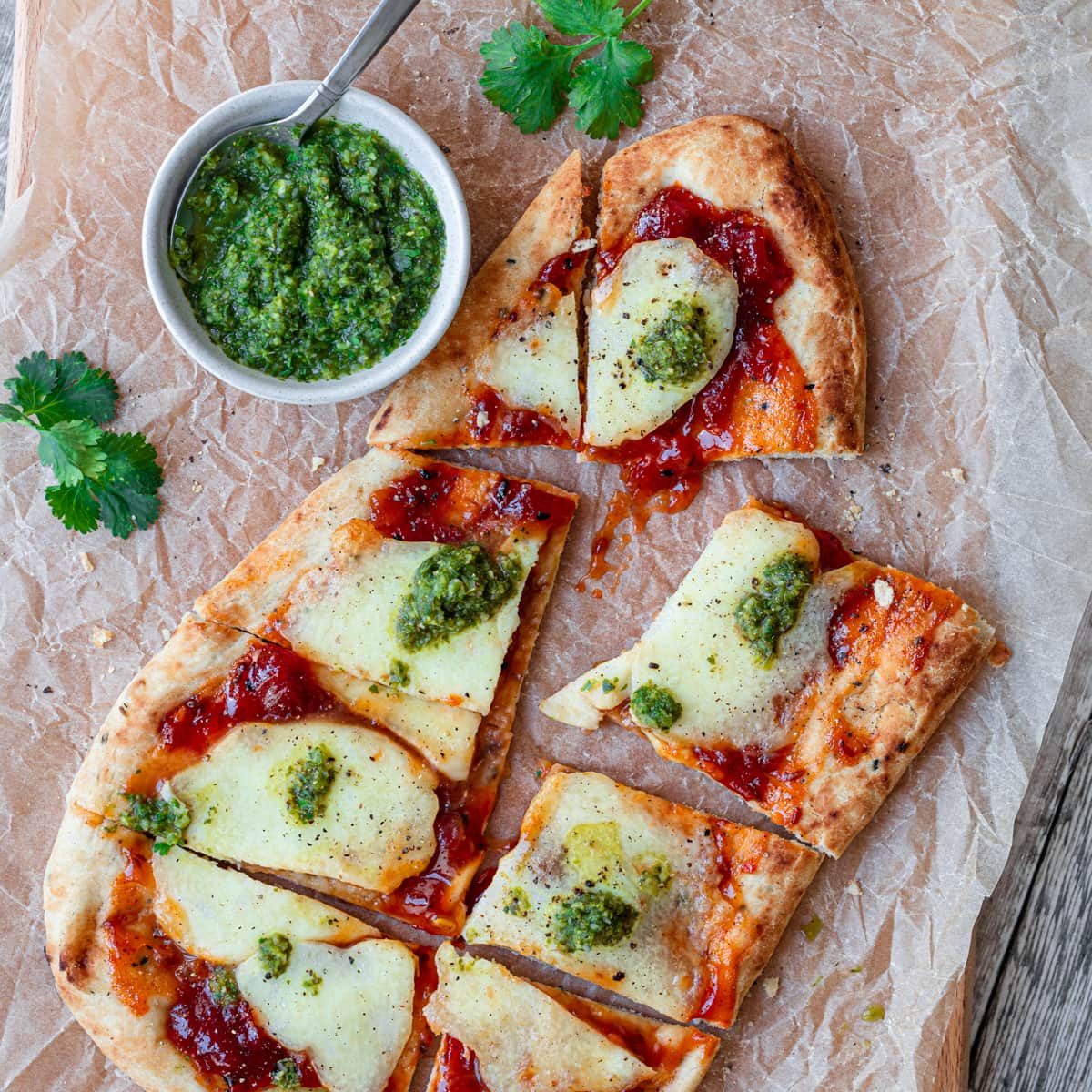 Everyone loves a pizza, don't they? Or at least most people do! This naan bread pizza is a really easy option when you don't want to have to do much cooking and just want a really simple easy midweek meal.
But, it definitely does not lack flavour, the naan bread is spread with a spicy tomato chutney and topped with mozzarella before being baked in the oven. Once it comes out it's drizzled with a fiery coriander chutney to add even more flavour. It may not have lots of topping but the toppings it does have make it absolutely mouthwatering!
If you haven't tried any fusion Italian Indian recipes before then this vegeterian naan bread pizza is a great one to start with!
Ingredient notes for naan bread pizzas
There is a full recipe card further down the page but basically you'll need:
Naan breads - I just use bought naan breads. Of course, you could make your own if you have a bit more time. One option would be to use these nigella seed flatbreads as the base.
Spicy tomato chutney - I also use a bought tomato chutney for these naan pizzas. I make them when I want an easy meal so grabbing a few spoonfuls of chutney from a jar is an easy way of making a simple spicy tomato pizza sauce.
Mozzarella - You can replace this with a different cheese if you like. Cheddar also works.
I often (but not always) make this homemade coriander chutney to drizzle on top. To make it you'll need:
Lemon juice - Freshly squeezed lemon juice is best. I always prefer to use fresh lemons rather than bottled lemon juice.
Coriander leaves (cilantro)
Root ginger - I love to use fresh root ginger but you can use a paste or even diced frozen ginger.
Garlic - I also like to use fresh garlic but a paste or puree works just as well.
Green chillies - How many you use depends on how spicy you want the chutney to be and how hot your chilli peppers are! I would suggest adding a couple and then tasting the chutney and adding more!
Chaat masala - This adds a little extra flavour to the chutney. If you don't have it you can miss it out or try adding a little cumin and dried mango powder.
How to make easy naan bread pizzas
These naan bread pizzas are so simple to make. You only need 3 main ingredients for the actual pizza. Just take your naan breads and spread spicy tomato chutney over the base.
If using a ball of mozzarella, slice it and then pat it dry with kitchen paper to get rid of any excess moisture. Then put the slices on top of the naan pizza. You don't need to cover the whole base, gaps between the mozzarella slices are fine.
If using grated mozzzarella or replacing it with another cheese, just scatter it over the top.
Then bake the naan pizza in the oven. It will probably take about 8 minutes.
While the naan is baking, put all the ingredients for the coriander chutney in a food processor, along with a tablespoon of water and blitz. Add exta chillies and blitz again if necessary.
When the pizza is ready you can drizzle some of the chutney on top.
Adaptations and substitutions
If you can't get hold of naan breads then feel free to use a different kind of flatbread. Tortillas, chapatis and pitta breads all work well. You can even use a traditional pizza base. If you do use a very thin flatbread such as tortilla or chapati it often works better to cook the base of the pizza in the frying pan then add the toppings and put the pizza (still in the frying pan) under the grill to cook the top.
I use a spicy tomato chutney for the base as it is the most similar twist on a traditional Italian pizza sauce. However, other kinds of chutney can be used instead.
If you are short on time then don't feel you have to make the coriander chutney. You can just miss it out or use a jar of coriander chutney instead.
What can you do with the leftovers
You can keep any leftovers in the fridge for up to 48 hours and then reheat in the oven. If you have an air fryer, that also works really well for reheating pizza slices.
What can you eat with naan bread pizza?
You can just eat this by itself. Pizza doesn't need any sides. However, if you want to make it into a healthier meal then why not just serve a big green salad on the side. Or make this kachumber salad?
Other ways to serve the coriander chutney
The coriander chutney is not only a great accompaniment to this naan bread pizza. It's also great with chips, poppadoms, samosas, bhajis and curries.
Recipe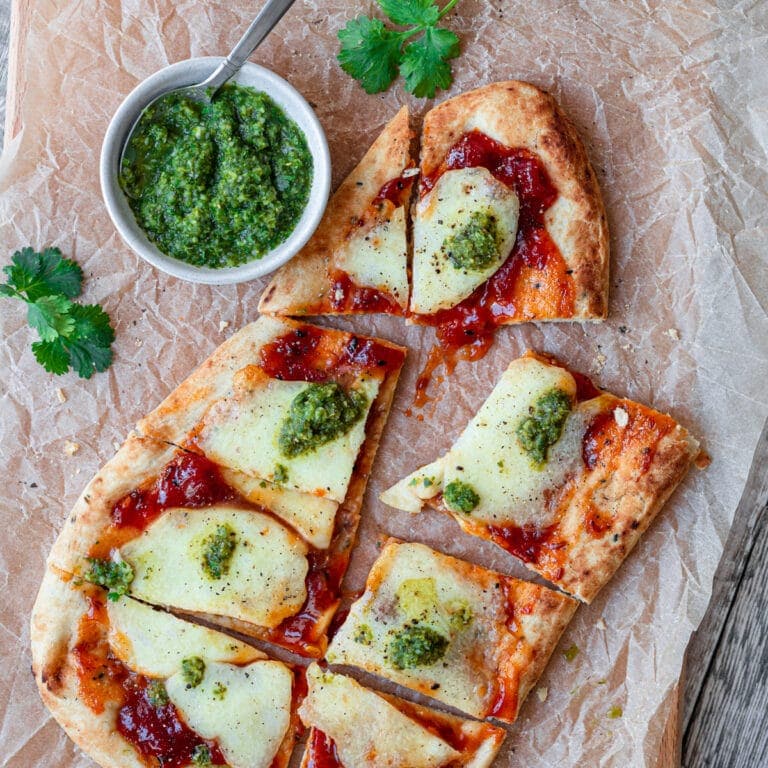 Naan Bread Pizza with Coriander Chutney Drizzle
This naan bread pizza makes a super tasty midweek meal. It may be an Indian twist on the classic margherita but it packs so much more spice and flavour, topped with a fiery coriander chutney too
Ingredients
2

naan breads

4

tablespoon

Spicy tomato chutney

150

g

mozzarella
For the Coriander Chutney
1

lemon

juiced

25

g

coriander leaves (cilantro)

5

g

root ginger

peeled and diced

2

garlic cloves

skinned and diced

2

green chillies

½

teaspoon

chaat masala
Instructions
How to make the coriander chutney
Put all the ingredients for the chutney plus a tablespoon of water in th bowl of a food processor and blitz. Taste and adjust the seasonings if necessary. Add a little extra chaat masala or salt. If it tastes a little bitter add a little sugar or honey and blitz again.
How to make the naan bread pizza
Preheat the oven to 200°c (180°C fan)

Spread tomato chutney over the base of the naan breads. Slice the mozzarella and squeeze any excess moisture out between two pieces of kitchen roll. Put the mozzarella on the naan pizzas

Bake the naan pizzas in the oven for about 8 minutes.

Drizzle the coriander chutney on the top. Alternatively you can use the chutney as a dip to dunk the pizza in while eating
Notes
Nutritional information is approximate and a guideline only.
Nutrition
Calories:
369
kcal
Carbohydrates:
47
g
Protein:
14
g
Fat:
13
g
Saturated Fat:
6
g
Polyunsaturated Fat:
0.3
g
Monounsaturated Fat:
2
g
Cholesterol:
35
mg
Sodium:
743
mg
Potassium:
95
mg
Fiber:
2
g
Sugar:
13
g
Vitamin A:
676
IU
Vitamin C:
10
mg
Calcium:
240
mg
Iron:
0.4
mg
More pizza recipes
If you like eating pizza then do try one of these recipes:
Pin for later
Keep in touch
Do let me know if you make these naan bread pizzas or any of my other recipes. I love to get feedback from readers.
You can also stay up to date by following on Instagram, Facebook and Twitter