This spicy margherita pizza is a real hit with anyone who loves a bit of heat on their pizza. I use harissa paste on the pizza base to give it lots of flavour so it's definitely not your average cheese and tomato pizza! Great for pizza night, parties and family dinners.
I love pizza but I have to say I would not typically choose a margherita pizza. I mean, it's nice. What's not to love about tomato, mozzarella and basil? It's a classic combination.
However, I love spicy recipes and can't resist upping the flavour of this simple classic pizza by adding my favourite spicy sauce, which is of course harissa. I've used it in so many recipes including this spicy harissa pasta and this harissa chicken tray bake.
You can make this spicy cheese and tomato pizza using ready made pizza dough or a ready made base. I often do that for a really simple meal. However, when I have enough time I like to make my own pizza dough using the breadmaker to keep it really simple.
At other times I just put these toppings (harissa, passata, mozzarella and tomato) on a pizza base or flatbread. It's totally up to you how much of this you make from scratch and I certainly won't judge anyone! After all, I am huge fan of flatbread pizzas as well like this tinned mackerel one. Or this naan bread pizza with coriander chutney.
Ingredients for spicy margherita pizza
For the topping you'll need:
Passata - If you don't have passata you can use tomato puree loosened with a little water.
Harissa - I use rose harissa. It's got lots of flavour and is still nice and spicy.
Mozzarella - Before making the pizza I cut the mozarella ball into slices and then press the slices between a couple of pieces of kitchen roll to get rid of any excess moisture.
Cherry tomatoes - Or salad tomatoes cut into wedges or slices. If you're not a fan of fresh tomatoes then you can miss them out.
Fresh basil - I scatter this on at the end. You can miss it out if you don't have any.
If you're making the pizza dough from scratch you'll also need:
Olive oil - Extra virgin is great but light olive oil also works.
Runny honey
Strong white flour - Or 00 flour if you have it. 00 flour is traditionally used in Italy.
Salt - Don't miss this out! I have tried reducing the salt content and it really affects the flavour if it is missing.
Fast action yeast
How do you make pizza dough in the bread maker?
This pizza dough is really easy to make in the bread maker. Just add all the dough ingredients in the order they are listed in the recipe card and then select the dough setting. My bread maker takes 45 minutes but they can vary.
What does the dough setting on the bread maker do?
Most bread makers have a dough setting that will mix and knead the dough for you. The dough will then have its first proove (rise) inside the bread maker. Finally the bread maker will knock the dough back by kneading it quickly at the end before beeping and finishing the cycle.
You can then take the dough out and use it straightaway to make into pizza bases including this ham and mushroom calzone recipe.
For other recipes using the dough setting you can then shape the dough into whatever shape you require and then let it have a final proove.
What if you don't have a breadmaker?
If you don't have a bread maker you can also make the dough by hand. Just follow the instructions in this bread rolls recipe.
Or you can use a food mixer with a dough hook. Just follow the method in this fatayer recipe .
Can you adapt this harissa pizza recipe?
Yes, of course you can adapt it. This spicy tomato and cheese pizza is already a twist on the traditional margherita pizza. So, why not experiment with it even more?
You could change it from a harissa margherita pizza to a roasted vegetable pizza by adding roasted peppers, courgette or aubergine slices. Why not add a few olives too?
If you like your pizza especially cheesy then add a little grated cheddar or parmesan as well as the mozzarella.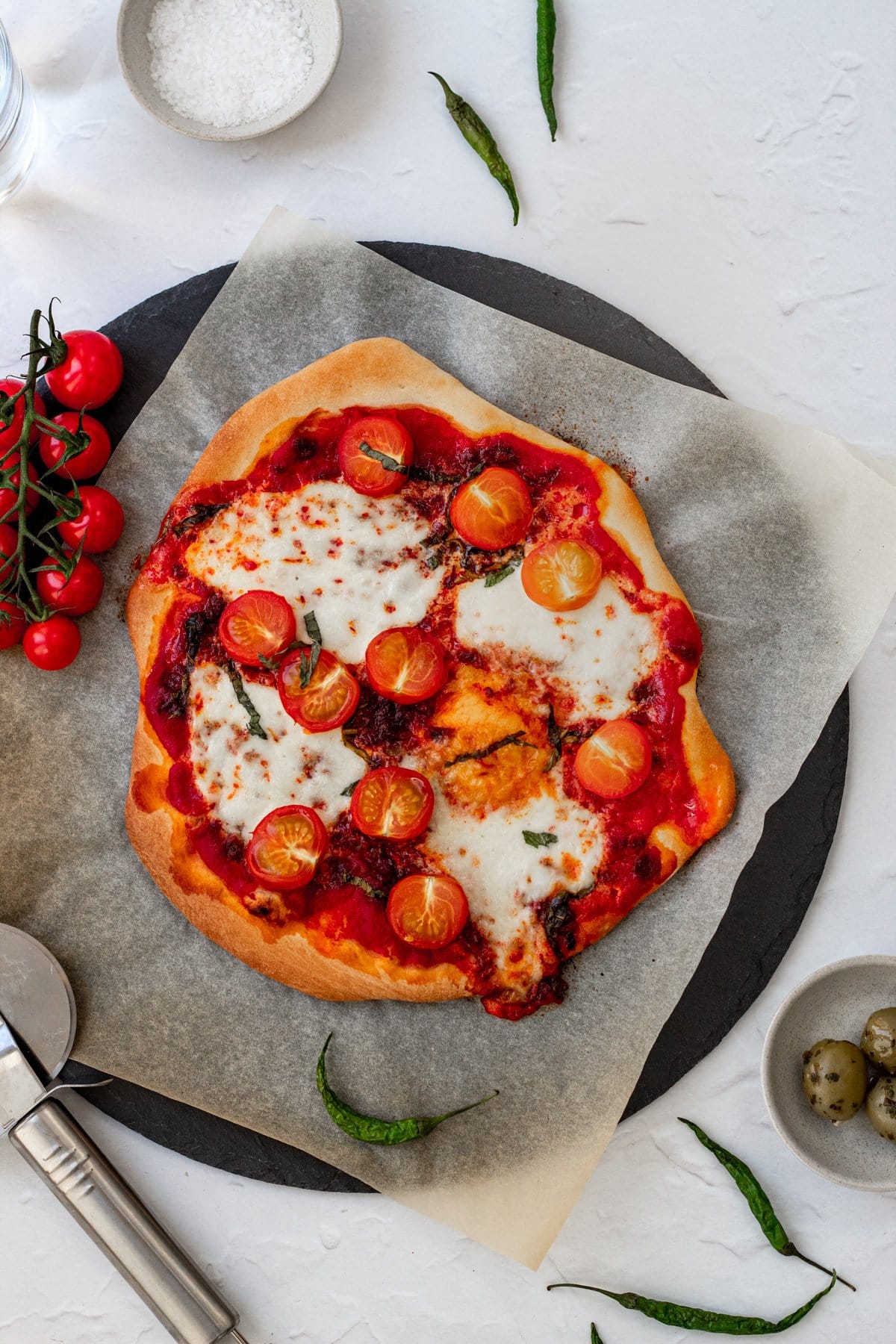 Can you substitute the harissa?
Yes of course. I love harissa and it's my favoruite spice paste to use on a pizza but you can replace it with spicy chipotle paste, gochujang or any other favourite spicy sauce.
What can you do with the leftovers?
If you have any leftover pizza then just keep in it the fridge for 24 hours. You can reheat it in the oven although it might go slightly dry.
If you have too much pizza dough you can keep it in a lidded container (with space for the dough to rise slowly) in the fridge for 24 hours. Alternatively, wrap it in clingfilm and freeze it. It will keep well for a month.
Defrost at room temperature or overnight in the fridge and then make into pizzas. Just make sure that there is extra space in whatever container you put it in as it may begin to rise!
More dough recipes you might like
If you like making pizza and bread maker recipes then why not check out one of these recipes:
Recipe
Spicy Margherita Pizza
This spicy margherita pizza is a real hit with anyone who loves a bit of heat on their pizza. I use harissa paste on the pizza base to give it lots of flavour so it's definitely not your average cheese and tomato pizza! Great for pizza night, parties and family dinners.
Ingredients
Ingredients for the pizza dough
300

ml

warm water

1

tablespoon

olive oil

1

tablespoon

honey

500

strong white flour

1

teaspoon

salt

7

g

fast action yeast
Ingredients for the Topping
150

ml

passata

4

teaspoon

harissa paste

250

g

mozzarella ball

100

g

cherry tomatoes

cut in half

1

tablespoon

fresh basil

roughly chopped (optional)
Instructions
How to Make the Pizza Dough
Put all the ingredients into the breadmaker starting with the wet ingredients and then the dry ingredients.

Set the breadmaker to the dough setting. My breadmaker takes 45 minutes but this can vary between brands.
How to Make the Spicy Margherita Pizza
Preheat the oven to 220°c

Divide the dough into quarters. Roll out until thin (about 3mm).

Put the pizza bases onto baking trays coated in a little flour or a sheet of non-stick baking paper

Spread each base with passata. Then spread a generous teaspoon of harissa paste on top.

Slice the mozzarella and sqeeze each slice between some kitchen roll before topping the pizzas with the mozzarella. This stops excess liquid from leaking out of the mozzarella as it cooks.

Top each pizza with a few halved cherry tomatoes and a little basil.

Bake the pizzas in the oven for 10-12 minutes.
Notes
Nutritional information is approximate and a guideline only.
Nutrition
Calories:
684
kcal
Carbohydrates:
101
g
Protein:
28
g
Fat:
19
g
Saturated Fat:
5
g
Cholesterol:
23
mg
Sodium:
713
mg
Potassium:
384
mg
Fiber:
5
g
Sugar:
8
g
Vitamin A:
376
IU
Vitamin C:
11
mg
Calcium:
257
mg
Iron:
2
mg
Pin for later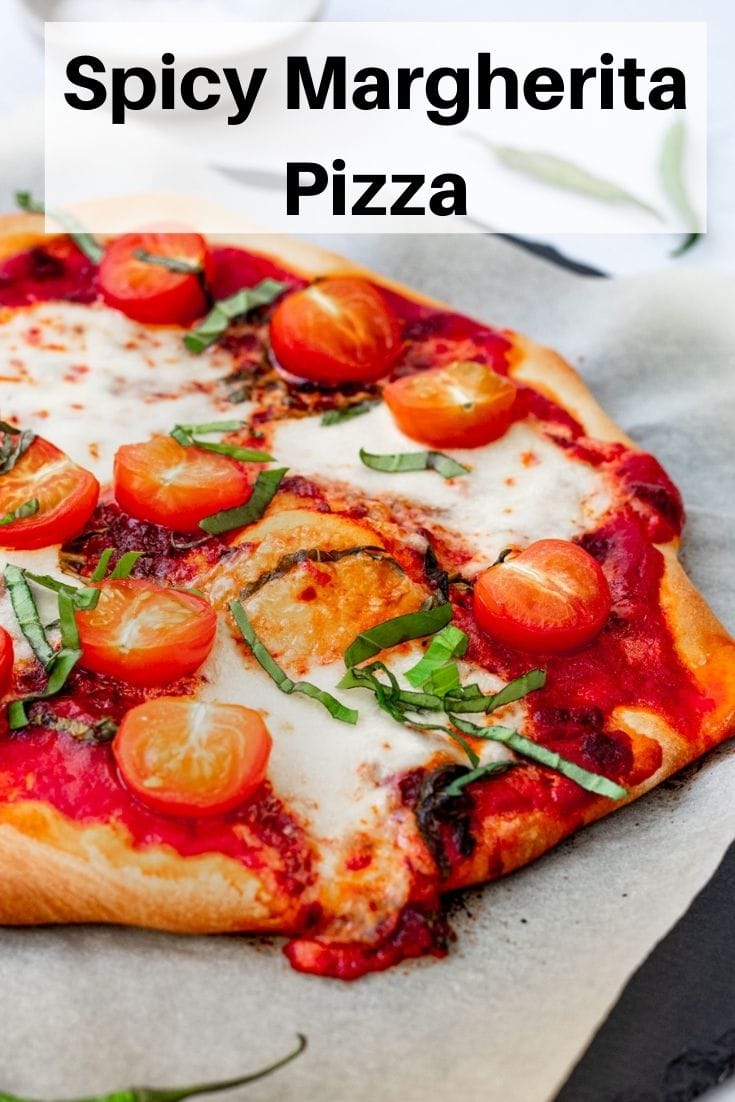 KEEP IN TOUCH
Do let me know if you make this spicy margherita pizza or any of my other recipes. I love to get feedback from readers.
You can also stay up to date by following on Instagram, Facebook and Twitter.