Thick, smooth and creamy, this roasted parsnip soup is a deliciously healthy recipe that's perfect for a light lunch. It's lightly spiced and so comforting as well as being dairy free, gluten free and vegan.
There are not many recipes more comforting than a big bowl of steaming hot soup. It may be the beginning of March but I think it's still going to be soup weather for a little longer. In fact, I am happy to eat soup all year round!
I love making soups at home as they are so easy to make as well as being healthy and delicious. This roasted parsnip soup is a really simple meal but full of flavour. It's got cumin, coriander and turmeric to add a lovely warmth and spiciness that goes brilliantly with the roasted vegetables.
Ingredients for spiced roasted parsnip soup
To make this spiced parnsip soup you'll need:
Parsnips - Don't worry if they're past their best. Soup is a great way of using up vegetables that might otherwise get thrown away.
Potatoes - Use a floury variety that will add creaminess and thickness to the soup.
Oil - Your regular cooking oil is fine. I usually use light olive oil.
Spices - Cumin seeds, ground coriander and turmeric. If you don't have cumin seeds you can substitute them for ground cumin. Just add to the soup at the same time as the other ground spices
Onion - I have substitued the onion with leeks in the past and that is also delicious.
Garlic - You can use a garlic puree or paste or even garlic granules if you don't have fresh garlic
Vegetable stock - If you don't need the soup to be vegan then chicken stock is also fine.
How do you make the soup?
The spiced parsnip soup is really easy to make. There is a full recipe card further down the page but basically you:
Roast the parsnips and potatoes first with a little oil. Then chop them roughly. This step can be done just before or in advance. You can also use leftover roasted potatoes and parsnips after a roast dinner.
Heat the oil in a saucepan. Add the cumin seeds and cook for a minute until fragrant. Then add the onion and cook gently for about 5 minutes till the onion is soft and translucent.
Stir in the spices and garlic. Then add the vegetables and stock. Simmer for about 10 minutes and then blend.
I usually just use a stick blender but you can transfer the soup to a jug blender instead.
Do you have to roast the vegetables before making the soup?
You could just simmer the potatoes and parsnips for longer and not bother roasting them first. However, roasting the vegetables first really brings out their flavour. If you have time, it's a step worth taking!
Can you adapt this roasted parsnip soup?
If you have a few other root vegetables that you want to use up then you can add them to the soup. Just roast them along with the parsnips and potatoes. You could add carrots or sweet potato.
Can you make the soup thinner?
I love thick filling soups and you can see from the picture that this is a super thick soup. If you prefer your soup to be slightly thinner, then just add a little more stock.
What can you serve with this roasted parsnip soup?
I think some fresh bread is always a great side dish with a bowl of soup. I love dipping bread into the soup.
What can you top this soup with?
One thing I love to top this spiced soup with is crispy roasted chickpeas. They are easy to make and can be roasted at the same time as the vegetables. They're also a great way of adding some extra protein.
Crispy croutons are a another great choice, either homemade or bought.
In the pictures you can see here I've topped it with crispy roasted parsnip peelings. I coated them in a little oil and cooked in the air fryer for just 5 minutes.
Can you reheat this roasted parsnip soup?
This soup is great for batch cooking. I like to make a big pot and then store the leftovers in the fridge for a couple of days. I usually reheat it in the microwave but you can also reheat it on the stove. It does become thicker the next day so you might need to add a little extra stock when you reheat it.
Can you freeze roasted parsnip soup?
Yes, this soup freezes really well. It's best to store it in individial portions so it's easy to defrost and reheat when needed.
More soup recipes
As I said I love soups. Why not check out my soup recipe collection? Or have a look at one of these:
Recipe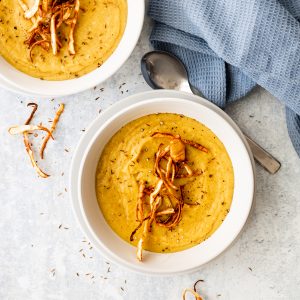 Roasted Parsnip Soup
Thick, smooth and creamy, this roasted parsnip soup is a deliciously healthy recipe that's perfect for a light lunch. It's lightly spiced and so comforting as well as being dairy free, gluten free and vegan.
Ingredients
350

g

parsnips

peeled and cut into quarters

260

g

potatoes

peeled and diced

1.5

tablespoon

oil

1

teaspoon

cumin seeds

1

onion

diced

2

cloves

garlic

1

teaspoon

ground coriander

½

teaspoon

turmeric

500

ml

vegetable stock
Instructions
Put the parsnips and potatoes in a roasting tray and drizzle with one tablespoon oil. Roast in the oven for 40 minutes.

Heat the rest of the oil in a saucepan. When it is hot, add the cumin seeds. Cook for half a minute then add the onion.

Cook gently for 5 minutes then stir in the crushed garlic and other spices.

Cook for another minute then add the roasted parsnips, potatoes and stock.

Simmer gently for 10 minutes.

Blend using a stick blender.
Notes
Nutritional information is approximate and a guideline only.
Nutrition
Calories:
369
kcal
Carbohydrates:
64
g
Protein:
6
g
Fat:
11
g
Saturated Fat:
1
g
Polyunsaturated Fat:
3
g
Monounsaturated Fat:
7
g
Trans Fat:
1
g
Sodium:
1030
mg
Potassium:
1329
mg
Fiber:
13
g
Sugar:
14
g
Vitamin A:
552
IU
Vitamin C:
61
mg
Calcium:
108
mg
Iron:
3
mg
Pin for later!
Keep in touch
Do let me know if you make this roasted parsnip soup. Or any of the my other recipes.
You can also stay up to date by following on Instagram, Facebook and Twitter.
I have linked this recipe to #CookBlogShare run by Sisley & Chloe which was hosted by Melissa at www.melissatraub.com.