There are few recipes easier than a tray bake and this sausage tray bake using Heck Chicken Italia sausages is definitely going to be made again. Such an easy and tasty midweek meal.
This simple sausage tray bake is a perfect family recipe
Sausages are one of the things that everyone in our family loves. They're quick and easy to cook and there are so many things you can do with them. I'm sure we eat them most weeks.
These are healthy sausages
You may think sausages are unhealthy but these Heck Chicken Italia ones are low in fat and contain 85% chicken. They're also full of basil, sun-dried tomatoes and mozzarella which makes them a very tasty choice too.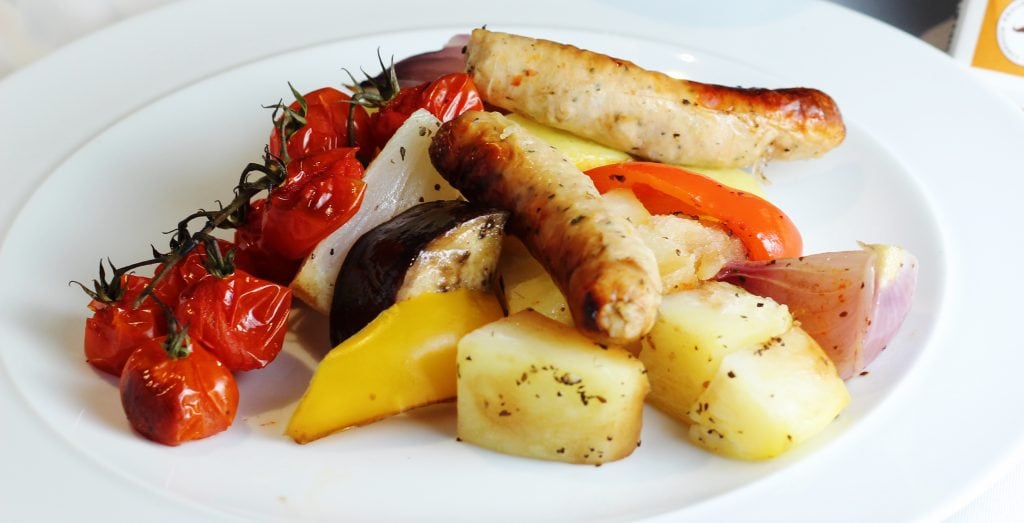 Did everyone like this recipe?
I have to say, this chicken sausage tray bake is a really simple and delicious recipe. It's packed with colourful vegetables and you can't get easier than a one pot meal. We really enjoyed it. The children were happy to eat it too!
Can you reheat the leftovers?
It was great for leftovers the next day. Although I have to admit that we ate all the sausages on the first day! The vegetables and potatoes were lovely heated up and I'm sure if we hadn't liked the sausages as much then they would have been fine reheated too!
Just pop the leftovers in the microwave for a couple of minutes or reheat in the oven in an ovenproof dish, topped with aluminium foil.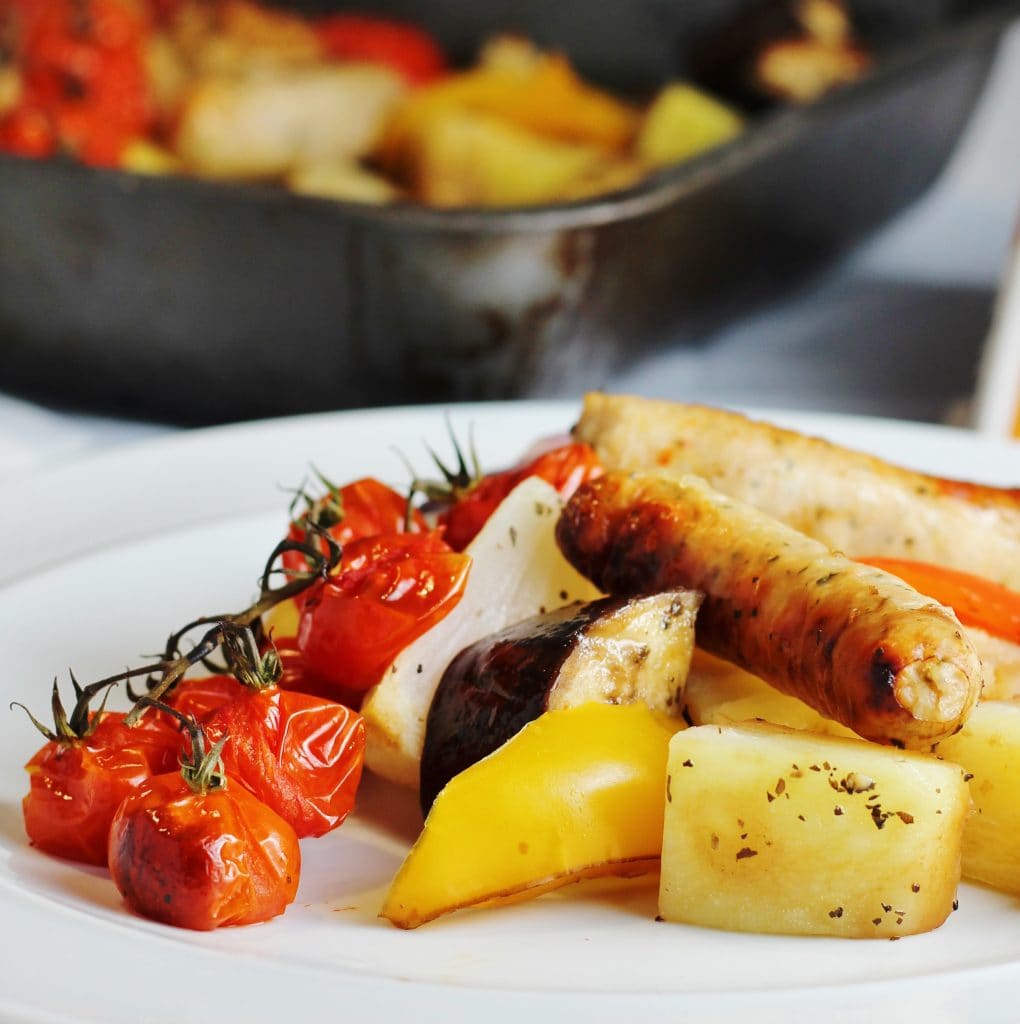 How Heck Chicken Italia sausages are fighting cancer
As well as giving you a tasty sausage traybake recipe I'd also like to wish you a happy Movember! If you don't know, November is the month when men (well, some men) all over the country give up shaving and grow moustaches to raise awareness of testicular cancer.
Well, as a girl I couldn't manage that which is why I just created a recipe using Heck Chicken Italia sausages.
But what have sausages got to do with Movember?
Well, for this month only Heck Chicken Italia sausages have changed their name to Check to raise awareness and to encourage men everywhere to be a little less shy about their bodies and to check themselves regularly for any signs of testicular cancer.
The young founder of the Heck brand is himself a survivor of testicular cancer. Through spotting the signs early, going to the GP and getting the necessary treatment, he is one of the lucky ones.
If more men would do the same, there would be even more lucky ones. And that's the message that Heck Sausages are trying to get across this month with their low fat gluten-free Chicken Italia sausages. Check.
Recipe for Sausage Tray Bake
Recipe
Sausage Traybake
An easy sausage traybake recipe that's popular with kids and adults.
Ingredients
2

large baking potatoes

peeled, diced into 2cm cubes

340

g

Heck Chicken Italia Sausages

pricked with a fork or knife

1

aubergine

diced

1

red pepper

sliced

1

yellow pepper

sliced

2

onions

quartered

1

teaspoon

dried thyme

⅛

teaspoon

Black pepper

2

tablespoon

light olive oil

1

tablespoon

balsamic vinegar
Instructions
Boil the potatoes for about 5 minutes.

Put all the vegetables and sausages on a baking tray. Sprinkle over the thyme and black pepper, and drizzle with the olive oil. Stir around so everything has a thin coat of oil and thyme. Drizzle a little balsamic vinegar over the top.

Bake in the oven for 40 minutes at 180C until everything is cooked through.
Notes
If you can't get this brand of sausages, feel free to use whatever sausages you pefer. You can skip the parboiling stage and just put the potatoes straight in the tray but you may need to cook it for a little longer in the oven. Cover with foil if it looks like the other ingredients might get overcooked.
Nutritional information is approximate and a guideline only
Nutrition
Calories:
365
kcal
Carbohydrates:
33
g
Protein:
18
g
Fat:
19
g
Saturated Fat:
3
g
Cholesterol:
60
mg
Sodium:
887
mg
Potassium:
908
mg
Fiber:
8
g
Sugar:
9
g
Vitamin A:
1315
IU
Vitamin C:
112.5
mg
Calcium:
63
mg
Iron:
5.1
mg
More Easy One Pot Meals
Pin this healthy sausage tray bake for later!
Keep in Touch
Do let me know if you make this easy sausage tray bake recipe. I love to get feedback from readers.
Why not sign up to my weekly newsletter too? I'll even send you a FREE printable.
You can also stay up to date by following on Instagram, Facebook and Twitter.
Places I'm sharing this sausage tray bake
The Food Calendar at Charlotte's Lively Kitchen for British Sausage Week
Casa Costello and Mummy Mishaps for Bake of the Week
Easy Peasy Foodie for Cook Blog Share.
Disclosure: I was sent a complimentary sample of the Heck sausages but the recipe and opinions are my own.