Tender pieces of chicken in a spicy yogurt marinade make this marinated Middle Eastern chicken super tasty. It's a great choice for a tasty midweek meal! We love it served in a pitta bread with a tasty tahini dressing!
I love a good marinade recipe and there are few things more suited to a spicy yogurt marinade than chicken breast pieces. This Middle Eastern chicken marinade makes the chicken super tender as well as making it really flavoursome.
One of the great things about a recipe like this is that it is really quick to make and so perfect for midweek. In my house, marinated chicken is also a recipe that the whole family love. Even my children love dinner if it involves spicy chicken!
When to prepare the chicken marinade
You can prepare the marinade just an hour before cooking the chicken. However, if you are organised enough it definitely helps to make it the night before or earlier in the day. The longer the chicken marinates for, the more tasty the cooked chicken will be. The marinade also helps to keep the chicken moist and tender.
What ingredients do you need?
There are quite a few ingredients in the marinade but it is still really quick to put together. As well as the chicken you'll need: parsley, yogurt, lemon juice, crushed garlic, cumin, coriander, ginger, chilli flakes, ground all spice, salt and pepper.
Ingredients for the tahini sauce
I also make a great garlic and tahini sauce to go with the kebabs. For that you just need yogurt, garlic, tahini and lemon juice.
Can you make any substitutions?
If you don't have fresh parsley then just use dried herbs. If you don't have one of the spices for the marinade, just miss it out.
You could replace the fresh garlic with garlic granules. You could use a bottle of lemon juice rather than a fresh lemon.
How do you cook this yogurt marinated Chicken?
Once the chicken has marinated, you can cook it a number of ways. You can just whip out the frying pan. If you have a griddle pan you can get some delicious charring on the edge of the chicken.
If it's summer or you are able to use the barbecue then it's great cooked outside. I would put the chicken on skewers if I was planning on barbecuing it. And you can just grill (broil) it or even bake it in the oven!
Anyway, however the chicken is cooked, the marinade makes it absolutely delicious!
What can you serve with this Middle Eastern Chicken?
I serve the chicken with salad and pitta breads. It's very similar to the chicken shish kebabs we get locally. I also make a simple tahini dressing which really complements the chicken. It's just yogurt, tahini, lemon juice and crushed garlic with a bit of seasoning. It sounds simple but it's absolutely delicious.
It is as good as chicken from the kebab shop?
In our house we do love chicken shish kebabs from our local kebab shop for an easy dinner every now and again. This marinated chicken is not meant to be a copycat but in terms of how good it is, it's definitely a worthy rival!
What can you do with the leftover chicken?
I like to make a big batch of this and then have some leftovers for the next day. You can eat the leftovers in exactly the same way. Reheat the chicken in the oven or the microwave if you want it to be hot but it's great cold too. Why not just pack it up in a lunchbox for the next day at work?
Other ideas for what you could do with the leftover chicken include:
Put it in a homemade curry
slice it and put it on a pizza or in a quesadilla
Put it in a sandwich
More marinated chicken recipes
I often marinate chicken as it makes it so much tastier and means the kids like it better too. So, why not try one of these recipes?
Marinated Middle Eastern Chicken
Tender pieces of chicken in a spicy yogurt marinade make this marinated Middle Eastern chicken recipe a great choice for a tasty midweek meal!  Served in a pitta bread with a tasty tahini dressing too!


Ingredients
Ingredients for the Marinade
1

tbsp

fresh parsley

or 1 tsp dried parsley

½

tsp

crushed chilli flakes

½

tsp

ground allspice

¼

tsp

ground ginger

¼

tsp

ground cumin

¼

tsp

ground coriander

Pinch

salt

Pinch

black pepper

2

tbsp

plain yogurt

1

tbsp

lemon juice

1

clove

garlic

crushed
Ingredients for the Tahini Dressing
2

tbsp

plain yogurt

½

tbsp

tahini

1

tbsp

lemon juice

1

clove

garlic

crushed (optional)

Pinch

black pepper

Pinch

Salt
Other Ingredients
2

chicken breasts

2

pitta breads

100

g

lettuce

shredded
Instructions
Make the marinade for the chicken by mixing all the marinade ingredients together.   Taste it and adjust any flavourings if necessary.

Chop the chicken and cover with the marinade.   Put in the fridge for at least an hour.

Make the tahini dressing by mixing all the ingredients together and again taste and adjust if necessary.

Put a little oil in a pan and add the chicken.   Alternatively you could grill it.

To serve, warm the pitta breads.  Open them along the side, add the chicken, the sauce and the lettuce.
Notes
Nutritional information is approximate and a guideline only.
Nutrition
Calories:
478
kcal
Carbohydrates:
38
g
Protein:
56
g
Fat:
10
g
Saturated Fat:
3
g
Cholesterol:
150
mg
Sodium:
598
mg
Potassium:
1036
mg
Fiber:
2
g
Sugar:
3
g
Vitamin A:
636
IU
Vitamin C:
14
mg
Calcium:
122
mg
Iron:
2
mg
Pin for later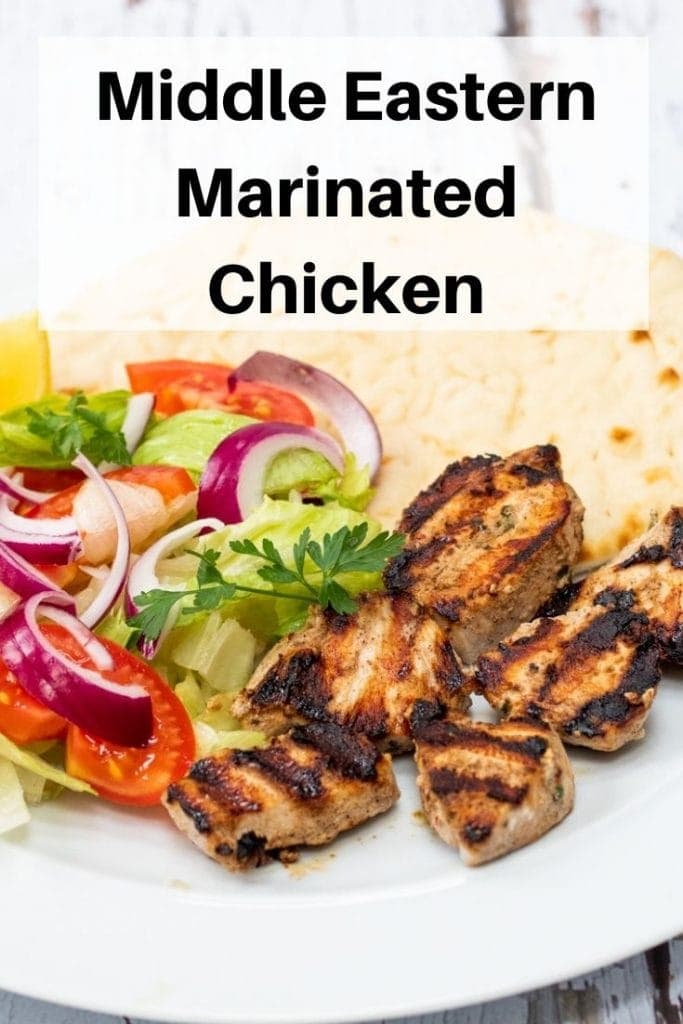 Places I've shared this recipe
Cook Blog Share at Apply to Face