If you have a craving for sausage rolls then this recipe for easy peasy giant sausage rolls should be enough to satisfy you. Not one but TWO sausages wrapped up in crispy puff pastry with a little cheese too!
These are cheats sausage rolls. You don't really need a recipe for them. Just let me tell you about them and next time you fancy a sausage roll you can whip them up.
These giant double sausage rolls are inspired by an idea from Jamie Oliver in Jamie's 30-Minute Meals
. If I'd made them like the ones in the book they would have been small and dainty, but I decided to make gigantic sausage rolls with two normal-sized sausages in each one.
You see, the idea for using sausages instead of sausage meat and not skinning them is what I got from Jamie Oliver. The idea of making them giant was all mine! Yes, I know I do like to make healthy recipes but for some reason I felt like extra sausages.
Ingredients for double sausage rolls
To make these double sausage rolls you'll need:
Puff pastry - I use ready rolled puff pastry but you can use a block and roll it out yourself if you want. You can even make it yourself although you might not be looking at this super easy sausage roll recipe if that was the case!
Sausages - I always use good quality sausages.
Cheese - I use parmesan or grana padana depending on what I have in the fridge. It's main purpose is to stick the sausage to the pastry although it does add a little cheesy flavour too!
Egg - I brush the pastry with beaten egg before baking. It helps it to turn golden brown and crisp up. Although, if you don't have any eggs you can use a little milk or just miss it out. It is mainly the colour that will be affected.
Seeds - I like to sprinkle a few nigella seeds and sesame seeds on top. Poppy seeds also work well.
How do you make these giant sausage rolls?
There is a full recipe card further down the page but honestly, these are so simple to make. You don't even need to skin the sausages, although there's nothing to stop you if you want.
First just roll out the puff pastry. Then sprinkle some grated cheese down the middle. Put the sausages on top. Sprinkle a little more parmesan on them. The parmesan adds flavour and helps the sausages to stick to the pastry.
Then roll the pastry around and use a fork to press the ends of pastry together. Make a few pricks or slashes in the pastry so the steam can escape and brush them with a little beaten egg. You can also scatter a few seeds on the top.
Bake them for 3 minutes until golden brown.
Are these giant sausage rolls healthy?
In fact, if I really think about I can tell myself that these are actually a healthier choice because I'm only going to eat one! If I'd made them smaller maybe I would have eaten two sausage rolls and that would definitely have been less healthy!
Ok, Let's be serious. Sausage rolls are not a healthy choice but in moderation they are fine.
What to serve with sausage rolls?
I like to serve these giant sausage rolls with lots of healthy salad vegetables. They are great with tomatoes, salad leaves, cucumber, radishes, celery, corn and whatever else is in the fridge!
Can you adapt these sausage rolls?
You can certainly change them a little by using different kinds of sausages. You can also use a different cheese. The cheese helps the sausage rolls to stick to the pastry as their skins are still on so it is good to use cheese.
You can also flavour them by scattering different seeds on the outside. Try sesame seeds, poppy seeds or nigella seeds.
If you want to add more of a flavour punch then spread the pastry with mustard or harissa before adding the sausages and cheese.
How should you store sausage rolls?
These sausage rolls will keep well for up to 2 days in the refrigerator. Keep them in an airtight container. You can eat them cold or reheat them in the oven or air fryer. They will need about 10 minutes in the oven at 180C to heat through thoroughly.
Recipe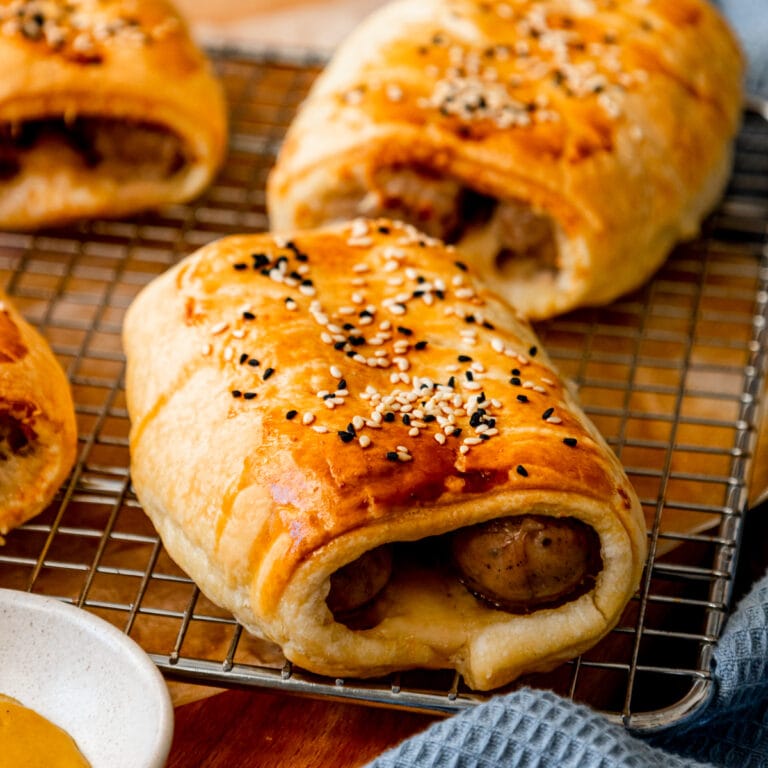 Giant Sausage Rolls
If you have a craving for sausage rolls then this recipe for easy peasy giant sausage rolls should be enough to satisfy you. Not one but TWO sausages wrapped up in crispy puff pastry with a little cheese too!


Ingredients
320

g

ready rolled puff pastry

8

sausages

60

g

parmesan cheese

grated

1

egg

beaten

1

teaspoon

nigella and sesame seeds

optional
Instructions
Take the puff pastry out of the fridge 10 minutes before beginning the recipe.

Unroll the puff pastry. Lay the sausages side by side in pairs on the puff pastry.

Top with grated parmesan.

Roll the puff pastry around the sausages and press down so that the sides are joined together. Make a few stabs through the pastry so steam can escape. Brush with a little beaten egg. Scatter a few sesame and nigella seeds on top if you like.

Bake in the oven at 180°c° for 30 minutes.
Nutrition
Calories:
1032
kcal
Carbohydrates:
37
g
Protein:
38
g
Fat:
81
g
Saturated Fat:
25
g
Cholesterol:
174
mg
Sodium:
1536
mg
Potassium:
499
mg
Fiber:
1
g
Sugar:
1
g
Vitamin A:
305
IU
Vitamin C:
1.2
mg
Calcium:
207
mg
Iron:
4.2
mg
More sausage recipes
Why not try one of my other easy sausage recipes:
Keep in touch
Do let me know if you make these giant sausage rolls. I love to get feedback from readers.
You can also stay up to date by following on Instagram, Facebook and Twitter.