Full or warming spices and North African flavours, this slow cooker chicken tagine is a brilliant easy recipe. It's great for a simple midweek meal and the leftovers are easy to reheat too!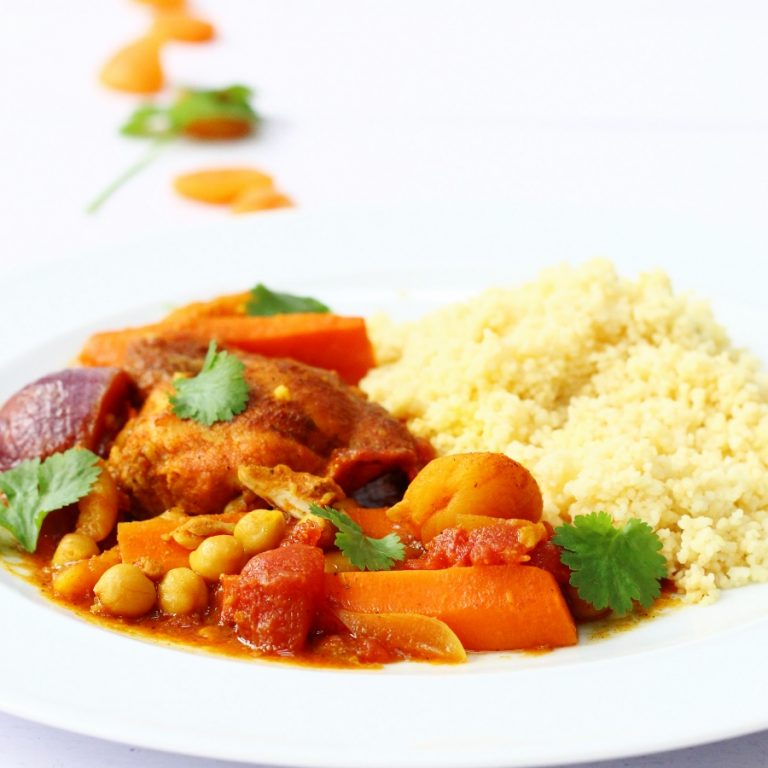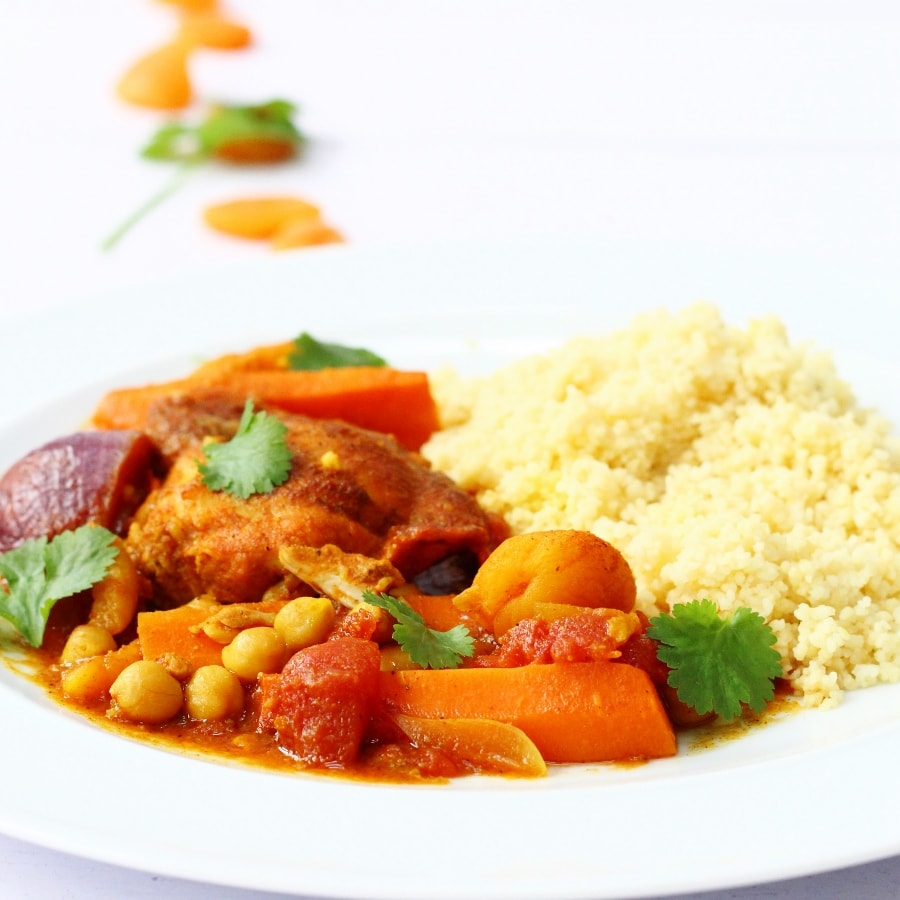 Traditionally tagines are cooked slowly and this slow cooker chicken tagine was the perfect excuse to get my slow cooker out again. There is something so warming about the Moroccan spices in a tagine that makes it perfect for cold autumn and winter evenings.
This simple chicken tagine was absolutely delicious and left me feeling I could eat tagine every day. It's easy to prepare and super healthy too. All the vegetables are a great way to get some of your 5 a day. I also love the soft dried apricots as they turn really plump and juicy as they cook. My husband is not so keen on them so I get even more to eat too!
Altogether this easy slow cooker tagine is a great recipe to throw into your slow cooker in the morning and come home to a delicious evening meal. If you have time then make the marinade the evening before and pop it in the bottom of the slow cooker with the chicken. In the morning just add the vegetables and stock and set the slow cooker off.
Can you really just dump everything in the slow cooker?
When I first got my slow cooker I used to follow recipes. I'd cook the items in stages and then put the contents into the slow cooker. But somehow, I didn't feel that that made my life much easier, and nor did it save on washing up!
I soon realised that just throwing all the ingredients into the slow cooker led to practically the same results and that's more or less what I've done ever since. Ok, if I was cooking for guests I might do the stages thing but for a simple home cooked family meal I don't think you need to!
Ingredients for this chicken tagine
To make this slow cooker chicken tagine you'll need:
Chicken - Thighs or legs are best as the meat is less likely to dry out in the slow cooker.
Carrots
Onions - Red or brown onions
Chopped tinned tomatoes - You can replace them with chopped fresh tomatoes and some tomato puree
Chickpeas - I use tinned chickpeas but there's no reason why you can't use dried chickpeas. You can soak them overnight and then add the soaked chickpeas along with everything else.
Dried apricots
Chicken stock
Coriander (cilantro) - For serving.
You also need to make a tagine marinade for the chicken. It helps to add lots of flavour to both the chicken and the tagine itself. For the marinade you'll need:
Spices - cumin, coriander, turmeric, cinnamon, chilli powder and black pepper
Garlic - I love to use crushed fresh garlic but you can use a puree
Ginger - I also prefer fresh root ginger but a puree is fine
Lemon juice - Use freshly squeezed lemon juice if you have it or a bottle of lemon juice.
Extra virgin olive oil
How do you cook this chicken tagine?
As I said earlier, this chicken tagine is a super simple recipe that needs very little preparation. I always mix up the marinade for the chicken the day before and then the next day I just put everything in the slow cooker and switch it on. It takes about 2-3 hours on high or 4-5 hours on low.
Can you cook this in a tagine instead?
Traditionally a tagine is cooked in a conical ceramic dish called a tagine. I would love to have one but I really don't have room. Using a slow cooker may not be exactly the same but it does the job just as well.
If you do have a tagine pan then you can use it instead. You can start by cooking the onions in the tagine on the hob, then add the chicken and any excess marinade. Seal the chicken on all sides and then add all the other ingredients. Put the lid on and transfer the tagine to the oven for an hour at 180C.
If you don't have a tagine pan or a slow cooker you can cook this in a normal oven-proof saucepan
What kind of chicken meat should you use?
Traditionally tagines are made with meat that is on the bone. Often a whole jointed chicken will be used in Morocco. I would advise using skinless chicken thighs which is what I've used here. Because of the cooking method, if the chicken has skin on it will go slimy in the slow cooker so it's best to remove it.
Can you adapt this slow cooker chicken tagine recipe?
This chicken tagine is easy to adapt. Firstly you can vary the levels of spicing in the marinade. If you are cooking for people who don't like heat then use a little less chilli powder. Or increase it for those who do like hot food. You can also add a chilli pepper or two!
You can also vary the vegetables. Sweet potatoes, aubergines (eggplant) and peppers are lovely in a tagine. You can also add olives, a little preserved lemon or even sundried tomatoes.
Some people like a few raisins as well. Or you could replace the apricots with raisins.
What to serve with this chicken tagine
I usually serve my tagine with couscous as that's what it would be served with in Morocco. However, if you don't have couscous then you can substitute it for something else. It is delicious with rice or bulgur wheat. You can even serve it just with some fresh bread to mop up all the sauce!
What can you top the tagine with?
There are all kinds of garnishes for a tagine. I love to sprinkle on lots of fresh chopped coriander (cilantro). It's just perfect with a tagine!
Other great toppings for a tagine are sliced almonds, toasted pine nuts and of course an extra squeeze of lemon.
Storing and freezing this chicken tagine
Any leftover tagine can be stored in the fridge for up to three days. Just reheat in the microwave or in a saucepan before serving. You may need to add a little water to stop it going dry.
You can also freeze it for up to three months. It's a great recipe for batch cooking or making into freezer meals. Before reheating defrost in the fridge overnight.
For more idea for meals you can batch cook then do check out my cook once eat twice recipe collection.
Will the kids eat it?
I love recipes that the whole family will eat and luckily my children do like spices and they are also quite good at eating chickpeas. This tagine is spicy but not hot and my kids love it! It's a great family friendly recipe.
Recipe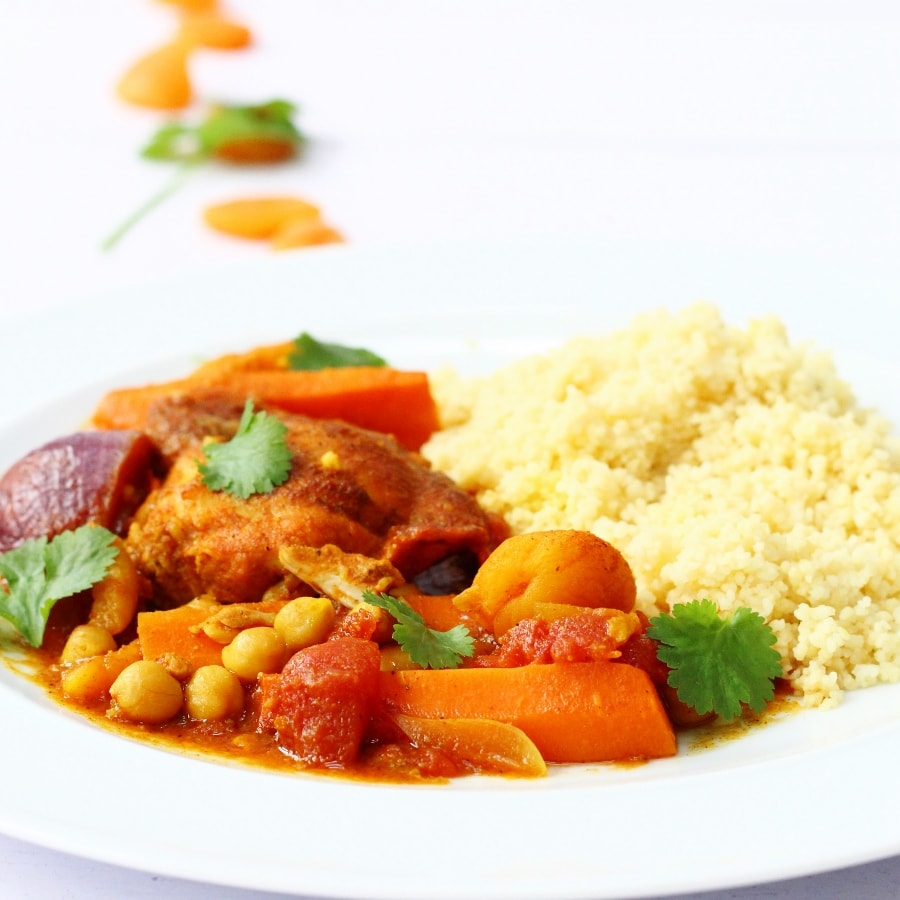 Slow Cooker Chicken Tagine
Full or warming spices and North African flavours, this slow cooker chicken tagine is a brilliant easy recipe. It's great for a simple midweek meal and the leftovers are easy to reheat too!
Ingredients
Ingredients for the Marinade
1

teaspoon

turmeric

2

teaspoon

coriander

2

teaspoon

cumin

2

teaspoon

cinnamon

1

teaspoon

chilli powder

Pinch

black pepper

20

g

fresh ginger

grated

2

cloves

garlic

crushed

2

lemons

juiced

1

tablespoon

oil
Ingredients for the Tagine
640

g

chicken thighs

2

carrots

2

onions

finely diced

400

g

chopped tinned tomatoes

400

g

tinned chickpeas

drained and rinsed

12

dried apricots

200

ml

chicken stock
Instructions
Make a marinade with the spices, lemon juice and oil. Add the chicken. Ideally put it in the fridge and leave overnight or for a couple of hours.

Put all the ingredients in the slow cooker. Cook on high for 2-3 hours or on low for up to 5-6 hours.

Serve with couscous with extra lemon wedges and chopped coriander (cilantro).
Notes
Nutritional information is approximate and a guideline only.
Nutrition
Calories:
721
kcal
Carbohydrates:
69
g
Protein:
41
g
Fat:
34
g
Saturated Fat:
8
g
Cholesterol:
158
mg
Sodium:
375
mg
Potassium:
1575
mg
Fiber:
16
g
Sugar:
28
g
Vitamin A:
6557
IU
Vitamin C:
48
mg
Calcium:
175
mg
Iron:
8
mg
More spicy chicken recipes
If you love spicy chicken recipes as much as I do you'll love these ones:
And do check out my recipe collection for easy spicy recipes.
Pin for later
Keep in touch
Do let me know if you make this slow cooker chicken tagine recipe. I love to get feedback from readers.
You can also stay up to date by following on Instagram, Facebook and Twitter.