The absolute best way to make a tasty meal is to add some spice! With these easy spicy recipes which are all perfect for simple weeknight dinners, you'll always be able to get a tasty meal on the table. Even when you're short on time!
Why I love Cooking with Spices
Spices are one of the best ways of adding flavour to a meal.
A simple dish of roasted vegetables and grilled chicken is delicious but add some spices to the vegetables and a marinade to the chicken and the flavour goes up a notch. Not only does the marinade add flavour, it also tenderises the meat and helps keep it moist and juicy when it's cooked.
An apple crumble is delicious but add some cinnamon or ginger and it becomes even more comforting and moreish.
For me, life would be very boring without spices. I love adding them to my recipes and use them almost every day. You can make the same dish again and again but by using different spices the flavour is different. Imagine that roasted vegetable and chicken dish. You could use different flavours to make it Indian, North African or Thai.
Spicy Meals are Healthy
Spices have so many health benefits too. I'm not a nutritionist so I'm not going to go into detail here but you can read more about the health benefits of spices here.
Using spices to flavour a meal can also mean that you can cut down on unhealthier seasonings such as salt.
But What are my Favourite Easy Spicy Recipes?
Here on Searching for Spice I have lots of spicy recipes. I especially love curries and easy spicy chicken dinners.
A great way of adding spice to a meal is using a spicy marinade to really get flavour into something before cooking it simply.
Using a slow cooker or pressure cooker can also make life a easier and quicker in the kitchen, helping you to get dinner on the table quickly.
I'll be sharing ideas for all these things plus easy spicy salads, pasta recipes and soups that are a breeze for anyone to make.
Easy Spicy Chicken Dinners
If I haven't had time to do any meal planning and have no idea what we are going to eat for dinner then I tend to buy some chicken. It might be lazy but there are just so many things you can do with it. The ultimate easy spicy midweek meals has to be:
These chicken nuggets are always a hit with my family, our friends and anyone else I've heard who's made them!
A delicious marinade makes this easy jerk chicken a real crowd-pleaser. It's not too hot so it's perfect for the whole family and if you want it to be hotter it's easy to adapt too!
This simple chicken tray bake could not be easier and the fact that everything is cooked on one baking tray makes less washing up too!
And of course Ethiopian chicken stew, Doro Wat.
Easy Midweek Curry Recipes
If you're a regular reader of this blog you'll know that I love curries. Curries are quite possibly my favourite recipes and if I could only eat one thing for the rest of my life I might well choose curries. I love Indian curries, Thai Curries, Chinese, Japanese, Malaysian and any other curries I come across. Why not try one of these curries?
This delicious vegan curry is a great way to get your 5 a day! It's healthy, gluten free and quick to make too.
This simple Chinese chicken curry is not too hot and a perfect curry recipe if you don't want to use lots of different spices. It's a real hit with our children too and perfect for batch cooking.
This curry is one of the first curry recipes that I started to make regularly. I think it's a real classic Indian curry and definitely the one to make if you want to make an easy Indian curry for the first time.
If you really love curry recipes then I know you'll love my recipe collection of easy homemade curries from scratch. There are lots of different curries and they are all recipes my family and I eat regularly.
Slow Cooker and Pressure Cooker Meals
I love my slow cooker as it makes life so much easier in the kitchen. I can throw a few ingredients in in the morning and have a delicious meal ready in the evening with very little work. My favourite spicy slow cooker meal ever is probably these slow cooker barbecue ribs. They also happen to be a huge hit with Mr SearchingforSpice and Master Spice!
More Easy Spicy Slow Cooker Recipes Include:
This easy chicken tagine is a great recipe as you can just throw everything into the slow cooker and leave it to do its magic. It's spiced but not too fiery and makes perfect easy family meal.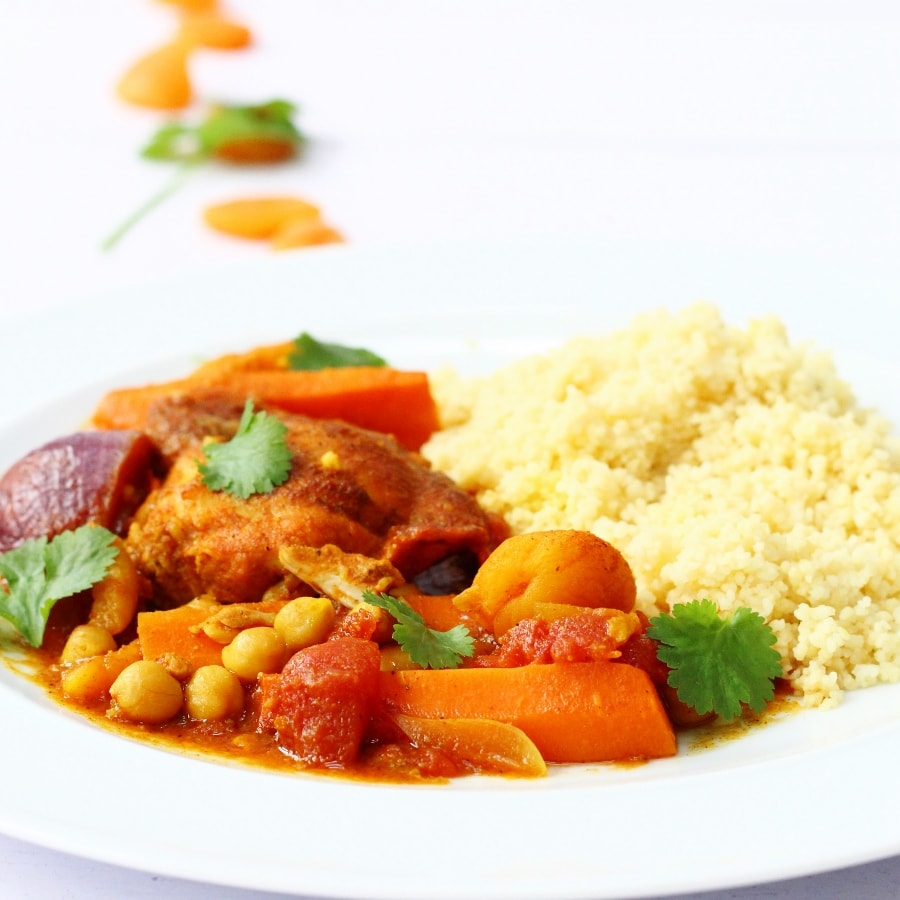 Lamb is brilliant for slow cooking and for putting into curries. Ideally you need to cook a curry for a long time to get the best result and the slow cooker really helps.
This lamb jalfrezi is topped with some stir fried vegetables but as long as you've set the slow cooker off earlier in the day, it's very quick to prepare the vegetables in the evening. The freshness they add makes it really worth it too.
I love the paprika flavour that the chorizo gives to this risotto and because it's made in the pressure cooker it's much quicker than making it the traditional way too.
Easy Spicy vegetarian meals
Spices are definitely a great way to make vegetables taste amazing and here are a few spicy vegetarian recipes that my family love!
This is another recipe that I've been making for years and over the past year I have made them almost every other week! The reason they are so popular is that my seven year old daughter loves them and when I find a healthy recipe she likes I definitely want to keep making it!
This is another recipe that I would quite happily eat again and again. It's full of plant based protein from the beans and lentils and full of warming spices too. It's a great recipe for batch cooking so you can make a big pot to last a few days or to freeze for another time.
Like the chickpea patties, these bean burgers are so simple to make and are a great meat-free option. With a slightly crispy outside but soft in the middle, they are a healthy midweek option.
Easy Spicy Recipes with Fish
I might not have as many fish recipes as chicken recipes on my blog but here are four deliciously spicy fish recipes. I especially love the Moroccan salmon with ras el hanout and so does my daughter! It's about the only way I can get her to eat salmon!
The salmon is coated in ras el hanout and pan fried to make it deliciously spicy and crispy on the outside. It's served with a simple couscous salad.
This simple fish stir fry is so easy to make that it can be on the table in about 15 minutes. It's also a great recipe for when you are running out of fresh ingredients as it can be made with frozen stir fry vegetables as well as frozen pollock.
Do also check out my salmon marinated in ketchup and Indian spices as well as my spiced cod fish fingers!
Simple Spicy Soup Recipes
Spices are also brilliant in one pot meals and soups. There are not many things more comforting on a cold day than a steaming bowl of hot soup. Add a few spices and it becomes even more warming.
What is more, soups and one pot meals are usually easy to make and the leftovers are delicious the next day too. How about one of these?
This comforting curried lentil soup is a delicious and easy option. It's also a great option if you have run out of fresh ingredients and need to make a store cupboard meal. As long as you've got some lentils and spices it's possible to whip this up!
I'm sure you'll also love this delicious spiced leek and potato soup and this Moroccan Chickpea Soup. If you like making soups then do check out my recipe collection of easy homemade soups.
Spicy Salad Recipes
I also love spicy salads. Salads are definitely not boring and one way of making them interesting is by using spices in the dressings, marinades or dips that go with them. Do also check out my collection of easy main meal salad recipes. I'm sure you'll find lots of inspiration for easy dinner ideas.
This marinated chicken salad must be one of my favourite salad recipes. It's easy to make and uses one of my all time favourite spices pastes - harissa. I love harissa as it has so much flavour as well as heat. It is a great ingredient to use in a marinade and definitely a shortcut I'm quite happy to make.
I use spices a lot in salads. In this curried pearl barley salad, the spices flavour the barley and make it great as either a side dish or a meal in itself. I also love roasting chickpeas with spices. They are totally addictive and a really simple way of making them into an easy dinner is this roast chickpea salad.
Easy Spicy Pasta Recipes
Who doesn't turn to pasta for a quick last minute meal? I love spicy tomato sauces with pasta and these three recipes are amongst my favourites!
This recipe is actually one of the few recipes that I picked up off my husband. It's rare to see him cook these days but when we were first dating I think it was one of the first meals he cooked for me. I still make it the way he likes it and don't cook the onions too much and leave chunks of almost fresh tomato in the sauce!
This tomato and chorizo pasta is similar to the spicy tomato pasta but with chorizo to give the sauce a lovely paprika flavour.
I've already mentioned my love of harissa and it deserves to be mentioned again. If you've got a jar of harissa at home then you're just a quick step away from being able to throw together a delicious easy spicy meal. Just like this one.
Pin for later