Sweet and gooey these chocolate chip and banana oat bars are a fantastic family recipe that kids and adults will love. They're perfect as an afternoon snack, dessert or even as a breakfast bar.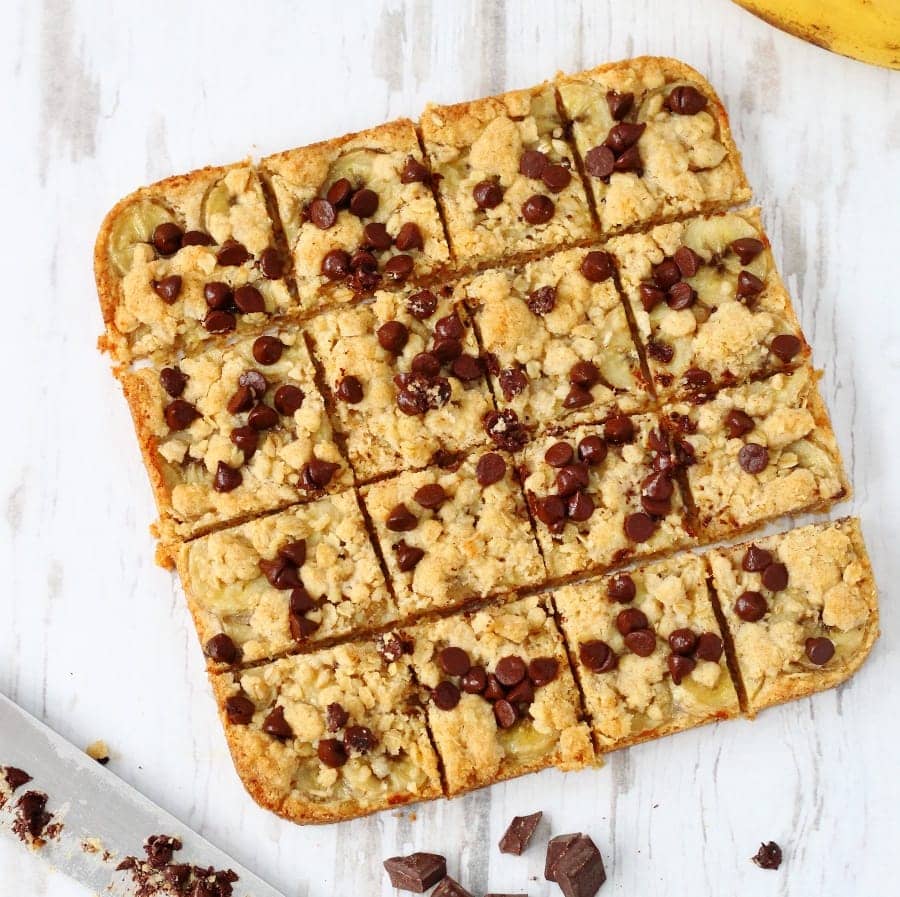 These family friendly chocolate and banana oat bars make a perfect sweet treat for adults and kids. Yes, I loved these. Even though the rest of my family might not like them, they are still worth making because I know there are kids out there who would absolutely love these sweet chocolate and banana bars!
Why did I first make these chocolate banana oat bars?
Just when I'm getting more tired would like to rest more before the next baby comes along, Little Miss Spice has decided that afternoon naps are no longer her thing. She's also become quite bossy, Mummy sit down, pointing at the floor next to her. Mummy read book and if she sees me with my apron on, she knows it means I won't be giving her my full attention. She soon starts pulling at it, demanding that I, Take it off.
Unless of course it means we are making biscuits together. She's very picky but she does love star-shaped biscuits and cereal bars. Usually we make the biscuits together but we buy the cereal bars. I decided it was time to try and make some cereal bars together. This banana tray bake is not quite as healthy as the snacks she usually has, but I thought it would be a nice treat for her and for me.
The inspiration for this recipe
The cereal bars are based on a recipe I found in Mary Berry's Baking Bible
in the Baking for Children chapter. However, I used different quantities of ingredients and different types of sugar and flour. Even so, these are definitely inspired by Mary Berry's chocolate and banana bars.
Did my family like these chocolate chip banana oat bars?
I thought they were lovely. They were sweet and gooey in the middle from the banana, and the few chocolate chips on the top went really well. I would definitely make them again and make double the quantity. If only... If only Little Miss Spice had liked them. Well, the nearest she has got so far to trying them is licking one, although she did enjoy playing with the mixture and helping to make them.
Never mind. I shouldn't complain that she doesn't want to eat something with sugar and chocolate in it. I'm sure in a couple of years time I'll be wishing she didn't like sweet things like this. Although hopefully by then she will agree to eat a few vegetables too.
Update: Fast forward a few years and now she loves these bars. Master Spice doesn't but he isn't a fan of anything with banana in so I can't really expect him to like them!
Mr Searching for Spice is also a huge fan of these chocolate oat banana bars. To be honest, if he knows about them the rest of us are lucky to eat more than one or two!
How long does this banana and chocolate chip tray bake last?
This banana tray bake keeps well for up to 3-4 days. I usually keep the bars in an airtight container in the kitchen but you can keep them in the fridge so they last a little longer.
You can also freeze them for up to three months. Wrap them up well in baking paper and keep them in an airtight box. Defrost them at room temperature.
Recipe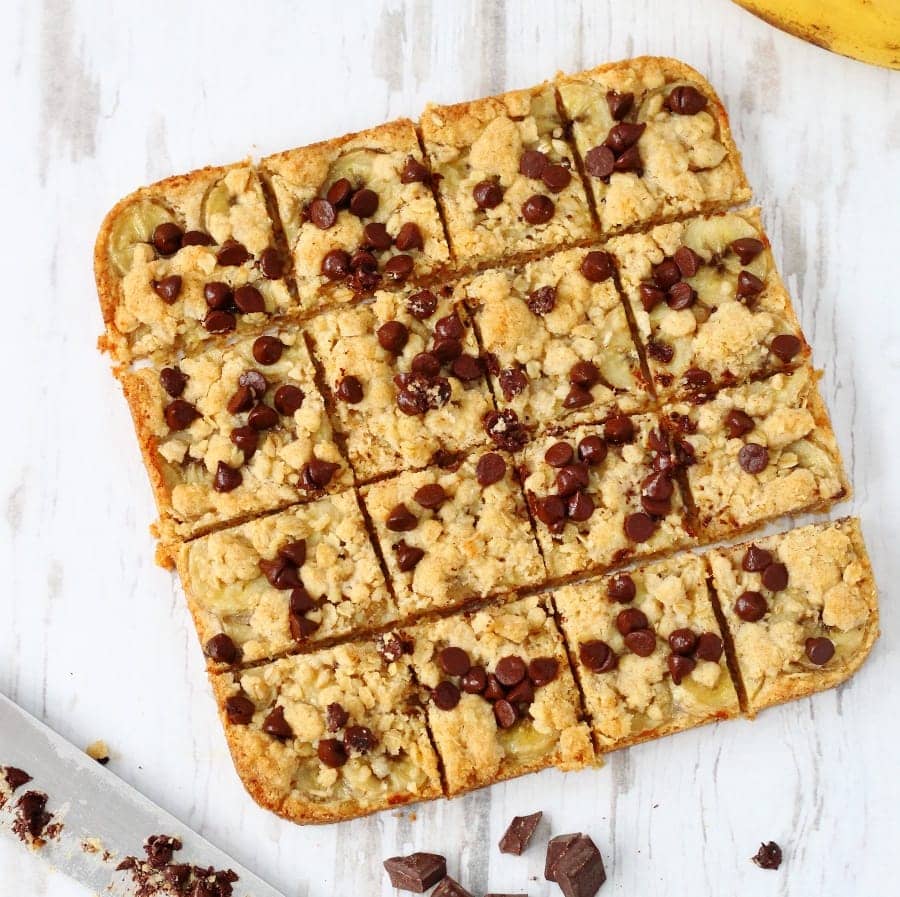 Chocolate Chip and Banana Oat Bars
Sweet and gooey these chocolate chip and banana oat bars are a fantastic family recipe that kids and adults will love. They're perfect as an afternoon snack, dessert or even as a breakfast bar.
Ingredients
75

g

white self raising flour

20

g

wholemeal flour

75

g

porridge oats

75

g

golden caster sugar

110

g

butter

at room temperature

1

banana

30

g

chocolate chips
Instructions
Preheat the oven to 180C.

Grease and line the bottom of a loose-bottomed square baking tin (18cm).

Put the flour, oats and sugar in a bowl and mix together. Add the butter and rub together with your fingers until it resembles breadcrumbs.

Put about ⅔ of the mixture into the baking tin and press it down with your fingers.

Slice the bananas and lay them on the oat mixture. Top with the rest of the mixture and press down again.

Sprinkle the chocolate chips on top.

Bake in the oven for about 25 minutes.

Let them cool in the tin but run the knife through to slice them into squares while they are still warm.
Notes
Nutritional information is approximate and a guideline only.
Nutrition
Calories:
163
kcal
Carbohydrates:
20
g
Protein:
2
g
Fat:
8
g
Saturated Fat:
5
g
Cholesterol:
20
mg
Sodium:
67
mg
Potassium:
70
mg
Fiber:
1
g
Sugar:
9
g
Vitamin A:
240
IU
Vitamin C:
0.8
mg
Calcium:
9
mg
Iron:
0.4
mg
More cereal bars that are great for kids
These chocolate chip pumpkin cereal bars have no refined sugar! Well, except for the sugar in the chocolate chips!
These date and banana oaty bars make a perfect after school snack as they have no added sugar!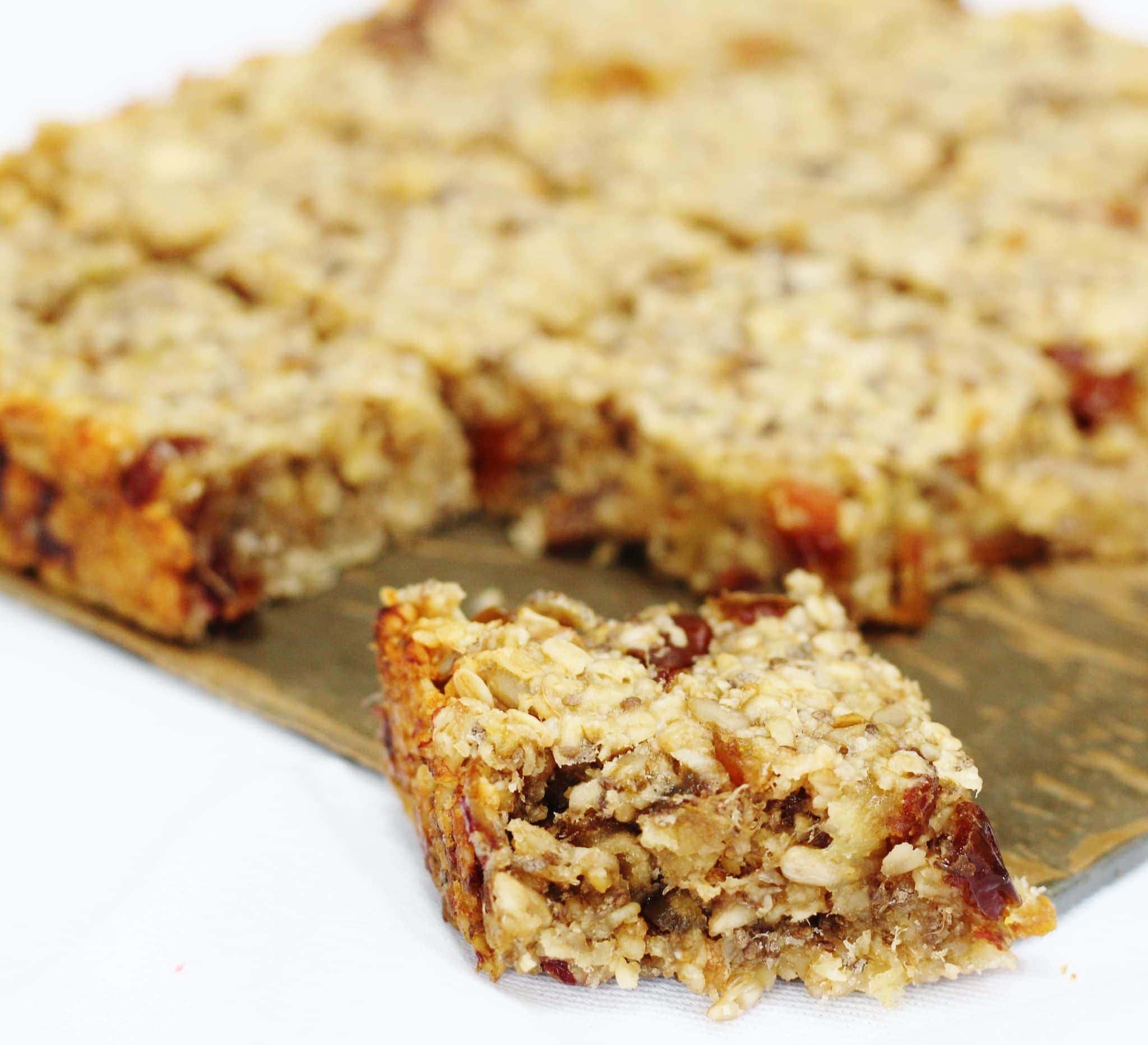 Pin for Later!
Keep in touch
Do let me know if you make these oaty chocolate banana bars. I love to get feedback from readers.
Why not sign up to my weekly newsletter too. I'll even send you a FREE printable.
You can also stay up to date by following on Instagram, Facebook and Twitter.
Places I'm sharing these chocolate chip banana oat bars
Cook Blog Share hosted by Eb at Easy Peasy Foodie
Baking Crumbs hosted by Jo's Kitchen Larder and Apply to Face Blog
This post was first published in 2014 but has been updated in 2019