This creamy homemade banana fudge ice cream is so good you'll want to keep the recipe! It's also easy to adapt and use your favourite chocolate bar instead of fudge.
Have you ever been tempted to make ice cream with fudge bars? Well in case you have then I have the best fudge bar ice cream recipe for you! It's a dreamy creamy banana ice cream dotted with chunks of chocolate covered fudge. I'm telling you, it's an ice cream you HAVE to make!
Is it quick to make banana fudge bar ice cream?
One summer I made the best banana fudge ice cream ever. It was simply a banana ice cream studded with little pieces of chocolate covered fudge. It was so easy to make.
I made it for guests and only needed to spend a few minutes getting it started in the ice cream maker and then 20 minutes later it was ready to eat. I made it more than once too.
Of course I wanted to make it again the next summer. I definitely wanted to eat it again and so I did what any food blogger does when wanting to remake a favourite recipe. I searched my blog for the recipe.
Where was it? I knew I'd made it a couple of times so I was confident it would be there. It wasn't. I wondered if maybe I'd noted the recipe down in my drafts folder but it wasn't there either.
What could I do? Well, I knew I had to make that ice cream again. That banana fudge ice cream was so delicious that it could not just disappear like that!
Ingredients for fudge bar banana ice cream
Well luckily I knew the main ingredients and I have managed to recreate it perfectly. To make this easy ice cream you'll need:
Bananas - It's best to use ripe bananas that you can mash easily. I like to use those where the skin is turning a bit brown but the banana inside is still white.
Double Cream - Double cream makes a much creamier ice cream than single cream.
Milk - I thin the double cream a little with a bit of milk. I usually use semi-skimmed as this is what we use at home but skimmed or whole milk is also fine.
Icing sugar - This is just to sweeten the ice cream a little. Icing sugar blends in well.
Fudge bars - I use Cadbury's fudge bars which are bars of fudge coated in chocolate. Because these are just chopped into chunks you can easily replace them with a different kind of chocolate or snack bar.
How do you make this banana fudge ice cream?
This ice cream is super easy to make. You can even make it for guests while they are there without feeling like you're missing out!
First mash the bananas in a bowl and then whisk in all the other ingredients. You can use a whisk or a fork for this step.
Then, turn your ice cream maker on and just pour the mixture in slowly as it is churning. Leave it to churn. It'll take about 20 minutes, although this could vary according to your ice cream maker.
Can you make this ice cream without an ice cream maker?
I use my ice cream maker
to make this fudge and banana ice cream as it's so easy to use but if you haven't got an ice cream maker then don't let that stop you. Just take the ice cream out of the freezer after an hour, whisk it and then return it to the freezer.
Do this a couple more times as it's freezing. It may not be quite as smooth and creamy but it will still be delicious homemade ice cream.
Check the flavour
An important thing is to keep tasting the mixture as you're blending the ingredients together. Bananas can vary in sweetness. For ice cream you can get away with using slightly overripe bananas and of course, the riper they are, the sweeter they'll make the ice cream.
So, be flexible about the amount of icing sugar you use. To get the right level of sweetness you may find you'll need more or less depending on taste.
If it tastes amazing before it's frozen, it should taste good when frozen too.
How to adapt this banana fudge bar ice cream?
You could easily adapt this recipe. I've called it banana fudge ice cream as one of the main ingredients is chopped up fudge bars. I used Cadburys Fudge but you could make a completely different ice cream just by using a different chocolate or candy bar.
If you want to be adventurous there are loads of ways you can add your own twist to this ice cream. Why not add sweets, chocolate chips or any other chocolate or snack bar pieces?
Personally I quite fancy adding a crumbled up chocolate Flake next time!
Why not just use the banana ice cream as a base? You can stop there and just have a creamy homemade banana ice cream.
If you want a healthier choice then why not try adding blueberries, other berries or chopped fresh fruit?
Is is worth getting an ice cream maker?
The answer to this is a big fat YES! I bought mine cheaply years ago and it still works. I didn't know if I was going to use it regularly but I use it every summer and love the fact I can develop whatever flavours I fancy!
After all, if you make this homemade ice cream you can use whatever chocolate bar you want. Not just be limited by the ice cream flavours in your local shops!
If you do have an ice cream maker then this ice cream is much quicker to prepare too. I love the fact that my ice cream maker freezes the ice cream as it is churning and for soft scoop ice cream it only takes 20 minutes!
I can still put the rest in the freezer and save it for later. Or make it in advance if that's easier and more convenient.
Doesn't it look tasty in these Ravenhead sundae dishes
?
Is banana fudge ice cream healthy?
I wish! I like to think that at least the banana are healthy but I can't claim that the double cream and fudge bars are!
Can you make this banana fudge ice cream healthier?
This is one of my plans for the summer. I would love to make a healthier version of this homemade banana fudge ice cream. For example why not make it healthier by using yogurt instead of double cream?
You could also substitute quark for the cream which would also add more protein as well as being incredibly low in fat. You can read more about quark in this cinnamon and apple quark breakfast bowl post.
Although I haven't tried it yet, making a quark ice cream is definitely one of my plans for this summer.
More homemade ice cream recipes!
If you're looking for more easy ice cream maker recipes then take a look at my recipes for gooseberry ice cream, raspberry and white chocolate ice cream or even kiwi fruit ice cream.
You might also like my homemade frozen desserts recipe collection.
Recipe
Banana Fudge Ice Cream
This creamy homemade banana fudge ice cream is so good you'll want to keep the recipe! It's also easy to adapt and use your favourite chocolate bar instead of fudge.
Ingredients
2

bananas

they weighed 210g after being peeled

300

ml

double cream

110

ml

milk

I used semi-skimmed

60

g

icing sugar

feel free to use more or less depending on how sweet you want the ice cream to be

100

g

chocolate covered fudge

chopped

Extra sticks of fudge to serve

optional
Instructions
Mash the bananas thoroughly with a fork until you have a puree.

Add the cream, milk and icing sugar and mix together with the fork.

Turn the ice cream maker on and pour the banana cream mixture into it.

After about 10 minutes when the ice cream is beginning to set, add the chunks of fudge and let the ice cream maker continue beating for another 5 minutes.

Scoop the ice cream into a container and put in the freezer until you're ready to eat it.
Notes
Nutritional information is approximate and a guideline only.
Nutrition
Calories:
326
kcal
Carbohydrates:
33
g
Protein:
2
g
Fat:
20
g
Saturated Fat:
12
g
Cholesterol:
72
mg
Sodium:
34
mg
Potassium:
224
mg
Fiber:
1
g
Sugar:
27
g
Vitamin A:
815
IU
Vitamin C:
3.7
mg
Calcium:
63
mg
Iron:
0.4
mg
Pin this Banana Fudge Ice Cream for Later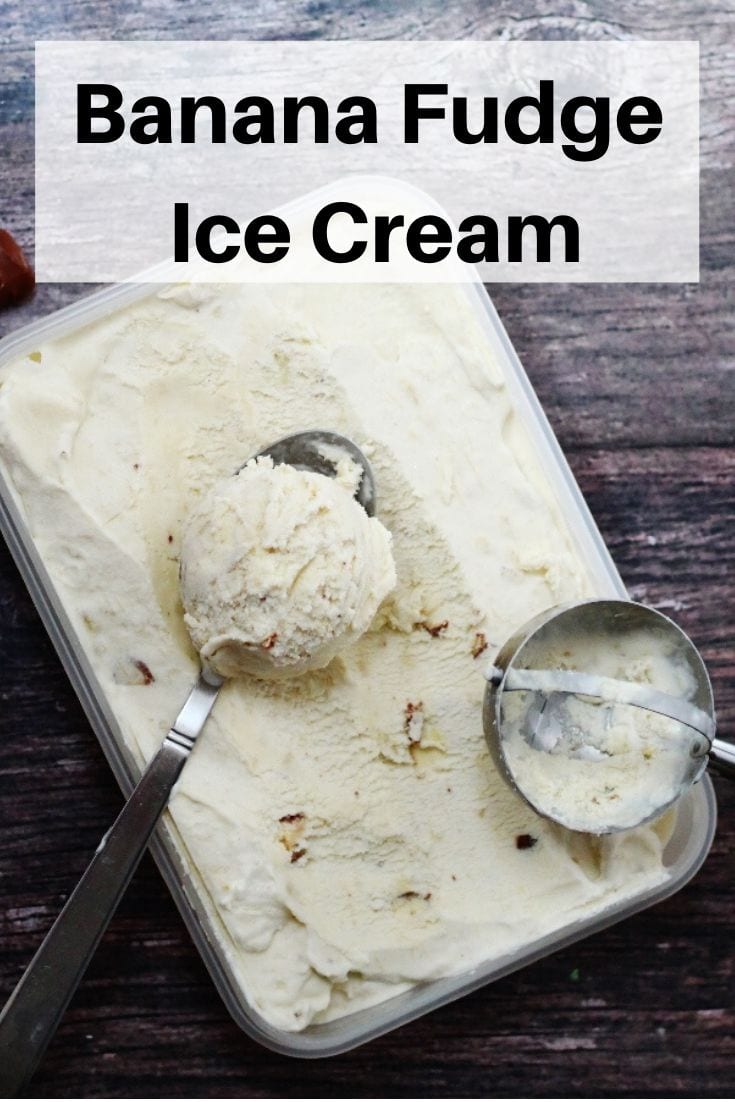 Places I'm sharing this banana fudge ice cream
I am linking this to #CookBlogShare hosted by Eb at Easy Peasy Foodie.