This white chocolate raspberry ice cream recipe is a real treat for adults and children. It's sweet, creamy and fruity. What more could you want of a homemade ice cream?
Fruity or Chocolate Ice cream?
This white chocolate raspberry ice cream recipe was the very first ice cream I ever made back in 2011 when I first bought my ice cream maker. As soon as I bought it I was looking forward to testing it out.
I had different flavours  running through my mind and also conflicting opinions between me and my husband. My husband loves chocolate, toffee and caramel ice cream flavours. I prefer fruity ice creams. He prefers real ice cream but I like sorbets and frozen yoghurt. In the end, I came up with a compromise of raspberry ice cream with white chocolate.
Make everyone happy with raspberries and white chocolate ice cream!
It was so good. I think it made everyone happy with the sweetness of the chocolate, the tangy raspberries and the gorgeous pink colour! It's a tasty ice cream to eat as a dessert just by itself but you can also dress it up a bit. It's delicious with extra raspberries on the side and some chocolate or raspberry sauce on the top.
Homemade ice cream is a great treat!
I do like to give my children healthier desserts like this chocolate banana nice cream when I can. However, everyone deserves a treat occasionally. I have to admit that this white chocolate raspberry ice cream is not healthy. No, not even with the raspberries! 
I am a firm believer in enjoying sweet treats in moderation though and that is exactly what this is. What's more, with two children and a greedy husband in the house, no one is going to be able to eat lots anyway!
How could you adapt this ice cream recipe?
This raspberry ice cream recipe first appeared on Searching for Spice back in 2011 and I have updated the original recipe. Although I often like to make low sugar desserts, I felt this one was better if it was a little sweeter. If you do prefer a tarter ice cream then just cut back on the sugar by up to half.
Some people prefer berry ice creams without any seeds in. If you want, you can pass the raspberry mixture through a sieve at the end of step 2 to remove the seeds. I have to admit that I find that a bit of a faff and don't mind the seeds anyway.
You could replace the raspberries with another berry. However, some berries like strawberries don't break down in the same way so you might need to blend the cooked fruit mixture before adding it to the cream.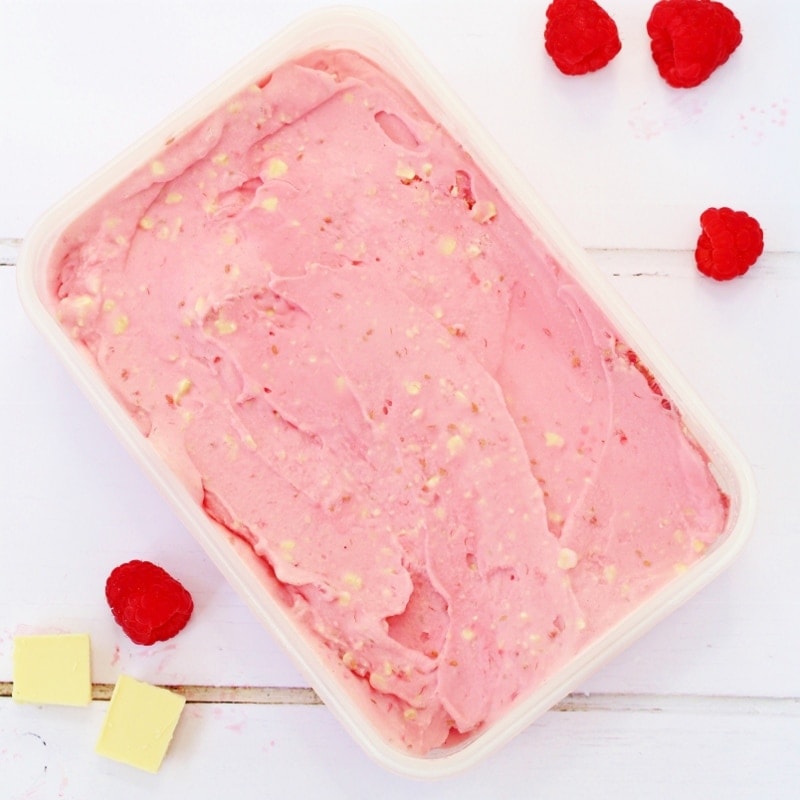 White Chocolate Raspberry Ice Cream
This white chocolate and raspberry ice cream is a real treat for adults and children. It's sweet, creamy and fruity. What more could you want of a homemade ice cream?
Ingredients
200

g

raspberries

80

g

caster sugar

30

ml

water

300

ml

single cream

1

tsp

vanilla extract

100

g

white chocolate

grated or blitzed in a food processor
Instructions
You may need to put the bowl from the ice cream maker into the freezer 24 hours before making the ice cream.

Put the raspberries, sugar and water in a small saucepan and heat, stirring, until the sugar has dissolved and the raspberries have broken down. Leave to cool.

Put all the ingredients into a jug and stir well.

Pour the mixture into an ice cream maker, following the instructions given for your machine.




Transfer to a box and put in the freezer until ready to serve.
Notes
Nutritional information is approximate and a guideline only.
Nutrition
Calories:
306
kcal
Carbohydrates:
28
g
Protein:
2
g
Fat:
21
g
Saturated Fat:
12
g
Cholesterol:
59
mg
Sodium:
32
mg
Potassium:
146
mg
Fiber:
2
g
Sugar:
24
g
Vitamin A:
515
IU
Vitamin C:
9.1
mg
Calcium:
76
mg
Iron:
0.3
mg
Pin for later
More Ice Cream Recipes
Do check out my recipe collection for frozen desserts and snacks. There are recipes for ice cream, sorbet, frozen yogurt and ice lollies!
KEEP IN TOUCH
Do let me know if you try this white chocolate raspberry ice cream recipe. I love to get feedback from readers.
You can also stay up to date by following on Instagram, Facebook and Twitter.
Why not sign up to my weekly newsletter too? I'll even send you a FREE printable!
Places I'm sharing this white chocolate raspberry ice cream recipe
Cook Once Eat Twice hosted by me, Corina, here at Searching for Spice
Cook Blog Share hosted by Eb at Easy Peasy Foodie
We Should Cocoa hosted by Chocolette at Tin and Thyme