These cheesy wild garlic scones are perfect if you've got some wild garlic. They're so good warm with butter and perfect with a good bowl of soup or stew.
I didn't plan to make these wild garlic scones at all. This recipe was a complete last minute decision. But, sometimes you just have to make decisions like that and let me tell you why.
At the weekend we went for a lovely family walk at Box Hill. It started of with beautiful sunshine and blue skies but before long it was raining! Now that's not a surprise but what was surprise as we squelched through the mud was the strong aroma of garlic.
I suddenly realised that we were surrounded on all sides by fresh shoots of young wild garlic. I'd wanted to forage for wild garlic for a long time but never been lucky enough to pick any before.
It wasn't long before my little backpack was literally packed with muddy leaves.
What could I make with the wild garlic?
Well, I definitely wanted to make the most of the wild garlic I'd picked. I decided to make two recipes with it to begin with, a sausage and wild garlic stew, and these savoury scones with cheese and wild garlic.
The scones were strangely enough inspired by a recipe I haven't even tried yet! My mum is always telling me about some cheese and watercress scones she makes and I am always thinking I must make something similar! Well, I know that watercress and wild garlic are not the same but that is how my mind was working.
Everyone knows how good cheese scones can be. And everyone knows how good garlic goes with baked breads. I just knew I had to combine these flavours.
What ingredients are in these cheesy wild garlic scones?
These savoury scones are a fairly classic scone recipe but with the addition of diced wild garlic. I adapted my recipe for cheese and chilli scones as I knew I wanted to use a fail-safe scone recipe that definitely worked.
I used a little less cheese as I didn't want them to be overpoweringly cheesy. I definitely wanted the wild garlic flavour to come through. I didn't use chilli of course but I did add a little paprika to add a little depth of flavour. And of course, I do love a little touch of spice in my recipes!
So, the full ingredients list is:
Self-raising flour - This can be replace by plain flour plus a teaspoon of bakin powder.
Salt - This just brings out all the savoury flavours.
Paprika - This goes brilliantly with cheese but I only add a little as I don't want it to be a main flavour, just a hint.
Butter - Salted or unsalted. You can even replace it with a different dairy or dairy-free spread.
Cheddar - I use a mature cheddar but you could use a different cheese if you wanted - just make sure it has lots of flavour.
Wild garlic finely
Milk - I use semi-skimmed milk but feel free to use whatever your standard milk is.
Could you adapt this garlicy scone recipe?
If you want the scones to be really cheesy then do add a little extra cheese. If you don't have paprika then use a little mustard instead or just miss it out.
Feel free to use a different cheese instead of cheddar. Red Leicester or double Gloucester would both work well.
Depending on how much wild garlic you have then do increase the quantities and make a double batch too. Trust me, these scones are very moreish and everyone will want a second helping!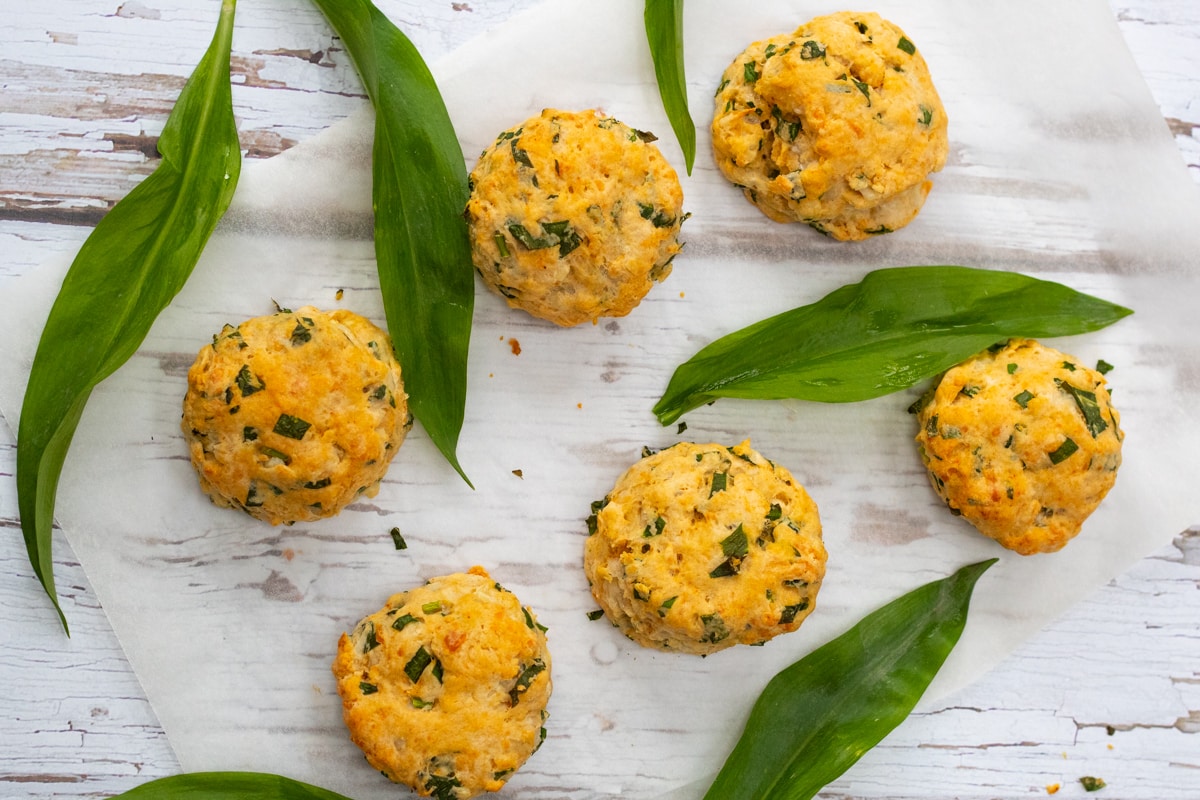 How long do these scones keep?
These garlicy scones are best eaten fresh from the oven but will keep for 48 hours in an airtight container. If you are not eating them straightaway but want to eat them warm then just pop them in the oven for about 3-4 minutes to heat through again.
You can also freeze them. Before eating defrost and then reheat in the oven as above.
Make Sure you Wash it well!
As I said, the wild garlic I picked was very very muddy. When I got home I had to wash it at least three times before the water was clear. So, if you are lucky enough to pick your own wild garlic then do make sure you give it a good wash!
As well as foraging for it yourself, you can sometimes pick it up at farmers' markets or independent greengrocers. Some companies also put it in their veg boxes.
When and where does wild garlic grow?
Wild garlic grows in spring, mainly from March to April but you can often find it in February and May too.
It's often found in damp shady patches of ancient woodland and hedgerows throughout the UK.
Is wild garlic a type of garlic?
Wild garlic is in the allium family, as is garlic. However, it is more closely related to chives. You can eat the stem and flowers as well as the leaves.
Is it easy to spot wild garlic?
Before I picked this wild garlic I'd wondered how I'd recognise it if I ever found it. However, I smelled it first and that was how I was certain it was definitely wild garlic. There was no mistaking that pungent garlic aroma!
However, you do need to be a little bit careful. Wild garlic has long bright green leaves that look very similar to Lily of the Valley which is poisonnous. The important difference is that Lily of the Valley does not smell like garlic.
If you're unsure, just break a little bit of the leaf off and rub it between your fingers to check if it smells of garlic.
Other names for Wild Garlic
Wild garlic is also known as ramsons, buckrams, broad leaved garlic, wood garlic, bear leek or bear's garlic.
If you would like more information about foraging for wild garlic then do check out this article from Countryfile.
What other recipes can you make with wild garlic?
I'll be sharing my sausage and wild garlic stew soon. Here are a few more recipe ideas:
Pesto: Just use wild garlic in place of basil or other herbs.
Add some to homemade hummus.
Stir it into a pasta sauce.
Use it in a stir fry.
Add to soups
What to serve with these scones
I think these scones are great with soup. They make a lovely alternative to a simple bread roll or a more traditional garlic bread. I think they're especially good with tomato based soups such as this classic tomato soup. Or why not look at my soups recipe collection for more inspiration?
Recipe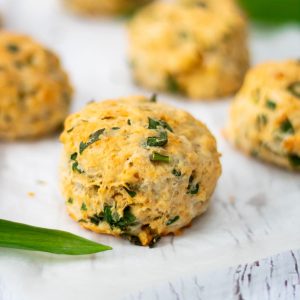 Cheesy Wild Garlic Scones
These cheesy wild garlic scones are perfect if you've got some wild garlic. They're so good warm with butter and perfect with a good bowl of soup or stew.
Ingredients
200

g

self-raising flour

¼

teaspoon

salt

½

teaspoon

paprika

40

g

butter

cubed

60

g

cheddar

grated

24

g

wild garlic

finely diced

110

ml

milk
Instructions
Put the flour, salt and paprika in a large bowl.

Add the butter and rub it into the flour with your fingertips.

Stir in the grated cheese and wild garlic

Pour in the milk slowly, stirring with a knife, until it begins to clump together into a dough. You may not need quite all the milk.

Turn the dough out onto a work surface and need for about 30 seconds.

Flatten the dough with your hands until it is about 2cm thick.

Cut out the scones using a scone cutter. You'll get about 6-7.

Put the scones on a baking tray lined with non stick baking paper.

Bake in the oven at 200°c (180°c fan) for 15 minutes.
Notes
Nutritional information is approximate and a guideline only.
Nutrition
Calories:
220
kcal
Carbohydrates:
25
g
Protein:
7
g
Fat:
10
g
Saturated Fat:
6
g
Cholesterol:
27
mg
Sodium:
215
mg
Potassium:
67
mg
Fiber:
1
g
Sugar:
1
g
Vitamin A:
391
IU
Calcium:
98
mg
Iron:
1
mg
More Recipes you might like
If you like scones then do check out my cheese and chilli scones, my cheese and olive scones, my traditional fruit scones these chocolate chip scones or my apple scones with sultanas and cinnamon.
Or if you want a super garlicy garlic bread then do try my garlic and herb butter quick bread.
Keep in touch
Do let me know if you make these wild garlic scones or any of my other recipes. I love to get feedback from readers.
You can also stay up to date by following on Instagram, Facebook and Twitter.