If you love spicy stews then this peppery Ethiopian chicken stew, known as doro wat, will be a real hit. It's a bit similar to a curry and delicious with rice or flatbreads. My family love it and it's a great recipe for prepping in advance and batch cooking too.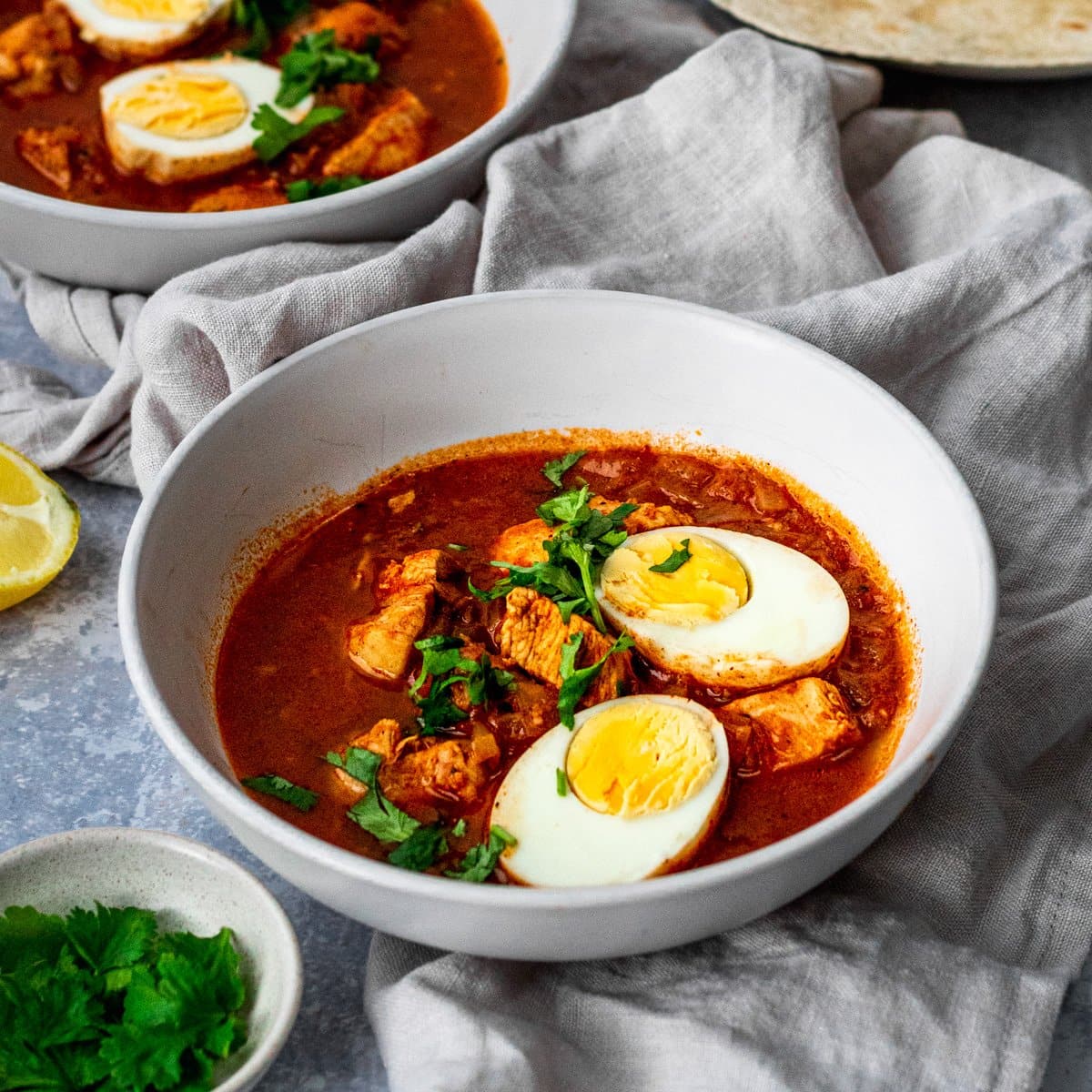 I love curries and do make a lot of them but I also love all kinds of spicy recipes. Experimenting with different recipes and flavours from around the world is definitely one of my favourite things to do.
After getting to know the hot peppery berbere spice blend which is from Ethiopia and reading up about Ethiopian cuisine recently, I developped my own recipe for Doro Wat.
What is Doro Wat?
Doro Wat is one of the most popular Ethiopian recipes and is a traditional spicy chicken stew. It is spiced with berbere which is the traditional spice blend from Ethiopia and contains pepper, allspice, fenugreek, cloves and chillies amonst other spices. As well as chicken and spices there are also lots of onion in it and it is usually served with boiled eggs.
Traditionally doro wat is a very hot stew and you can use way more spice than I've used in here. This recipe has quite a kick to it but adding a little extra berbere plus some chilli peppers would really take it up a notch.
I've kept my version of doro wat spicy but not overly hot as I wanted my kids to be able to enjoy it just as much as my hubby and I!
What ingredients do you need for Doro Wat?
To make this spicy Ethiopian chicken stew you'll need:
Chicken - You can use legs, thighs or breast meat. Keep the pieces whole or dice them.
Salt
Black pepper
Lemon - squeezed so you can use the juice.
Oil - You can use your prefered cooking oil.
Onions - I normally use plain brown onions but red onions also work.
Garlic cloves - Fresh garlic is definitely my favourite kind of garlic but you can use a puree to make things easier.
Ginger - I also like to use fresh root ginger but like with the garlic, you can use a ready made paste.
Tomato puree
Berbere spice blend - You should be able to pick this up in the spice section in large supermarkets these days. Otherwise you can buy it online.
Chicken stock - homemade, bought or from a stock cube.
Eggs - I use large chicken eggs and allow one per person.
How to make Doro Wat
At least an hour before you start making the stew, put the chicken in a bowl with the salt, pepper and lemon juice and leave to marinate in the fridge.
When you are ready to start cooking, heat a little oil in a pan and cook the onions gently until they are soft (about 10 minutes). Then add the ginger and garlic, followed by the berbere spice mix.
Then add the chicken and stir to seal on all sides before adding the tomato puree and stock. Bring to the boil and then lower the heat to a simmer and leave to cook for about 20 minutes.
While the chicken is cooking, boil the eggs until hard boiled, peel them and then add them to the stew with the chicken.
What to serve with Ethiopian chicken stew
Traditionally, a kind of spongy flatbread called injera would be served with doro wat. However, I haven't mastered this yet and so I normally just serve this spicy chicken stew with rice or other flatbreads. It's great with naans and chapatis.
If you do want to try making traditional injera to go with the doro wat then do check out this injera recipe.
Can you adapt the recipe?
Yes of course, if you want to change the recipe a little that's fine. You can miss out the eggs if your family don't fancy boiled eggs. I have to admit that in my family only two of us eat the eggs!
Instead of using chicken you can use beef or lamb but then it's best to cook it much more slowly so the meat is tender. You can simmer it for a couple of hours, just check that the liquid doesn't all evaporate. You may need to add a little extra water or stock.
If you want to make this meal a little more nutritious and get some extra veggies in then just add some along with the chicken. Green beans, broccoli and cauliflower are all great. But honestly, add whatever you want!
Can you cook it in the slow cooker?
Yes, if you're feeling really lazy, just dump everything in and cook it for two hours on high or 4 on low.
Alternatively, start cooking the stew on the hob and then transfer everything to the slow cooker at step 4.
If you are cooking beef or lamb instead of chicken then it's best to use the low setting for 8 hours.
I often use my Crockpot Express Multi-Cooker which is great as it has a saute setting so I can cook everything in the crockpot in the same pan. Once I've added the tomato puree and stock I can just put the lid on and switch from the saute setting to slow cook. If you have an Instant Pot you can use that too.
Storing and reheating
You can keep any leftovers in the fridge for up to 3 days. Just reheat thoroughly in a saucepan or in the microwave before eating.
Can you freeze it?
Yes! You can freeze any extras or leftovers in airtight containers for up to three months. Defrost overnight or on the kitchen counter before reheating thoroughly.
More chicken recipes you might like
If you like spicy chicken stews then do try one of these delicious world food recipes:
You might also like these easy spicy midweek meals recipes.
Recipe
Doro Wat (Ethiopian Chicken Stew)
If you love spicy stews then this peppery Ethiopian chicken stew, known as doro wat, will be a real hit. It's a bit similar to a curry and delicious with rice or flatbreads. It's a great recipe for prepping in advance and batch cooking too.
Ingredients
500

g

chicken

½

teaspoon

salt

½

teaspoon

black pepper

1

lemon

1

tablespoon

oil

3

onions

5

garlic cloves

1

tablespoon

ginger

2

tablespoon

tomato puree

1

tablespoon

berbere spice blend

400

ml

chicken stock

4

eggs
Instructions
Put the chicken in a bowl with the lemon juice, salt and pepper. Put in the fridge to marinate for about an hour

Heat a little oil in a saucepan. Add the onions and cook slowly for about 10 minutes.

Add the garlic and ginger and cook for a minute then add the berbere spice mix. Add a drop if water if the pan is too dry. Cook for a minute then add the chicken.

Add the tomato puree and the stock. Bring to a boil then lower the heat and simmer for 20 minutes.

Boil the eggs for about 10 minutes until hard boiled. When they are cooked, plunge them into cold water so they cool enough so you can remove the shells.

Return the eggs to the pan so they can simmer with the chicken and absorb the flavours for about 10 minutes.
Notes
Nutritional information is approximate and a guideline only.
Nutrition
Calories:
323
kcal
Carbohydrates:
15
g
Protein:
36
g
Fat:
12
g
Saturated Fat:
3
g
Polyunsaturated Fat:
3
g
Monounsaturated Fat:
5
g
Trans Fat:
1
g
Cholesterol:
247
mg
Sodium:
763
mg
Potassium:
817
mg
Fiber:
2
g
Sugar:
6
g
Vitamin A:
333
IU
Vitamin C:
14
mg
Calcium:
63
mg
Iron:
3
mg
Pin for later