These spicy chickpea patties can be a light main meal with salad or a tasty starter for an Indian meal. Easy to make in the food processor and healthy too!
I believe if you have a tin of chickpeas in the cupboard it is always possible to make a quick and tasty meal without too much thought or planning. Personally I love making various types of chickpea patties. There are so many ways you can make them and so many ways you can vary the flavours.
For these chickpea patties I've gone for Indian flavours. I've used cumin, coriander, turmeric and cayenne as well as some curry powder. These spices go so well with the chickpeas. I've also added a couple of chilli peppers to give them some extra heat.
Do feel free to miss out the chilli peppers or at least the seeds if you're not so keen on hot food.
When you cook these patties they go lovely and crispy on the outside but stay soft and spicy in the middle. Right now, this is one of my favourite chickpea recipes.
Ingredients for spicy chickpea patties
To make these spicy chickpea patties you'll need:
Chickpeas - I use tinned chickpeas as it's easier for me and I always have a few tins of chickpeas in the cupboard. Of course, you can use dried chickpeas and boil them first.
Onion - This adds extra flavour and I like to think of it as extra hidden veg!
Garlic - I usually use fresh cloves of garlic but you can replace it with garlic puree or even dried garlic powder.
Chilli peppers - These add a real kick to the patties. I like to use quite hot ones but you can use milder peppers if you are not keen on too much heat. You can also remove the seeds if you don't want to blow everyone's heads off!
Egg
Plain flour - You could replace this with gram flour, rice flour or indeed any other flour you use regularly.
Spices - turmeric, cayenne pepper, cumin, coriander and curry powder
Seasoning - just a pinch salt of salt and black pepper
How to adapt these chickpea patties for kids
I first made these patties about 7 years ago and I loved the kick of fresh chilli pepper in them. These days I often add a little hot sauce on the side as my daughter loves the spices in them but doesn't like too much chilli heat. Not yet anyway!
You can also adapt these chickpea patties by adding some extra herbs. If you have some fresh coriander (cilantro) then add a handful to the food processor and it goes really well.
Lemon goes really well with these spicy chickpea patties. When I serve these chickpea patties I love to add a squeeze of lemon. It really lifts the flavour. If you like citrus flavours then a little grated lemon zest is also a great addition.
Do you need to adapt these spicy chickpea patties?
Well, now I've gone on and on about how to vary the flavours, you might be thinking you need to adapt these chickpea fritters. Not at all. They are delicious just as they are.
How to serve these chickpea patties
Even if you don't adapt the ingredients, it is still a really versatile recipe that can be served in lots of different ways. These chickpea patties make a great starter. Just serve them with a little lemon, yogurt or a small salad.
If you're a fan of burgers then make them slightly bigger and serve them in a burger bun. They make a great veggie burger.
Usually we eat them as part of a main meal. The ones in the pictures are served with cauliflower tabouli. They are delicious served with lots of salad and some flat bread.
Can you reheat these chickpea patties?
I often make enough of these for two meals and then eat the rest the next day. They are best reheated in the oven for about 5 minutes so they stay a little crispy. If you have an air fryer it is also a great way to reheat them as you don't need to wait for it to heat up.
You can eat them cold too so they are also good for packed lunches and picnics.
If you like recipes that are great for more than one meal then do check out my Cook Once Eat Twice recipe collection. I'm sure you'll also love my collection of spicy midweek recipes.
What equipment do you need to make these chickpea fritters?
I always use my Magimix food processor. I got it twelve years ago as a wedding present and it still works brilliantly. You could use any food processor of course or even a blender.
I haven't tried making them without but if you don't have a food processor or blender you could mash the chickpeas with a fork and then mix everything together. The texture inside the patties will probably not be as smooth but they'll still taste great!
More chickpea recipes
I love using chickpeas in my recipes and here are some that you might like:
Pumpkin stew with chickpea and Moroccan spices
Moroccan chickpea soup with roasted chickpeas
Spicy Chickpeas: Sour Chickpeas or Khatte chhole
Recipe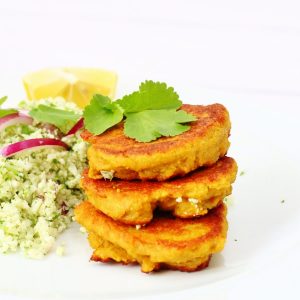 Spicy chickpea patties
These spicy chickpea patties can be a light main meal with salad or a tasty starter for an Indian meal. Easy to make in the food processor and healthy too!
Ingredients
400

g

tin of chickpeas

drained and rinsed

1

onion

diced

2

cloves

garlic

2

chilli peppers

1

egg

75

g

plain flour

¼

teaspoon

turmeric

½

teaspoon

cayenne pepper

1

teaspoon

cumin

1 ½

teaspoon

coriander

1

teaspoon

curry powder

Pinch

salt

Pinch

black pepper
Instructions
Put all the ingredients in a food processor or blender. Blend until smooth.

Heat a little oil in a frying pan. When it is hot, add spoonfuls of the chickpea mixture and press down a little.

Cook for about 3 minutes and then turn oven. Cook for another 3 minutes.

If you can't fit all the chickpea patties in the frying pan at once, cook them in 2 batches.
Notes
Nutritional information is approximate and a guideline only.
Nutrition
Calories:
367
kcal
Carbohydrates:
63
g
Protein:
17
g
Fat:
5
g
Cholesterol:
54
mg
Sodium:
37
mg
Potassium:
610
mg
Fiber:
12
g
Sugar:
9
g
Vitamin A:
545
IU
Vitamin C:
49.9
mg
Calcium:
104
mg
Iron:
6.5
mg
Pin for later