These nut and cranberry biscuits are oh so festive and make the perfect snack at Christmas. They're easy to adapt and make a lovely edible gift too! If you know someone who loves nutty shortbread cookies then these will definitely make them happy.
Some recipes are made after days, weeks even, of thinking and planning. You get it into your head you want to try something and you think about the flavours and textures you want to create. You imagine how it's going to taste, you buy the ingredients and choose a suitable time to make it. It should be a day when you have the right amount of time the recipe requires, a day when above all, you are prepared.
Other recipes are not planned at all and just forced upon you by circumstances almost beyond your control. That was the case with these shortbread biscuits. Little Miss Spice demanded to make them.
I tried to distract her with dolls houses, drawing and lego. I hoped it would work. On this day, it did not. She could picture those biscuits. She knew we had cupboards full of ingredients to make them - butter, sugar, plain flour. Yes, even a 2 year old knows what goes into shortbread biscuits. She also knew that I was trying to distract her and she was not going to let me have the satisfaction.
Luckily I love making biscuits too. It wasn't long before I was looking through the cupboards trying to decide what flavours to put in them. I soon found the cranberries. I bought them just a few weeks ago with a plan to make florentines.
However, I could see that Little Miss Spice with her biscuit cutters ready did not have florentines in mind. Never mind, florentines had waited a few weeks, they could wait a few more.
How did we make these nutty cranberry biscuits?
There followed a hectic 15 minutes, or maybe it was even longer, as I scurried around measuring ingredients and making the cookie dough before throwing it in the fridge to rest a little.
I waited as long as a two year old would allow me and then carefully sliced a chunk of dough off the side and sliced 4 neat biscuits before handing over the rest of the dough to Little Miss Spice. We made stars, bells and hearts with the cutters, as well as moulding ducks with our hands. It was fun. The biscuits were messy - all different sizes and thicknesses as we threw them on the baking trays.
As we baked them a delicious festive smell filled the kitchen and as we ate them later I didn't feel too guilty about giving my daughter biscuits. Again. They are not too sweet and it was the perfect afternoon activity for us.
Ingredients for nutty cranberry biscuits
To make these nutty biscuits you'll need:
Butter - You can use salted or unsalted but make sure it's at room temperature
Caster sugar - These biscuits are not too sweet. You could add a little more sugar if you want a sweeter biscuit.
Vanilla extract - Or essence. I won't judge!
Plain flour
Pistachios
Walnuts - You could replace both the pistachios and the walnuts with another kind of nut.
Dried cranberries - Of course, they won't be cranberry biscuits any more but you can use another dried fuit in these. I just find cranberries to be very festive.
How to adapt these nut and cranberry biscuits
If you read my description above, you'll know that these cookies are very forgiving. They are also super easy to adapt. You can even keep them plain and not add any nuts, cranberries or anything else!
If you do want to switch in different ingredients then any nuts will work. Just chop them a little as I did with the walnuts in these cookies.
You can also use alternative dried fruit. Raisins, currants, glace cherries or diced dried apricots all work well.
How long do these nutty shortbread cookies keep?
If you keep them in an airtight container then these cranberry and walnut cookies should last for about 4 weeks. That means it's a great recipe to prepare in advance if you want to have homemade shortbread at Christmas. You can also give it as a gift and it will keep well without you having to bake it right at the last minute!
Can you freeze shortbread?
You can freeze shortbread cookies but I don't think they are as nice afterwards. They won't keep for as long either once they have defrosted. If you want to make a bigger batch then it is better to freeze the dough and then bake them at a later date. They'll then keep well for another month in an airtight container.
How to freeze shortbread dough?
Make the dough into a fat sausage shape and wrap it in cling film. You can then just slice off frozen rounds of dough and bake it from frozen.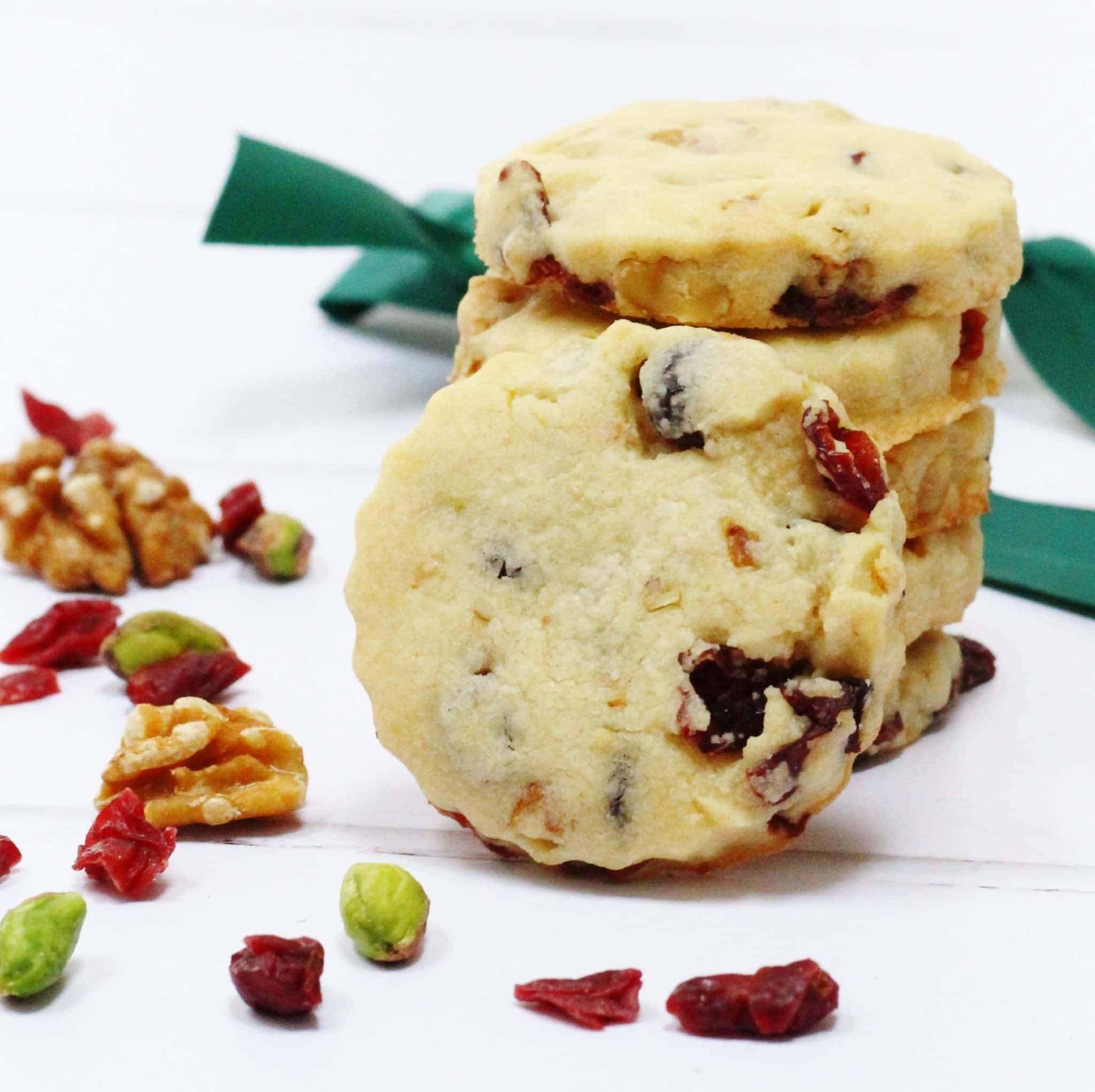 Why not try one of these cookie recipes?
I love baking biscuits and cookies. Do check out these recipes as well:
Recipe
Nut and Cranberry Biscuits
These festive nut and cranberry biscuitts are perfect for Christmas!
Ingredients
175

g

butter

at room temperature

85

g

caster sugar

1

tsp

vanilla extract

225

g

plain flour

20

g

pistachios

chopped in half

55

g

walnuts

roughly chopped

50

g

dried cranberries
Instructions
Cream the butter, sugar and vanilla extract together using a wooden spoon.

Add the flour and sir in using the wooden spoon.

When there are no floury bits left, add the nuts and cranberries. Use your hands to mix the nuts and cranberries in and to form into a dough.

Flour the work surface and roll the dough out to just over 5mm thick. Cut into rounds using a biscuit cutter.

Put the biscuits on a couple of baking trays, leaving at least a centimetre between each biscuit.

Put the baking trays in the freezer for half an hour. This will prevent the biscuits from spreading too much when in the oven. Preheat the oven to 160C.

Bake the cookies in the oven for about 15 minutes. Cool on a wire rack.
Notes
Use whatever combination of nuts you want.
You can also substitute the cranberries for another dried fruit. Chopped apricots also work well.
Nutritional information is approximate and a guideline only.
Nutrition
Calories:
152
kcal
Carbohydrates:
15
g
Protein:
1
g
Fat:
9
g
Saturated Fat:
4
g
Cholesterol:
18
mg
Sodium:
62
mg
Potassium:
36
mg
Sugar:
6
g
Vitamin A:
225
IU
Vitamin C:
0.1
mg
Calcium:
8
mg
Iron:
0.6
mg
More Christmas recipes
If you are looking to do some Christmas baking then I've got lots more festive recipes here on Searching for Spice. Why not try my easy mince pie recipe with shortbread pastry? Or how about German Christmas cookies, lebkuchen? These easy caramelised pecans are also perfect for Christmas!
And if you're looking for more recipes with cranberries then do try my cranberry and orange muffins!
Pin for later
Keep in touch
Do let me know if you make these nut and cranberry biscuits or any of my other recipes. I love to get feedback from readers.
You can also stay up to date by following on Instagram, Facebook and Twitter.